Things to Do in Berlin
---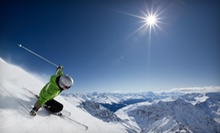 Technicians sharpen edges for easier carving & wax bases to reduce friction for faster descents
Use Sunday 8:00am - 5:30pm
---
Recommended Things to Do by Groupon Customers
---
Tucked away in New Hampshire's picturesque White Mountains, SledVentures Snowmobile Rentals takes full advantage of its scenic perch. The outdoor adventure emporium beckons visitors to explore the paths at its back door, encouraging them to zoom across the Appalachian Trail, coast through mountainous state parks, and burst through the front door of any log cabin they encounter. The snowmobiles themselves come equipped with useful amenities such as hand warmers and electric starters, and are easily navigable for beginning, intermediate, and advanced riders.
514 US Rte. 3
Lincoln
New Hampshire
603-238-2571
It seemed inevitable that the owners would found Northeast Mountaineering, as both grew up in central Massachusetts and both have ascended an array of local and faraway mountains, including Mt. McKinley. With another experienced climber in tow, Northeast Mountaineering's trio of climbers share their passion for the outdoors with pupils during climbs up Mt. Adams, Mt. Washington, or custom trails forged by their pet mountain goats. They also orchestrate trips to Ecuador to climb the second-highest mountain in the country, the 19,347-foot Mt. Cotopaxi. As certified Wilderness First Responders, each guide is dedicated to safe climbing techniques, which they instill in students during courses that are tailored to all skill levels.
361 Rte. 16
Gorham
New Hampshire
978-413-4391
Helmed by Joshua and Jessica White, the defense experts of Western Maine Property Protection apply their experience in law enforcement to help citizens to protect their homes with security services as well as by teaching self-defense strategies. Claiming multiple training credentials that include NRA certifications, instructors lead classes in firearms and self-defense training to help individuals to operate firearms safely and feel confident in their strengths.
Should locals desire security protection for businesses or homes, the staff also extends its expertise to securing property, dispatching armed officers to check in on properties. To further enhance its services, Western Maine's team also helps clients to get discounts on ADT Security Services products, including monitoring systems that disable intruders through passive-aggressive remarks about their life choices.
436 Bog Rd.
West Bethel
Maine
207-739-9774
Absolute Adventure Tours' seasoned guides outfit riders in gloves, goggles, and helmets before waving small groups of Polaris ATVs onto the paths that wind through Jericho Mountain State Park. Excursions begin daily at 8:30 a.m. at Absolute PowerSports and RV with a discourse about safety before patrons caravan to the park and take a spin on four-wheel-drive, automatic ATVs with windshields and storage bins for personal items or miniature conscience doppelgängers. Adventurers as young as 6 cling to parent chaperones while roadsters prowl through moss-laden bogs and take in panoramic mountain views for three hours. Frequent pit stops, including a lunch break, foster opportunities for exploration on foot. Tours wind down by 2 p.m., dispatching riders to enjoy the park by taking a dip in the lake or panning for gold.
461 Main St.
Gorham
New Hampshire
US
603-466-1700
For nine years running, New England Brewfest has assembled a coterie of craft breweries to get more than 100 taps flowing with their unique creations. This year, the event includes 30 breweries, and each of them will treat every guest through the gates with complimentary samples of small-batch beverages and reasonably priced high-fives. Exhibitors range from Magic Hat and Peak Organic Brewing Company to Angry Orchard Hard Cider and Twisted Tea. You can also take in brewing demonstrations and learn about the creation of items such as beer-infused jelly.
Organizers require that guests present ID at the entrance, and recommend bringing a folding chair and comfortable dancing shoes. These items come in handy when absorbing the sweet rhythms of live music acts such as the Rustic Overtones and Air Traffic Controller.
25 S Mountain Dr.
Lincoln
New Hampshire
At Glazey Days, shelves upon shelves of unembellished ceramic pieces await colorful brushstrokes to help them reach their aesthetic potential. The robust collection ranges from bowls, plates, and mugs to picture frames and vases. Free to follow their own creative instincts, the shop's visitors personalize and decorate chosen pieces using an arsenal of painting tools, such as stencils, brushes, and sponges. Afterward, the Glazey Days staff finalizes the process by firing and glazing finished pieces and has them ready for pickup within a week. For further inspiration, Glazey Days keeps its selection stocked with themed pieces for different seasons and holidays and hosts special events, such as couples nights and BYOB nights.
220 Gorham Rd.
Scarborough
Maine
---