Berwyn Gyms and Fitness
---
Gym, Exercise, Weightloss Deals
---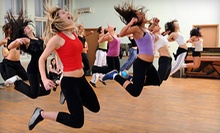 Instructors splice hip-hop dance moves with latin rhythms and weight-based interval training for a full-body workout
Use Thursday 1:45pm - 4:45pm
---
Recommended Gym, Exercise, Weightloss by Groupon Customers
---
At Blockhead Fitness, ACE-certified personal trainer Sean Block and his experienced fitness staff whip bodies into shape with custom full-body workouts in a spacious personal-training studio illuminated with natural light. Exercisers of all abilities can pair up with a trainer and take advantage of a wealth of fitness accouterments, such as free weights, medicine balls, and resistance-training apparatus, to slim down bodies so they can fit comfortably in kangaroo pouches.
557 W North Ave.
Chicago
Illinois
US
312-573-1950
Buy here to buy a three-class Stroller Strides pass at UIC's Physical Education Building. Classes meet outdoors beginning May 1 at University Village (Roosevelt & Halsted), West Loop (Adams & Racine), or downtown (Roosevelt & Michigan).
2367 W Logan Blvd.
Chicago
Illinois
When certified trainer Diana Ozimek isn't demonstrating practical exercises as a correspondent on NBC Chicago news, she's leading phalanxes of women on fitness forays throughout Lakeview. Like athletes in the off-season, campers lunge across open fields, blast through plateaus while jumping rope, or speed up progress with a time-altering montage. Sessions cycle through a constantly changing roster of exercises to keep muscles confused, and because routines are gender specific, they can focus on workouts specifically designed for women. The non-competitive classes foster a supportive environment, and nutritional advice keeps campers on the straight and narrow between meetings.
Fullerton & Stockton , NW Corner
Chicago
Illinois
773-899-1960
At first sight, David Barton Gym might appear to be an art gallery or swank pad complete with pounded steel plating and leather-wrapped door handles, but a second glance reveals a 30,000-square-foot fitness haven overlooking the Chicago River. The designer gym is loaded with free weights, cardio machines, a spin studio, steam rooms, a Russian bath, and a space for yoga class. Meet up with an experienced hardbody personal trainer and melt fat like a George Foreman grill with a barrage of pushups, sit-ups, or 20 minutes on the TV-topped elliptical machine. Renew your will with a massage from one of Barton's three full-time therapists and let them unkink the knots that prevent you from having the strength needed to throw a dictionary through a thicker dictionary.
600 W Chicago Ave.
Chicago
Illinois
---