Bethany, OK Indoor Activities
---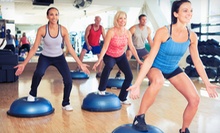 Classes start as early as 6 a.m. and include Zumba, kickboxing, calisthenics-style cardio, and women's-only boot camp inside new gym
---
---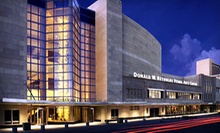 Exciting new museum is anchored by the bright, 3D glasswork of Dale Chihuly; the photography of Herb Ritts will be featured starting May 9
---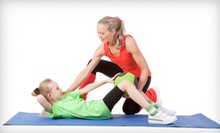 45-minute classes keep youngsters active with engaging boot-camp-style exercises
---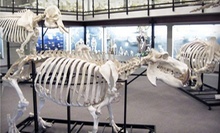 300+ skulls and skeletons educate visitors in exhibits that showcase rare species and skeletal topics such as locomotion and adaptation
---
Recommended Indoor Activities by Groupon Customers
---
Four Graces Pilates Studio's experienced dance and fitness instructors pool their talents to lead numerous classes that focus on conscious movement over repetition. Pilates sessions aid students in slimming down their silhouettes without adding bulk. In Xtend Barre classes, some of which are led by former ballerinas, students grasp the ballet barre and light weights, deeply engaging cores, sculpting thighs, and lifting butts. No matter which class students choose, the studio stands ready to meet their equipment needs with its multiple medicine balls, ballet barres, reformer machines, and supply of suspendered unitards with stirrup bottoms.
2828 W Country Club Dr.
Oklahoma City
Oklahoma
405-608-4446
For the uninitiated, Maura Fliction, Kitty VonKlobber, Sweeney Quad, Taryn Bonesapart, and their fellow home-team derby girls will wage territorial track war for two 30-minute periods in each roller rumble, during which a designated jammer—usually the fastest, nimblest two legs on eight wheels—attempts to skate her way from the rear of the pack to lap opposing rollers. Running the gauntlet, the jammer must evade sexy but deadly hip thrusts, clotheslining arm guards, and a bank full of bounced body-checks (deemed void if cashed from behind). Points are rewarded each time the jammer passes an opposing skater, and the highest score wins the derby.
311 S Klein Ave.
Oklahoma City
Oklahoma
Family owned and operated, Southwestern and Skate Moore offer families and friends a safe place to whirl and race around the rink. Your next game of crack the whip awaits a snack bar, a full selection of high-quality skates and wheels, and bumper skating at Southwestern Skate Center. The Skate Moore location also includes a snack bar with popular fare (pizza, candy, beverages), a Pro Shop, and a well-groomed black-lit glow floor. Both locations house fun for kids, parties, and families alike.
6401 S Western Ave.
Oklahoma City
Oklahoma
For either $15 or $20, today's side deal scores you a general-admission ticket to see an opening-week performance of the Lyric Theatre's Driving Miss Daisy at the Lyric at the Plaza (a $30 or $40 value, depending on the night).
1725 NW 16th St.
Oklahoma City
Oklahoma
Besides increasing strength, boosting flexibility, detoxifying the body's swamps, and raising the body's defense against telepathic manipulation from creepy white-haired British children, yoga releases stress and relieves pain. Free Spirit's owner and operator, Dee Mathis, discovered this in 1993 when she used yoga to overcome her own struggles with stress, ill health, and depression. Since then, she has gone on to register with the National Yoga Alliance. Dee's goal is to teach others to achieve the same level of health, well-being, and inner peace from within her peaceful practice space on Villa Avenue. Your one month of Hatha classes will focus on the flow of yoga poses, or asanas, ranging from downward-facing dog to sideways-sauntering salamander to unreliable narrator, with a few tree poses, cobras, and cobra commanders thrown in for good measure.
6010 N Villa Ave
Oklahoma City
Oklahoma
From his 1889 arrival in Oklahoma City until his death in 1915, Henry Overholser was an instrumental force in the city's growth. Beyond his involvement in the metropolis's first waterworks project and trolley-car system, he built more than 35 buildings, including the United States Courthouse, the state fairgrounds, and a giant catapult to protect it from invading Kansans.
In addition to civic pride, Overholser also took time to care for his own habitat. In 1903, he completed construction of his home, a gargantuan, three-story chateau measuring more than 11,000 square feet paired with a smaller but no less stately 4,000-square-foot carriage house. These days, guided tours of the Henry Overholser Mansion begin there before moving into the main house, whose original furnishings and antwerp oak interior remain intact. The meticulously maintained dwelling retains most of its signature fixtures, which were picked out by Overholser himself, treating guests to glimpses of elegance including its original hand-painted canvas walls and stained-glass windows.
405 NW 15th Street
Oklahoma City
Oklahoma
---