Restaurants in Bethany
---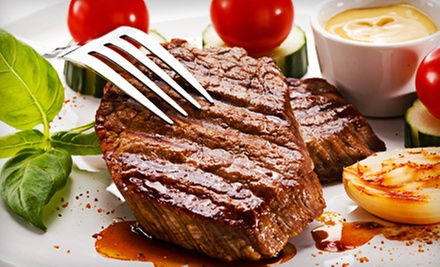 ---
Recommended Restaurants by Groupon Customers
---
Blue Nile Ethiopian Restaurant follows East African culinary customs in its dining room and kitchens, where cooks draw on traditional recipes and spices. During meals, patrons are encouraged to partake in the practice of gursha, a tradition in which diners manually place food in each other's mouths to symbolize the bonds of loyalty and friendship. Traditional unleavened injera bread, forged from self-rising wheat flour and the native Ethiopian grain teff, accompanies all entrees, which chefs load onto one plate designed for sharing among the members of each table. Equipped with the pancake-like accessory, diners can scoop up a panoply of lamb, beef, and chicken stews infused with a flurry of spices that, like outtakes from The Muppets, range from mild to spicy. Blue Nile Ethiopian Restaurant's chefs shun artificial colors, flavors, and preservatives in all dishes, and vegetarian items arrive uncontaminated by butter, eggs, milk, and disparaging thoughts about Congress.
3209 S Broadway, Suite 121
Edmond
Oklahoma
In addition to innovative sushi rolls and hibachi cuisine, the culinary artisans at Tropical Cafe craft classic sandwiches, salads, and egg breakfasts. Culling fresh ingredients and housemade sauces, the raw-fish masters roll traditional and American-inspired maki flavored with strips of bacon, Angus beef, and asparagus. Grill gurus sear meats, vegetables, and rice at tableside grills, creating sizzling hibachi fare before the eyes of delighted diners and ventriloquist dummies.
304 S Kelly Ave.
Edmond
Oklahoma
405-340-8956
In a bustling eatery facing the courthouse, waiters dash between the kitchen and dining tables, serving up classic American breakfast and lunch mainstays. Cooks flip the spot's namesake burger during the lunch rush and customize the ensemble with thick slices of cheese or crispy bacon strips to order. A mix of à la carte sandwiches struts around plates with an entourage of fries, tater tots, or onion rings. No-frills breakfasts plate hot helpings of eggs, bacon, and sausage with a signature slice of texas toast, and servers keep mugs brimming with steaming fresh-brewed coffee while discussing the weather or Lacanian literary theory with regulars.
212 N Harvey Ave.
Oklahoma City
Oklahoma
The friendly chefs at Aja Bleu Cafe whip up their all-day menu of tasty soul fare alongside daily specials. Traditional catfish and pork-chop dinners come with smothered potatoes or fries, and the specialty wings-and-waffles plate offers a combination as reliable as peas and carrots or ice cream and more ice cream. The staff also serves up burgers, sandwiches, and frankfurters alongside health-conscious options, such as the chef salad.
10708 N Western Ave.
Oklahoma City
Oklahoma
---
---
Restaurant Deals - Recently Expired
---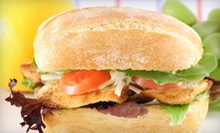 Local ingredients infuse fresh pizzas and juicy, grilled burgers within casual yet elegant dining room
---
---