Bethesda, MD Outdoor Activities
---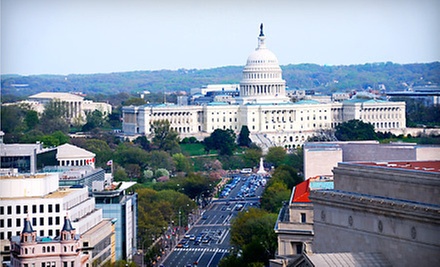 ---
Recommended Outdoor Activities by Groupon Customers
---
Recently celebrating 20 years of delighting passengers, the maritime crew at Capitol City Tours supplies a memorable yet speedy method of taking in Washington, DC's historical highlights. The crew whisks new passengers away from Washington Harbor every hour on afternoon boat tours that navigate the famous Potomac River. Two tour vessels—the Nightingale and his son, _Nightingale II_—house refreshments as guides supply historically astute narration. Their narration, combined with the unobstructed views granted by the Potomac, create an illuminating way to explore sites such as the Washington Monument, Lincoln Memorial, and US Capitol.
31st & K Sts NW
Washington
District of Columbia
800-405-5511
Washington Walks offers a diverse list of walking tours, each lasting approximately two to three hours and led by passionate, knowledgeable guides. The Embassy Row tour, offered on Saturdays at 10 a.m., explores the highfalutin housing of the city's once-upper crust, and the nightly The Most Haunted Houses tour takes off Lafayette Park's shirt to expose its violent underbelly and stops at the highly haunted Octagon. Scholarly Sundays can be devoted to the Georgetown tour, which elegantly strolls through the Georgetown neighborhood to examine 200-year-old mansions and talks about the olden days when horse-drawn carriages were pulled by eagles. There's also a series of Saturday and Sunday tours dedicated to individual neighborhoods, providing locals with the opportunity to master their living zone.
2715 Pennsylvania Avenue Northwest
Washington
District of Columbia
French-trained photographer E. David Luria loves many subjects, but he directs most of his attention toward Washington, DC's historic architecture. His images, which lovingly depict the city's landmarks, have been published in Time Magazine as well as several local Washington papers. Luria teaches tricks of his trade privately for the Smithsonian Resident Associates Program, but also through Washington Photo Safari's tours.
Luria, along with a team of 16 other instructors–many experienced independent photographers and photojournalists–shepherd small groups through the capital's streets, gardens, and halls, while teaching them photographic techniques. These include how to use selective focus, control F-stops and shutter speeds, and remove vampires from pictures taken at night. They then help participants practice these skills on expeditions through buildings such as the Lincoln Memorial, the Washington National Cathedral, and the National Building Museum. More seasonal tours let guests document the short-lived cherry blossom season, challenging them to capture striking tableaus of the pink petals from land or water. They also teach composition among the verdant garden landscapes and elegant buildings at Hillwood Gardens and the US Botanical Gardens to foster tourists' appreciation for nature and their ability to heckle squirrels.
4545 Connecticut Ave. NW
Washington, DC
Washington D.C.
Lynford Morton doesn't like to be called an instructor. Instead, he prefers photo coach. To Lynford, coaching more accurately describes his process of giving advice and support and boosting confidence in photographers as they actively snap shots of their subjects. His teaching method sticks to this sports analogy, as he first forms a foundation of photography principles—a playbook of sort. Then during hands-on sessions, photographers practice using techniques and calling audibles to get clouds into the right position. Since Lynford keeps most classes at a ratio of 1 to 12 or fewer, he can guide students with tips or illustrate a point with a teaching app on his iPad.
Lynford has always loved to tell stories with pictures. His father, a self-taught photographer from a village on St. Kitts, fueled Lynford's passion at an early age—which he later bridged with a photojournalism college major and a career in public relations. Now, he walks the historic streets of DC each weekend with troops of eager photographers anxious to tell their own visual stories.
1455 K St. NW
Washington
District of Columbia
202-688-1362
---