Beauty & Spas in Bethpage
---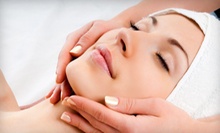 Use Thursday 10:00am - 4:00pm
---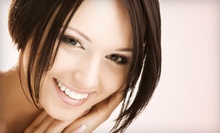 Gentle kneading strokes and mask nourish weary mugs, and microdermabrasion treatment sloughs off dead cells to reveal brighter complexions
Use Thursday 9:30am - 6:00pm
---
Recommended Beauty & Spas by Groupon Customers
---
Soft robin's-egg-blue walls and warm wooden accents welcome beauty seekers to Blue Water's skin and body sanctum. The ultrasonic facial ($95), Blue Water's signature visage vivifier, uses ultrasonic vibrations to loosen and eliminate blackheads, dirt, and expired skin; the treatment includes a face, neck, shoulder, and arm massage. Or opt for an aromatherapy facial ($95), which uses essential oils to hydrate and plump tired cells while encouraging lymphatic drainage and delusions of grandeur. To give your body the radiance and dewy sheen of a well-groomed glowworm, use this Groupon toward an exfoliating lavender body scrub treatment ($110), or delight in the gentle kneads of a classic Swedish massage ($90 for an hour). Blue Water Spa also offers a variety of services for teens ($75 for a teen facial) and men ($95 for an hour-long gentleman's facial).
21 West Main Street
Oyster Bay
New York
Hollywood Tans, the nation's largest chain of tanning salons, turns dermises gold with a special alchemic process known as Tanetics. Skin specialists consider each customer's tanning goal, skin tone, and skin sensitivity before helping them choose the perfect skin-shading procedure. Four clean and comfortable UV tanning-booth options filter out most pestiferous UVB rays while speedily darkening pigment; five 11-minute bouts ($39) inside Hollywood Tans' HT42 booth is enough to leave any pelt polished with a glossy base tan. For Daphnes fleeing Apollo, a Mystic spray tan booth ($50 for two applications) depales pasty parchment with a misty coat of bronze that lasts 5–7 days. The Mystic's cartridges can be changed to allow users great flexibility in choosing their preferred skin patinas.
111 Broadway
Lynbrook
New York
Madison Salon & Spa's multitalented team of beauty experts coddles façades with 55-minute signature facials performed in private treatment rooms. Raising client concerns on a pedestal, the skin sultans mold sessions to combat individual imperfections, attacking from all angles like a doberman chasing a bouncing dodecahedron. Deep cleansing lures debris to the surface before technicians coax youthful splendor from complexions with hydrating remedies. Throughout the session, candles cast a soft glow across treatment rooms, which branch off from a space drenched in honey-tinted light inspired by bees' in-hive meditation chambers.
8285 Jericho Tpke.
Woodbury
New York
516-692-7200
At Thomas Cole Salon, experienced stylists use top-notch products designed by the owner and founder to tame unruly manes into eye-catching coiffures. Services such as a women's haircut ($95+) or men's haircut ($50+) can be complemented by a blow-dry ($40+) or men's hair coloring ($50+). Instead of duct-taping road flares to their heads, beauty seekers can spiff up their cuts with glance-baiting highlights ($150+) or a nourishing Brazilian keratin treatment ($300+) that simultaneously strengthens and softens hair.
7 Bond Street
Great Neck
New York
During the one-hour Swedish massage, muscles will be freed from tension, allowing bodies to comfortingly slump into relaxed bliss as kinks and knots are slowly untied. Postmassage, patrons then choose between two skin rejuvenating treatments: the one-hour Ultimate facial, which is rich in natural and organic nutrients, or the Tropical Coconut Body Escape Scrub, which renews and detoxifies epidermal areas with a silky soft touch.
190 E Jericho Tpke.
Mineola
New York
516-248-2583
Salon Blue bolsters stylists' expertise through carefully calibrated training programs, helping to earn them name-checks in magazines such as Glamour, Cosmopolitan, and InStyle. The hierarchy at the salon begins with creative stylists, who hone their craft through ongoing education as they collect the six golden curling irons required to ascend to the level of artistic director. To obtain the top rank as a master director, stylists must study under hair gurus such as Vidal Sassoon and John Sahag, and they often show off their skills as platform artists at beauty shows.
Though their titles vary, stylists at every level of expertise can deliver haircuts, color treatments, and makeup applications using Jane Iredale mineral makeup. Floor-to-ceiling windows fill the salon's minimally decorated floor with light and allow straightening treatments to set via photosynthesis.
190 E Jericho Tpke.
Mineola
New York
516-248-2583
---