Museums & Galleries in Beverly Hills
---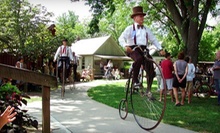 Costumed reenactors, hands-on exhibits, & master craftspeople guide guests of all ages through travails & daily life of 19th-century Ohio
---
Recommended Museums & Galleries by Groupon Customers
---
On November 19, 1928, the Detroit Historical Society opened the Detroit Historical Museum in a one-room suite on the 23rd floor of the Barlum Tower, earning it the nickname of highest museum in the world. These days, Detroit's Cultural Center accommodates the museum in an 80,000-square-foot space, where interactive exhibits preserve more than 300 years of city history. Frontiers to Factories traces Detroit's transformation from French-frontier outpost to industrial city, while America's Motor City celebrates its automotive dominance with a changing display of classic vehicles and a 1903 Model T that guests can sit in. Streets of Old Detroit brings the 19th century to life with recreated cobblestone streets that wind past stores of the era such as a five-and-dime, a soda shop, and a barbershop for powdered wigs.
Thanks to recent renovations, the society has expanded its chronicle of Detroit with three new permanent exhibitions. Detroit: The Arsenal of Democracy covers the ways the city's industrial infrastructure adapted to demands of World War II, and The Gallery of Innovation includes videos about renown innovators and hands-on activities of trial-and-error. As The Allesee Gallery of Culture examines the city's cultural history, its Kid Rock Music Lab lets visitors create and share their own music using interactive displays. Outside, the Detroit Legends Plaza honors the city's sports, entertainment, and media legends with cemented handprints and signatures from stars such as Lily Tomlin and Martha Reeves.
5401 Woodward Ave.
Detroit
Michigan
Through public science forums and more than 200 interactive exhibits, Canada South Science City hopes to foster an excitement for science that helps families understand their relationship to the universe and inspire children to work towards Science-based careers. The 30,000-square-foot facility houses attractions such as Dinosaur Alley, where a model T-Rex skeleton looms as kids dig for prehistoric bones and fossilized cassette tapes. Live snakes, turtles, and tree frogs send a symphony of hisses and warbles from the Big Lagoon, an exhibit that offers up fun facts about biodiversity. Elsewhere, models of Jupiter and Saturn overhang an open-gym area that demonstrates the properties of sound and space.
Canada South Science City also hosts special events including science panel discussions and educational programs for students. These include workshops that challenge kids to solve problems, such as keeping a dropped egg from breaking or a black hole from opening in their lunchbox.
930 Marion Ave.
Windsor
Ontario
Named one of the city's best cultural museums by CBS Detroit, the Holocaust Memorial Center is among America's first Holocaust museums. For more than 25 years, the HMC has memorialized the senseless murder of millions, promoting tolerance while sending out a call to action to prevent future discrimination, hate crimes, bullying, and genocide by keeping alive the memory of the Holocaust and the lives it claimed.
Starting near the museum's lobby, an illustrated timeline tracing 4,000 years of Jewish history leads into The Museum of European Jewish Heritage, which highlights Judaism through artifacts and displays. From there, a ramp descending beyond a 22-foot window display of Nazi propaganda leads into an exhibit on The Final Solution. Here, displays and audiovisual installations usher visitors toward the Survivors' Theater, where live presentations by Detroit-area survivors illuminate the atrocities' personal costs. Daily tours are led by the museum's caring, expert educators, who guide guests through the exhibits while encouraging them to internalize the lessons for use in their own lives.
New to the museum is the Weisberg Gallery, where a Holocaust-era boxcar stands as a reminder of the scale of the period's atrocities. The museum also welcomes traveling exhibits such as Where the Past Meets the Future, a collection of mixed media pieces by artist Fay Grajower that connect Jewish life in pre-Nazi Poland with contemporary examples of Jewish life and culture in the nation today.
Post-war exhibits cover the Nuremberg Trials, honor the righteous individuals who risked their lives to resist the Nazis or save Jewish lives during the war, and pay homage to those who perished with a memorial flame. The museum also houses a well-stocked library, where guests can research their genealogy with materials dedicated to European Jewish history. Beyond its core exhibits, the HMC hosts special exhibits encompassing photographs, art, and history, in addition to sending survivors to speaking engagements throughout the city and hosting the Kindertransport Memory Quilt, whose patches represent the experiences of Jewish youth rescued from Eastern Europe.
28123 Orchard Lake Road
Farmington Hills
Michigan
248-553-2400
The Detroit Institute of Arts (DIA), one of the premier art museums in the United States, is home to more than 60,000 works that comprise a multicultural survey of human creativity from ancient times through the 21st century.
5200 Woodward Avenue
Detroit
Michigan
313-833-7900
Tampa's Cinco de Mayo Fiesta is a cultural cornucopia celebrating the Mexican holiday with music, dancing, food, activities, children's attractions, and a car and motorcycle show. Follow the incipient online schedule—or flip through the Facebook page—for the still-developing calendar, which includes events such as salsa-dancing lessons, a tongue-tickling chili contest, and the glamorous Miss Tampa Latina pageant. During the daily happy hour 3 p.m.–6 p.m., thirsty guests can enjoy one free beer. Take in a salsa lesson, then meander over to the other salsa camp, where recently steadied shoulders will be tested against fiery tortilla-toppers at the salsa tasting station. While proud car owners buff their road babies for Friday's car and motorcycle show, their flesh-based brood can clamber (supervised) through the children's area and carnival rides.
6975 W Central Ave.
Toledo
Ohio
US
---