Beverly, MA Outdoor Activities
---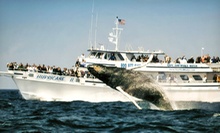 View humpback and fin whales as they feed and play within close range of the 115 ft. boat, Hurricane Two
---
Recommended Outdoor Activities by Groupon Customers
---
A stream of yellow and black buzzes by. It's not a swarm of bumblebees, but friends and family racing each other in yellow and black go-karts around Checkered Flag Indoor Karting's 23,000-square-foot speedway. Strapping on helmets and sliding in behind the wheel of 15HP electric karts, up to 10 drivers jockey for position while whipping around eight snaky turns and sling-shooting past opponents on the wide lanes along the 100-foot front stretch. The facility's electronic timing system lets speedsters check out their best lap times from each 20-lap race. Racers must be at least 54" tall or born with tires instead of feet to traverse that track, but during birthday parties kids aged 4–9 and at least 36" tall zip across the 100-foot Mini Cup track. With a snack bar slicing pizza and pouring soda and an arcade, the facility can play host to parties for older kids and adults, as well as corporate team-building events. And for kids and adults seeking serious competition, Checkered Flag organizes leagues lead by indoor karting champion, Tom Prioli.
239 Neck Rd.
Haverhill
Massachusetts
US
978-374-7223
With the height of his career 230 million years behind him, the 20-foot T. rex followed a path typical to many retirees: he decided to hit the golf course. Since 1958, the bright-orange behemoth has kept watch over the sixth hole at Route 1 Miniature Golf & Batting Cages, dazzling visitors with his twin rows of gleaming incisors and spot-on Bob Hope impersonation. But the toothy star isn't the only creature challenging players on this classic putt-putt course. Players must map their swings to navigate a roaring lion, yawning hippo, and towering gray elephant before testing their luck on the 18th hole, where only the most precise putts can succeed in ringing the siren and winning the player a free game.
Adjacent to the mini-golf fairways, four batting cages pitch balls at speeds of more than 85 miles per hour, and an arcade challenges players with classic video games, including Ice Ball. Come cool-down time, guests can usher in a sweet finish to their afternoon by storming the Dairy Castle to seize one of 26 flavors of Richardson's ice cream, including black raspberry and maple walnut.
1575 Broadway
Saugus
Massachusetts
781-233-2811
Click above to buy tickets for the Boston Derby Dames August 15 games. Click here to buy tickets for the Boston Derby Dames July 18 games.
99 Fordham Rd.
Wilmington
Massachusetts
US
Within both MetroRock locations, visitors ascend via bouldering walls and rope-climbing walls or take to aerobic exercise machines and fitness equipment to build strength. With this setup available to climbers of all skill levels, the founders of the climbing arenas achieved their goal of creating a community where scalers can congregate, share their passions, and hone their climbing skills.
During indoor and outdoor classes, instructors create lessons that help each climber reach their goals. Indoor courses help instill students with basic climbing skills, rescue techniques, or the brute strength needed for bouldering or to intimidate mountains out of their lunch money. Outdoors, American Mountain Guide Association and Single Pitch–certified instructors teach alpinists skills that include how to secure top-rope anchors and how to climb ice or scale for sport. The centers' founders and their teams also organize climbing-centric programming that includes youth climbing teams and team-building events that challenge groups while forming bonds.
40 Parker St.
Newburyport
Massachusetts
978-499-7625
While navigating segways around the Alamo during a spring vacation, Brad Biscornet and his brother-in-law, Jeff Langone, realized that their hometown of Salem, with its rich history and picturesque views, was ripe for just this sort of experience. And thus, Witch City Segway was born—allowing visitors and locals alike to explore the historic town on a thoroughly modern mode of transportation.
After briefly training up to six helmeted guests in segway piloting at the company's 2,000-square-foot indoor facility, two guides—one up front, one bringing up the rear—lead their flock onto the streets for one-hour jaunts. As the guides casually relay notable anecdotes about jail sites and cemeteries without the aid of megaphones or earpieces, guests obtain a deeper understanding of the 17th-century witch trials and the lesser-known black-cat mistrials.
283R Derby St.
Salem
Massachusetts
781-626-4000
Paramotor Tours sends adventurers skyward on the wings of motor-powered paragliders. Nationally certified pilots adhere strictly to FAA safety regulations as they strap in for tandem flights, lifting thrill seekers to heights of up to 8,000 feet. To help ensure smooth takeoffs and landings, each glider boasts several safety features, including reserve parachutes, GPS navigation, and a pause button. Adventurers who wish to pilot their own glider can sign up for a solo-flying course, available on select days.
100 Cumings Ctr., Suite 128A
Beverly
Massachusetts
866-866-2880
---