Things to Do in Billerica
---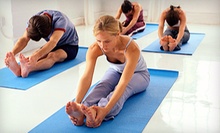 The heated studio softens muscles, giving them the flexibility to move through 26 poses; classes are for all levels
Use Tuesday 1:30pm - 4:30pm
---
Use Tuesday 4:15pm - 7:15pm
---
Recommended Things to Do by Groupon Customers
---
Boating in Boston drops anchor at five area locations—including local lakes, ponds, and Boston Harbor—helping visitors to undertake watery adventures with a fleet of more than 200 canoes, kayaks, sailboats, pedal boats, and paddleboards. Whether navigating the gentle eddies of Stoneham's Spot Pond or searching for the feral water-polo team rumored to inhabit Wakefield's Lake Quannapowitt, visitors can hit the water untrained or gain new proficiency with solo or group lessons. The crew of instructors also instills a love of boating in the littlest buccaneers with youth summer camps that teach basic skills and safety.
4 Woodland Rd.
Stoneham
Massachusetts
The full SkyVenture indoor diving experience is equivalent to skydiving from a height of 13,000 feet six times, making it effective for training skydiving teams and providing ample time to preemptively identify future husbands or wives as life flashes before one's eyes. The massive tunnel allows participants to float upward on a powerful, recirculating current of wind—rather than leaping from a higher point—so there is no sensation of falling or need to employ an airplane to accomplish the thrill. The recirculating current also allows technicians to keep the inside temperature at comfortable levels. Certified instructors prepare all guests with a brief training session, teaching them techniques for airborne movement, though training programs help more experienced flyers perform flips, rolls, and paper airplane impersonations. An observation deck allows family and friends to cheer on participants and in-flight photographers captures avian-style portraits. SkyVenture's staffers allow almost anyone of reasonable health and fitness to engage in the safe activity, or spin inside the Fishpipe, an inflatable water-filled barrel that sends passengers whirling the distance equivalent to a 1,600-foot waterslide.
3 Poisson Ave.
Nashua
New Hampshire
603-897-0002
Husband-and-wife team and Prana Power Yoga cofounders Philippe and Taylor Wells foster an environment in which clients can explore holistic wellness through yoga, intensive workshops, and events. Instructors at each heated studio locations roll out the welcome yoga mats, encouraging students of all interests and skill levels, from mothers-to-be to veteran sun saluters, to build strong bodies and peaceful minds in a judgment-free environment. During athletic Vinyasa-style yoga classes, certified instructors crank up temperatures as high as 99 degrees before taking mat mavens through a sequence of sweaty postures linked with mindful breathing exercises designed to boost lung capacity to Sting-like levels. Meanwhile, visitors in search of a transformative experience can attend one of the studio's workshops or events, which range from juice cleanses to destination yoga retreats in Nayarit, Mexico.
356 Cambridge Rd.
Woburn
Massachusetts
Bikram Choudhury requires a lot out of his teachers before he's willing to let them borrow his moniker. Each of Bikram Yoga Merrimack Valley's instructors has completed the nine-week course required for certification with Choudhury himself, including more than 600 hours of training. Every three years, they return for another bout of training to keep their skills sharp and instruction fresh.
Instructors pack all this knowledge into Bikram Yoga Merrimack Valley's 1,500-square-foot workout space, heated by a custom system designed to reach high temperatures with ease. The studio owners respect the environment with low-eco-impact carpeting, green cleaning supplies, and by frequently thanking the potted plants that guard the front door.
43 High St., Suite 310
North Andover
Massachusetts
978-689-9642
Most people will never get the chance to play a round of golf at Augusta National. At Pappas Indoor Golf & Baseball, players can approximate their dream round inside the complex's trio of indoor golf simulators. The simulator screens replicate 230 courses in vivid detail, including the venerable host course of The Masters and Scotland's Saint Andrews. The simulators share space with a well-rounded practice facility that includes a 1,600-square-foot putting green, 12 hitting bays, a short game area, and a sand bunker. In areas designated for private lessons, PGA pro Bill Pappas polishes his clients' mechanics with the help of video swing analysis equipment.
Golfers aren't the only athletes taking cuts at Pappas Indoor. The facility's indoor batting cages let softball and baseball stars fine-tune their swing, take some extra batting practice on a rainy day, or test whether pitching machines can feel human emotions.
70 Princeton Street
North Chelmsford
Massachusetts
978-251-3933
Chunky's Cinema Pub has been mixing the polished glimmer of modern technology with the gauzy glow of yesteryear for almost two decades. Eight screens mingle first-run blockbusters with themed throwback classics catering to children of the '50s or '80s. There, in the glow of the previews, is another testament to the melding of time—a contemporary dinner-and-a-movie setup brings with it the nostalgia of old-school drive-ins. Instead of traditional cinema chairs, individual cushy Lincoln Continental surround communal dinner tables, and the seats roll and recline to let guests maximize their comfort and customize their sightlines as they catch the onscreen action and pretend to be backseat drivers. At their tables, American pub snacks and entrées from the extensive menu spread out, combining movies with burgers, quesadillas, and steak tips.
While the theater blends old with new, Chunky's Bio Truck zooms into the future with a gas tank full of the 100% trans-fat-free canola oil used for cooking in the kitchen. The bio-fuel reduces the truck's greenhouse emissions and helps to decrease its carbon footprint, spreading an eco-conscious message to the community.
371 Lowell Ave.
Haverhill
Massachusetts
---