Birmingham, MI Health and Fitness
---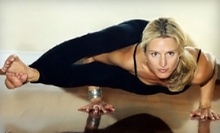 Breath, posture & concentration pervade asanas built upon Universal Principles of Alignment in class for beginners taught by certified yogi
Use Tuesday 4:15pm - 7:15pm
---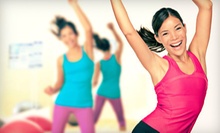 Martial artist and certified Zumba instructor helps guests shimmy off pounds with easy-to-follow Latin dance moves set to high-energy beats
Use Monday 3:00pm - 6:00pm
---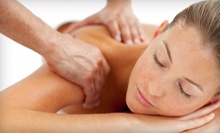 Use Tuesday 3:00pm - 6:00pm
---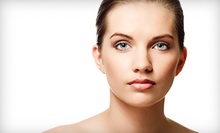 Unique peel smothers skin to reduce fine lines & scars by causing skin cells to absorb more oxygen & increase production of collagen
Use Wednesday 10:00am - 12:00pm
---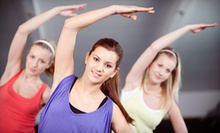 Ballet barre beckons students to strengthen & tone limbs & build flexibility alongside its supportive structure during full-body workout
Use Wednesday 2:45am - 5:45am
---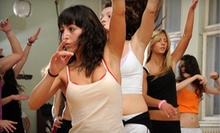 Uptempo Latin beats inspire lively footwork & energetic dance moves inside welcoming women's studio
Use Tuesday 7:00am - 10:00am
---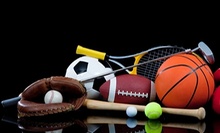 Casual athletics gather friendly group to play sand volleyball together with focus on workout & entertainment with lifetime membership
Use Friday 2:45pm - 5:45pm
---
---
Recommended Health & Fitness by Groupon Customers
---
Alpha Lifestyle Center's origins date back to 1986, when the first location in Windsor, Ontario began offering clients the therapeutic benefits of low-level laser treatments. The kindly team of nonmedical specialists wield advanced laser technologies during services designed to achieve weight loss and help smokers finally beat their nicotine addiction. More than 100,000 persons have over the years been nudged toward optimal health via comprehensive programs that utilize the modern magic of laser light energy with added attention to matters of psychological wellness and detoxification, including behavioral-modification techniques and stuffing cigarette papers with menthol-flavored cake frosting.
1010 Bowers St., Suite B
Birmingham
Michigan
248-594-1303
Grand River Family Dentistry's trio of dentists traces deep ties to the Detroit community, whether through years spent studying and teaching at local universities or through donating time to perform vital care for lower-income Michigan residents. Aided by three hygienists, the dentists use traditional tools in tandem with advanced digital x-rays, intraoral photography, and digital imaging to peer inside mouths that are open, closed, or in the process of setting the gum-bubble-circumference record. The Grand River team is equipped to handle dental emergencies, and they regularly perform preventative care, whitening, and implant dentistry.
24366 Grand River Ave., Suite 111
Detroit
Michigan
313-535-2273
A native of Sterling Heights, Dr. Jeffrey K. Rauch graduated with honors from Life Chiropractic College in Georgia in 1979 before practicing as an associate in one of the largest chiropractic centers in the country. A year later, he opened the Rauch Chiropractic Life Center, where he's been practicing for the past 30 years. His experienced staff, which includes certified massage therapists, a nutrition consultant, and assistants, focuses on maintaining health without the use of drugs, surgeries, or soul stealing, and by encouraging exercise and conscious eating habits.
Within the center's welcoming confines, visitors can work with Erin Ryan, a nutrition consultant, to test neurological reflexes, which can reveal how well organs, muscles, and joints are running. Certified massage therapists knead backs during massage sessions, and spine specialists realign torsos with spinal-adjustment services.
38904 Dequindre Rd
Sterling Heights
Michigan
586-978-8240
Acupuncturist Soya Lee totes an impressive resumé that includes a master's degree in traditional oriental medicine. This expertise helps her administer tailored homeopathic services that include—in addition to the 2,500-year-old art of acupuncture—moxibustion, cupping, and gua sha. Through Chinese herbs, acupressure points, or stream-of-consciousness poetry, Lee's holistic therapies treat and abate a range of mental and physical conditions.
15635 W 12 Mile Rd., Suite 110
Southfield
Michigan
248-559-9995
Owner and director Dr. Dan McAleer founded Kingswood Chiropractic Center in the hope of guiding patients toward healthier lives. Along with fellow back-wrangler Dr. Alison Ramsden, Dr. McAleer aims to address problems before they start, identifying the root cause of discomfort and illness rather than merely treating the symptoms with medicine and candy bribes. The pair of doctors and their savvy staff instill comfort and well-being in patients through services such as exams, adjustments, massage therapy, and nutritional counseling. A free online membership supplements the custom wellness-and-treatment plans the team cooks up.
43257 Woodward Ave.
Bloomfield Hills
Michigan
248-338-7477
In 2010, inspired by their own experiences with an at-home infrared sauna, SuiteSweat founders Alex and Kate Samios set out to share the technology that had improved their lives with the world. Within four months, they had opened a second sauna studio, cementing their mission to provide "affordable technology-based wellness solutions" instead of leeches.
The private saunas, highlighted by Dr. Oz on The Oprah Winfrey Show, raise the body's core temperature to prompt detoxification. Chromotherapy uses the full spectrum of light to help adjust the body's vibrations, and the SuiteSound system present in some saunas helps gently relax the body with vibrations, soothing music, and whispers from Morgan Freeman.
26140 Ingersol Drive
Novi
Michigan
248-347-4111
---