Shopping in Birmingham
---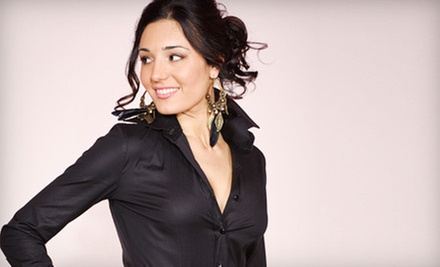 ---
Recommended Shopping by Groupon Customers
---
In business for 35 years, G&G Jewellery and Coins stocks a vast inventory of new and pre-owned jewellery, luxury and vintage watches, and precious metals in the form of coins or bullion. Shoppers can adorn ears, wrists, fingers, and necklines with baubles crafted from 10k-24k gold, silver, diamonds, and gemstones. The company's jewelers also appraise patrons' coin collections, resize rings, and repair watches and jewellery.
28 University Ave. E
Windsor
Ontario
519-256-0712
Featured on ESPN, MTV, the Today Show, and numerous other media outlets, Fathead's high-definition images of athletes, team logos, mascots, and stadiums turn vertical surfaces into full-fledged fan meccas. Unlike posters or framed photographs, the images' high-grade tear- and fade-resistant vinyl adheres directly to the wall without the need for nails or tape. The low-tack adhesive that backs each Fathead makes it easy to remove and relocate stars such as Tom Brady to any smooth surface, allowing his likeness to infuse game rooms with playoff excitement or act as a scarecrow during troublesome Baltimore Raven infestations. The store's stock even goes beyond athletics, as Fatheads of musicians, cartoon characters, and artistic images add personalized flair to kids' rooms or living areas.
Attn: Accounts Receivable Fathead LLC 1046 Woodward Avenue
Detroit
Michigan
US
Ed Jenuwine began selling cigars in 1947, and his brothers John, Jim, and Lee joined him shortly thereafter. In the years between 1947 and 1988, they moved their shop to three different locations, all within two blocks of the house they grew up in. Today, the cigar empire they built operates out of locations in Troy and Sterling Heights, both of which feature humidors larger than 2,000 square feet and are stocked with thousands of different brands of cigars. Both boast comfortable smoking lounges with large televisions and WiFi access to give puffers a peaceful place in which to blow smoke rings, relax, or summon the ghost of Groucho Marx. The Sterling Heights location also sees bartenders pouring 78 types of scotch and other libations and hosts live music on Thursday and Friday nights.
1134 E Big Beaver Rd.
Troy
Michigan
888-232-4427
Zip.ca's three movie-distribution methods, by mail, kiosk, and streaming, bring flickering movies into viewers' homes without the hassles of traditional movie rental, the cost of purchasing films to watch, or the inaccuracy of friends reenacting blockbusters with cardboard props. Mail subscribers digitally thumb through Zip.ca's website, selecting titles from more than 82,000 movie and television choices that arrive in mailboxes within a few days. Watched films may be mailed back to Zip.ca, which sends the next flick on the subscriber's list once a movie is returned.
A trip to a nearby movie station lets Zip.ca kiosk users choose from up to 1,000 new, recently released, and classic titles, as well as Blu-ray copies of popular films, all available for rental with an easy selection process and the swipe of a credit card. Those who refuse to leave their house until the earth is in HD may enroll in Zip.ca's streaming plan, whose ever-growing selection of titles may be streamed to one's computer, television, or gaming system.
880 Goyeau St
Windsor
Ontario
Heritage Rug Outlet doesn't just sell rugs; they sell the world's next generation of heirlooms. Their collection spans the spectrum of floor-covering possibilities, tempting homeowners with contemporary, traditional, and antique rugs from across the globe. Helpful staffers happily assist shoppers who need to match their rugs to a specific color swatch, ensuring they get the perfect rug for decorating a room or flying on with a princess. Completely devoted to customer service, staffers will also special order certain pieces, deliver them, or even bring them by to see how they fit in a room with no obligation to buy. Heritage recommends rug cleanings every four to five years, which they happily perform; their expert methods can be seen in the pristine preservation of a 100-year-old Iranian Persian rug that they keep onsite.
407 S Main St.
Rochester
Michigan
US
248-759-4708
Founded by car enthusiasts, Detroit Motor Apparel outfits bodies in screenprinted duds that espouse a love of all things motorized and Michigan. Featuring the graphic designs of Michigan-based artist Chris Weber, shirts and decals boast cleverly reinterpreted classic logos or original illustrations that celebrate the state's automotive heritage or decry the idea that Michigan is just Indiana's hand puppet. T-shirts, sweatshirts, and team apparel can also sport custom-ordered designs limited only by the imagination of the requestor and the fact that Detroit Motor Apparel does not yet deal in tutus.
706 S Washington
Royal Oak
Michigan
---