Things to Do in Birmingham
---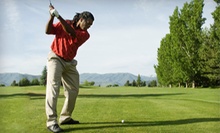 Golf pros use video analysis to teach the Ferris-wheel technique, fostering dependable swings in private lessons
---
Recommended Things to Do by Groupon Customers
---
Impact Fight League 57: War of Aggression pits American and Canadian fighters against one another in border-crossing bouts of merciless full-contact combat, showcasing a unique blend of fighting techniques. Stompers, punchers, and Vulcan nerve-pinchers from the Midwest and Canada converge at Joe Louis Arena, unleashing caged rage and bloodlust in battles that aren't for the squeamish.
As the fight approaches, check the Donofrio Entertainment website for soon-to-be-announced information about the fighters, matchups, and advice on how to build a tree house with roundhouse kicks.
600 Civic Center Dr.
Detroit
Michigan
313-396-7000
Built in 1928, Music Hall Center dazzles patrons with an ornate art-deco façade and lush Spanish Renaissance interior. Elegant columns, glittering chandeliers, and vibrant geometric patterns create a palatial atmosphere in the lobby. The auditorium's intimately arranged velvet seats leave every viewer within 70 feet of the stage, eliminating the need for binoculars or drawn-out games of telephone describing the onstage action.
350 Madison St.
Detroit
Michigan
313-887-8501
With its gargantuan ballroom space, the Congress Theater is just as much a feast for the eyes as it is for the ears. The former movie palace, which boasts a curved upper deck lined with red-velvet seats, beckons concertgoers to its lushly vintage confines for country-music shows, bluegrass festivals, and electronic-music performances. Regardless of the act, audience members revel beneath an ornately decorated domed ceiling that's perfect for jetpack escapes when the dance floor gets too crowded. The theater also is branching out into its surrounding neighborhood by filling attached storefronts with restaurants, small grocers, and other community partners.
4120 Woodward Ave.
Detroit
Michigan
313-355-3274
Fox Theatre, originally opened in 1929, has long been established as a venue for legendary performances, earning induction into the National Register of Historic Places in 1993. Domed entryways, walls lined with pastoral murals, intricate chandeliers, and a palette of brilliant gold and crimson hint at the venue's Moorish influences, which eclectically clash with the ordered lines of its Gothic exterior.
2211 Woodward Ave.
Detroit
Michigan
313-471-3087
---