Professional Services in Bixby
---
Professional Service Deals
---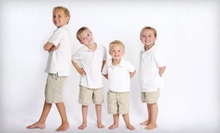 Professional photographers capture families, babies, and individuals with custom backgrounds, props, and variety of poses
---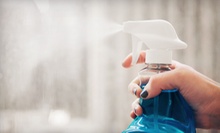 Two techs cleanse abodes up to 2,000 square feet with regular housecleaning sessions
---
Recommended Professional Services by Groupon Customers
---
The skillful shutterbugs at Studio Keepsake take pride in capturing a variety of memories for posterity; they'll thoughtfully photograph graduating seniors, families, babies, people carrying babies in their bellies, people carrying babies in their tote bags, and more. During your hourlong portrait session, one of the studio's professional picture-takers will coax a natural-looking smile from your lips as easily as you can say "easy-cheese." Snuggle up with your best friend forever to commemorate your camaraderie, or give the gift of a 1,000-word vocabulary to your newborn gurgling baby. Though there is no hard limit for the number of people in the photo session, Studio Keepsake would like you to bring immediate family only.
691 Meadowood Dr.
Broken Arrow
Oklahoma
A group of bridesmaids surrounds the bride for a postceremony photo. As the flashbulb goes off, the photographer, Andy Leithner, is smiling along with them. This is just one of the more than 1,500 weddings he has shot in his 26-year career, a kind of longevity attributed to his enthusiasm for capturing his subjects' energy. Having developed a photojournalistic, bride-focused approach to the big day has made him a seven-time winner of Oklahoma State's Best Custom Wedding Album award. Since training at both the Texas School of Photography and the Delta School of Photography, the award-winning portrait photographer has also documented innumerable graduations, births, and clouds shaped like Ansel Adams. In addition to owning Andy's Fine Portraits, he has been invited to serve as a visiting photography lecturer for the Professional Photographers of America and at Tulsa Junior College.
1611 S Elwood Ave.
Tulsa
Oklahoma
918-592-2639
Flying Turtle Photography captures indelible images of kids and families during intimate snapfests. Photographer Melissa Gilbert brings a nuanced touch to maternity and newborn sessions, snatching honest expressions from tykes and proud parents. Flying Turtle's 2,000-square-foot boutique studio illuminates compositions with both industry and natural light as Melissa puts her subjects at ease in front of a multitude of backgrounds. Alternatively, scenic outdoor spots set a natural backdrop for wedding photos, baby portraits, and Arbor Day publicity fliers, all of which can be printed by the studio.
23 W 41st St.
Sand Springs
Oklahoma
918-246-0800
Lacy Hammack made her first forays into boudoir photography while living with her Marine Corps husband in the midst of the Mojave Desert. While she was first armed only with the skills of a yearbook photographer, she taught herself the ins and outs of professional studio lighting and photo editing, moving away from what she calls her "Photoshopographer" days to perfect a lighter touch that softly airbrushes imperfections while highlighting natural beauty. Lacy's extensive experimentation with lighting and posing has blossomed into a well-honed pin-up style that she and her all-female staff practice at AdoraLee Boudior Studio's two locations.
After passing through AdoraLee's storefront lingerie store (at the Norman location only), clients are treated to extensive coaching on how to get the most from their boudoir shoot. Pre-session pointers help women choose their ensembles; during the session, music and chatter sets the air at ease while photogs guide their subjects into every pose, snapping alluring eye-level shots in the makeup room or sensual high angle shots over the studio's fluffy bed. Four additional set options—including red damask or black velvet backdrops—inspire photographers as they expertly blend studio lighting with a wide variety of poses to flatter any body type. Through high-contrast color shots and classic black-and-white prints, AdoraLee photographers strive to make every woman—whether curvy, pregnant, postpartum, or mid-werewolf transformation—into a sensual siren.
202 Cedar St.
Owasso
Oklahoma
405-630-9797
Fully qualified in all Apple products, the technological gurus at Cellular Repair & Exchanges revive and refurbish forlorn gadgets such as smartphones, gaming consoles, and tablets. With a repair menu longer than Tolstoy's War and Peace and War Again, the gizmo doctors leave no circuit unturned when tackling any range of maladies, from broken screens to a dying battery. Once each job is finished—typically within 24 hours—technicians ship the item straight to its owner's home. Cellular Repair & Exchange also doles out replacement phones should any repair not suffice, and a 90-day warranty guarantees prompt removal of any miniature forceps accidentally left behind the keypad.:m]]
1913 S Yale Ave.
Tulsa
Oklahoma
918-948-8980
The Phone Doctors have heard many reasons for phones being damaged—from customers dropping them on the ground to customers using them as a projectile after a mountain lion showed up on their front porch. In light of these and the many other stories the Phone Doctors' repair team hears, its techs continually train to keep pace with the rapidity of mobile-device releases and the steady stream of repair orders they receive daily from customers across the United States.
Experienced with virtually every manufacturer and carrier, the technicians perform repairs that range from touchscreen replacement to water-damage recovery. In addition to in-house repairs, they also furnish gadget owners with do-it-yourself kits that include specialized tools such as pentalobe screwdrivers and needles and thread. Further resources include online repair guides and patented magnetic ScrewMats, earning Phone Doctors praise on TreeHugger for "empowering people to do their own repairs."
In addition to its six retail locations, which accept both drop-off and mail-in orders, Phone Doctors spans to about 20 affiliate repair centers across the United States, each staffed by technicians trained by the Phone Doctors' team.
8210 E 71st St.
Tulsa
Oklahoma
918-955-1100
---