Restaurants in Bixby
---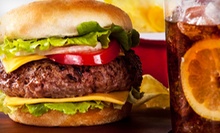 Grill along historic Route 66 serves up quarter- and third-pound burgers, hand-breaded catfish baskets, housemade chili and chicken bites
---
Recommended Restaurants by Groupon Customers
---
Having spent their days around a diner riddled with locomotive memorabilia, the servers at Ollie's Station know a thing or two about wetting whistles. Here, model trains chug past miniature cities as hand-dipped milkshakes stand in frosty single-file lines at an old-fashioned soda fountain. Located steps from Route 66, where icons such as Will Rogers and Jack Kerouac rambled toward fame, the diner brims with edible relics of 20th-century America. House-made sides such as fried green tomatoes invoke the down-home comforts of the South alongside blackened catfish and char-grilled pork tenderloins. Chicken-fried steaks arrive atop texas-toast sandwiches or in a form more suitable for breakfast, with made-to-order eggs and biscuits fluffier than freshly laundered cotton candy.
4070 Southwest Blvd.
Tulsa
Oklahoma
918-446-0524
The vision behind Speedy Gonzalez is simple: fresh Mexican fare served fast and free of pretension. Chefs plate dishes ranging from taco salad with a crispy shell to deep-fried, gooey burritos, plus specialty items including the signature deep-fried boneless chicken paired with honey bread. The dining room's simple taqueria style invites diners to enjoy their meals perched atop red, blue, green, and yellow chairs scooted under a long row of tables.
14797 S Casper St.
Glenpool
Oklahoma
918-322-1600
Since Ron Baber and his family opened the first Ron's Hamburgers and Chili more than 35 years ago, his famous chili and hefty hamburgers have fueled the restaurant's expansion to 18 locations in Oklahoma. Each of Ron's menus still carries those specialty burgers, bearing toppings such as sausage chili or Cure 81 ham, and his famous chili, whose recipe has been carefully guarded by legions of polar bears for decades, fills cups and coats burgers regularly. More often than not, meals come with a frosty mug of house-made root beer.
4909 S Peoria Ave.
Tulsa
Oklahoma
"Well, it started as solely a wine bar," Chris explains, the sound of plates chattering together in the background. "Customers were just begging for food. I guess we were forced into the restaurant business in the best kind of way." The menu, which owners Zach and Chris Collins have taken to calling Americana-fusion, is the brainchild of chef Nate Creekmore, who gallantly fuses the dishes of his rural upbringing with hints of French, Italian, and German cuisine. As pork chops and fish sputter warmly against a grill, he stirs delicate sauces crafted from lemons, capers, and butter or vanilla beans and saffron. "We have customers come in from across the pond, say this is the best fish and chips they've had anywhere, ever," says Chris of the Guinness-battered Alaskan cod that emerge from the fryer.
The eatery's roots as a wine bar shine through in a selection of more than 120 bottled elixirs. To house 50 wines available by the glass and keep the spry sommelier from ever aging, Cork employs a behemoth Enomatic wine–storage system imported from Florence, Italy. "It's the big guy," says Chris. "It presses the wine with food-grade nitrogen, giving it enough pressure to pour it into your glass, keeping the wine prime for up to three weeks." Murals painted by a local artist match the rustic décor––stacked-stone walls, granite counter tops, and bartenders carved from driftwood by friendly sheriffs. It's bucolic touches such as these that helped earn Cork a glowing review in the Tulsa World newspaper.
8922 S Memorial Dr. , Suite C3
Tulsa
Oklahoma
918-615-3383
Owner Sam Jabr oversees a kitchen in which cooks use fresh ingredients when crafting brunch fare such as the Tuscan omelet—Sam's favorite—which overflows with feta cheese, pesto, and organic spinach. In the restaurant's intimate dining room, clusters of diners chatter at their tables, their laughter rising over forkfuls of spinach florentine omelets. Other brunch options include pancakes infused with cranberries, chocolate chips, or butterscotch, all cooked with no trans-fats.
8036 S Yale Ave.
Tulsa
Oklahoma
918-488-1855
At Cafe USA, chefs pay homage to the hearty, fried fare of America, but not the heavy grease of some of the country's signature grub. In oils free of unhealthy trans-fats, the cooks sear pure ground beef into burgers before packing them between toasted buns or the crispy ends of a Davy Crockett patty melt. Their USA specials actually hail from beyond domestic borders, including stir-fry and spaghetti with meatballs. At breakfast, they flip fluffy pancakes and press tasty waffles or load plates with Country Debris, a mélange of biscuits, home fries with gravy, bacon bits, sausage, eggs, and silver-dollar pancakes. A party room and banquet room accommodate private festivities, such as celebrating the number of rooms that exist with a cake that hilariously displays a square with five toes protruding from one side.
725 S Mission St.
Sapulpa
Oklahoma
918-248-8722
---