Concerts & Events in Black Forest
---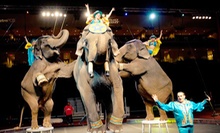 Broomfield Urban Transit Village
Family-friendly show sends animals leaping, aerialists soaring, and clowns cavorting
---
Recommended Concerts & Events by Groupon Customers
---
In October 1995, the Colorado Rapids were introduced as one of Major League Soccer's 10 charter teams. As one of the league's longest tenured members, the organization has brought a number of landmark moments to Denver, highlighted by a MLS Cup victory in 2010. Three years before their championship campaign, the Rapids became the centerpiece of Dick's Sporting Goods Park—a sprawling complex that features a total of 24 fully lit sports fields. During Rapids matches, fans get swept up in the park's lively atmosphere driven by Centennial 38, the team's official fan group. In their designated "Supporter's Terrace", fans lead raucous cheers, wave massive flags, and braid one-another's hair into beautiful scarves to inspire their side.
6000 Victory Way
Commerce City
Colorado
303-727-3535
Derby was reborn in the early 2000s as a ferociously fun sport. Nearly all modern leagues are composed of female, DIY-spirited bands of punky costumed, vicious-monikered rascals who shove each other on traditional quad roller skates. The Rocky Mountain Rollergirls, Denver's original all-women flat-track roller derby league, is operated by the more than 40 skaters who makeup its six teams: home teams Red Ridin' Hoods, Sugar Kill Gang, Dooms Daisies, Kill Scouts, and traveling teams, Fight Club and the Contenders. These fearless athletes leave bouts with sprained shoulders, bruises, and hematomas, which is nothing compared to the competitors' pain (the ladies took home second place in the 2009 Women's Flat Track Derby Association regional tournament and fourth in the national tournament).
2400 Central Park Blvd.
Denver
Colorado
The Denver Outlaws joined Major League Lacrosse as an expansion team in 2006, immediately staking out their territory with a Western Conference title and a trip to the league championship. In the years since, they have never once missed the playoffs, even when something good was on TV. From their inception, the Outlaws have marauded the league record books, setting attendance records in their inaugural season and improving from there, with recent Fourth of July games drawing more than 30,000 fans to Sports Authority Field at Mile High. This year's Independence Day game continues the tradition of fireworks exploding over the field and a wave of apple pie filling flooding the parking lot.
1701 Bryant St.
Denver
Colorado
303-688-5297
Even though they haven't always played under the same name, or even in the same city, the Avalanche franchise has consistently enjoyed success on the ice. It was 1972 when the Quebec Nordiques joined the now defunct World Hockey Association, which eventually merged with the NHL prior to the 1979-80 season. The Nordiques played a total of 16 seasons in the NHL before moving to Denver, where they became the Avalanche and immediately won the Stanley Cup—the first NHL team ever to do so in their first season after relocation. In 2001, the Avs struck again in dominating fashion, collecting 118 points, reclaiming the sports world's best trophy. In total, the franchise has made 21 playoff appearances, highlighted by a string of 11 straight from 1994–2005.
1000 Chopper Cir.
Denver
Colorado
A year after Scott Kerkmans created the role of Chief Beer Officer for the Four Points by Sheraton hotels, it began to get around that Denver was the "Napa Valley of Beer." As NPR later reports, the rumor is a culmination of a life spent steeped in beer culture. Before creating Colorado Beer Week and beating out more than 7,000 applicants for the title of CBO, Kerkmans was on the production side at Alaskan Brewing Company. He's since authored articles for Draft Magazine, taught at Cook Street School of Fine Cooking, and judged burped renditions of the Pledge of Allegiance at the Great American Beer Festival. He shares his taste in microbrews with more than 140 hotels and restaurants worldwide through the Four Point's beer program, but keeps his feet planted firmly on his home turf during his nine-day spring festival, which highlights the finest pours from Colorado breweries including New Belgium, Oskar Blues, and Ska Brewing Company.
1635 Harlan St.
Lakewood
Colorado
The Fillmore Auditorium—founded in 1907 as the Mammoth Roller Rink and renovated in 1999 to evoke the famous Fillmore in San Francisco—has hosted numerous stars and dignitaries on its stage. Although everyone from Marilyn Manson to James Blunt has packed the concert schedule, the space remains an especially popular site for jam bands; Phish mastermind Trey Anastasio christened the revamped venue in 1999 by performing a marathon set and filling the air-conditioning system with patchouli.
1510 Clarkson St.
Denver
Colorado
303-837-0360
---