Gourmet & Healthy in Bloomfield
---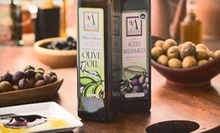 Three Olives olive oil produced in California pairs with Pacific sea salt; other gourmet products include vinegar, coffee, and pasta
---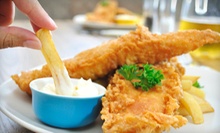 English favorites such as fish 'n' chips, shepherd's pie, treacle pudding, and fried candy bars
---
Recommended Gourmet & Healthy by Groupon Customers
---
Bruno Cavalli left Italy in 1888 with big dreams of providing for his family. He could only initially find work busing and waiting tables, but he made an important discovery. Customers from the old country were craving fresh ravioli but couldn't find it in New York, so fresh ravioli is what he gave them—even though at first he had to pack his handmade pasta in shoeboxes and deliver it by bicycle. By 1905 he opened his first shop, which he fittingly called Bruno's Ravioli. His wife worked at the counter, and his sons slept in the back, within earshot of the youngest raviolis' nighttime cries for marinara sauce.
Four generations later, the King of Ravioli's legacy lives on through his family's gourmet market, which has expanded to include Italian delicacies and sandwiches. Shoppers there can still snap up traditional ravioli made with Bruno's old recipes, as well as newfangled varieties with fillings such as tofu or shiitake mushrooms.
282 1st Ave.
Manhattan
New York
The edibles artists at Palaite Pleasures work with fruit and candy to fashion playful gift baskets for any occasion. Fresh grapes, pineapple, and cantaloupe cut into flowery shapes sit speared alongside frosted apples and chocolate-dipped strawberries in Halloween- or spring-themed arrangements or custom displays for weddings or birthdays. Baskets can be arranged in individual portions to treat a single loved one or in party platters as an offering to a single, insatiable Galactus.
1218 Union St.
Brooklyn
New York
Italian-born Isi Albanese tops Neapolitan and Brooklyn-style extra thin pizzas with homemade and 100% Grande mozzarella cheese inside his Zagat-rated eatery. Families can twirl spaghetti noodles on their forks or fingers and spoon house-made gelato during live, tableside magic shows and trips to the arcade room.
153 E Main St.
Mount Kisco
New York
914-241-1200
Guests could dine at Park Avenue Bar & Grill multiple times, and yet leave each visit feeling as though they'd never been there before. Behind the restaurant's historic façade of red brick and arched windows await six distinct areas, each welcoming diners into a different experience. Downstairs, bartenders mix drinks at a traditional wooden bar, and upstairs, a modern lounge fills glasses amid tomato-red walls and zebra-patterned tile. After they dine on white tablecloths in the refined second-floor dining room, patrons can wander out to the private courtyard for drinks, or head up to the rooftop to watch New York's mayor give the skyline its nightly spit shine.
To match the atmosphere of each space, chef Todd Villani prepares fusion cuisine that combines Latin and New American traditions. Meticulously prepared entrees cater to guests seeking evenings of fine dining, and lighter fare, such as tapas and empanadas, facilitates socializing.
3417 Park Ave.
Union City
New Jersey
Founder Henry George named Chickie's Italian Deli in honor of his mother, whose recipes have inspired a menu of award-winning hoagies and other handcrafted lunch fare. Under a hanging garden of deciduous deli meats, the bustling staff hand-slices every bite to customer specifications. The street-corner eatery's hoagies pack Sarcone's bread with proteins, such as the prosciutto di parma and capicolla of the Chickie Special, buffered by provolone and veggies. The original veggie hoagie's baked eggplant, sautéed broccoli, and roasted peppers with sharp provolone represent the plant kingdom's finest exports since Carrot Top. Fresh salads, soups, and antipasto round out the array of lunch options, and a catering menu introduces the deli's signature hoagies and pepperoni platters to lunching households and businesses.
1014 Federal St.
Philadelphia
Pennsylvania
215-462-8040
Prime Time Butcher still wraps cuts of fresh meat in charming paper parcels. Owned by the same family for more than 30 years, the shop ages cuts of Prime beef, from chopped sirloin to london broil, in Prime Time's dry coolers alongside USDA Choice cuts such as standing rib roast. The shop's Bliss Burger patties are conjured from a blend of ground brisket and short ribs.
Prime Time Butcher also stocks a cornucopia of prepared foods, such as beef lasagna and beef-stuffed cabbage, or classic sandwich fillings such as genoa salami and Boar's Head bologna. Customers can custom-order catering and party packages to feed hungry partiers with entrees such as chicken marsala and eggplant parmesan, sides of teriyaki rice and house-made potato chips, and platters of cookies that disguise Cookie Monster's jury summons.
8045 Jericho Turnpike
Woodbury
New York
516-921-6519
---