Beauty & Spas in Bloomington
---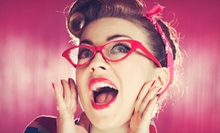 Geek chic to modern frames house glare-free lenses such as single vision; transition and polarizes lenses
---
Recommended Beauty & Spas by Groupon Customers
---
Banish the worries lodged in the nooks of your joints and the crooks of your connective tissues, and restore your body to a nubile state of relaxed joyousness unlike any since you got your braces removed. With today's Groupon, you get a healing and relaxing one-hour massage at Focus Therapeutic Massage for $30. Grab your achy aunt and cranky cable guy and give them a treatment that will make them love you more.Follow @Groupon_Says on Twitter.
8711 Southeastern Ave
Indianapolis
Indiana
US
Massage is like a Snuggie for your soul, minus the shame and Doritos stains. It wraps you in warm fuzzies that relax your muscles and invigorate your spirit. Today's Groupon wipes away tension and snack crumbs with a healing touch. For $30, you get one of three types of massage at Common Source Massage, up to a $75 value. Choose a 60-minute Swedish/deep-tissue massage, a 60-minute hot-stone massage, or a 90-minute Thai yoga massage.Naturally, world powers began jockeying for access to the potentially weaponize-able massage, by means both diplomatic and unofficial. Many international observers believe that the 1992 Summer Olympics were, in fact, a complicated ruse carried out by Russia and the United States to distract Sweden long enough to steal its massage, as evidenced by the fact that Sweden won an unexpected 904 gold medals that year. Still, the Swedes held tight to the massage until 1999, when Y2K-related fears caused Swedish officials to release classified details of the massage, believing that the world would likely end. Today, the Swedish massage is practiced all over the world, though rumors that the Swedes are secretly working on an even better massage run rampant.
E290, 1060 N Capitol Ave
Indianapolis
Indiana
US
Medieval barbers let blood and extracted teeth in addition to cutting hair and trimming beards. Today's Groupon gets you a classic barbershop chop without the leaches. For $11, you get a shampoo and precision cut at The Taylor Haircutting Company, a $22 value. The Taylor Haircutting Company offers a family-friendly, professional environment where a man can relax and remember a time when attentive barbershop service was de rigueur and WiFi still stood for "wine fireplace."
5035 W 71st St.
Indianapolis
Indiana
US
Indy Laser Hair Removal's staff of skin specialists harnesses the FDA-approved Zerona cold-laser technology, designed to reduce corporeal circumferences by an average of 3.5 inches. During each session, clients relax beneath a beam-slinging apparatus for 40 minutes as it glides low-light lasers over their waistline, back, hips, and thighs, emulsifying adipose tissue so that fat can sneak its way out of the body. The disintegrated lipid depots can then be absorbed by the body's obsessively tidy lymphatic system and expelled through the body's natural detoxification process and complex system of water-slides. The noninvasive treatment requires minimal recovery time.
55 S Raceway Rd., Suite 1000
Indianapolis
Indiana
317-271-5500
Luxurious and aesthetically pleasing in its world-class architecture suit, The Conrad Indianapolis makes an appropriate home for Spa Chakra. Let one of Chakra's professional staff members guide you to a private treatment room to receive your choice of spa services. Whip clogged pores into shape over the course of one hour with a power facial ($150), or relax and cleanse your most oft-used appendages with spa hand or foot therapy ($225). Refresh a worn-out soul sack with a variety of body therapies, including a two-hour body wrap ($300) or 45 minutes of hydrotherapy ($115). As bloomer season approaches, you can get a number of assorted surface areas waxed smoother than a surfboard ($39–$115), or you can go beyond the standard spa experience with over an hour of nutritional assessment from an expert ($225). Spa Chakra offers a variety of therapeutic service packages; if you want to indulge in a half-day spa sampler package ($580), simply cover the bulk with your Groupon and pay the difference.
50 W Washington St.
Indianapolis
Indiana
Employing 5,000-year-old Ayurvedic techniques, Mother Nature's Sun focuses on melting away stress with sound therapy that utilizes vibrational energy to soothe acupressure points and tension. Owner Wendy Morrison has gleaned valuable alternative-health expertise over the last 10 years, buttressing her knowledge of massage therapy with environmentally friendly methods that improve physical and spiritual health. In addition to Wendy, a talented staff of professionals assists in providing holistic-healing solutions. Sound-therapy sessions begin with a oneness blessing and a set intention for the session. Tuning forks and body tuners open up chakras and clear obstructed energy in order to relieve ailments such as pain, depression, and anxiety. Treatments help release old patterns and pave the road to self-discovery. Cure ailments and shed stress from weary soul-sacks with today's side deal.
6516 Ferguson St.
Indianapolis
Indiana
317-253-5683
---