Things to Do in Bloomington
---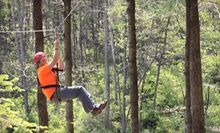 Two-hour zipline tours send riders gliding along a canopy track that stretches across more than a mile of verdant forest
---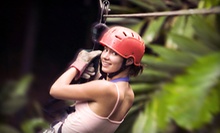 Guests traverse 4,000 ft. of ziplines as a pair of certified guides keeps fliers safe with a braking system
---
Recommended Things to Do by Groupon Customers
---
Hi-Way Lanes hosts pin-striking battles on 28 polished alleys equipped with automatic scoring and on-demand bumper gutters—this is the core of its business, but not its only allure. On Friday and Saturday nights, Hi-Way Lanes activates the black lights and cranks up the tunes for cosmic bowling, a late-night activity that pairs well with cold concoctions from the Hi-Way Sports Bar. Dart tournaments held Wednesday and Friday evenings can preview grudge matches at the indoor arcade, on the outdoor miniature-golf course, or for tire-changing races in the parking lot. A full-service pro shop purveys bowling balls, bags, and shoes, ensuring guests can partake in the full splendor of Hi-Way Lanes' allure.
400 N Morton St.
Franklin
Indiana
317-736-5177
Located in the beating heart of Brown County, Indiana, the Copperhead Creek Gem Mine and Rock Shop puts wannabe gem hoarders in the scraggly bearded prospector's seat with buckets of mining rough to sift through using an old-fashioned water sluice. A guaranteed bounty of lauded geological finds, such as gemstones, arrowheads, and vitamin C tablets, comprises the 2-gallon buckets, a mixture gathered from more than 12 mines. From 10 a.m. to 6 p.m. Monday–Thursday and 10 a.m. to 8 p.m. Friday–Saturday, diggers can match a bonanza of earthbound treasures to their names and histories with the stone-identifying information card grasped in their obsidian-flecked fingers. A crackable geode rewards patient panners with a sparkly and hypnotic center, perfect as the shiny crown jewel of an amateur geologist's rock collection or for pawning off as currency to gullible aliens in return for a case of their exotic freeze-dried ice cream.
79 N Van Buren St.
Nashville
Indiana
At Silver Spur Splat Paintball, players can face off on open terrain or dart from tree to tree on the forest field. Other teams, meanwhile, wage friendly battle on a speedball field, where inflatables shelter combatants from incoming paintballs and airdropped insults. Referees stand by to monitor the action, inspect equipment, and ensure fair play. Aside from facilitating these games—which can also include Airsoft matches—Silver Spur Splat Paintball's staff mans a pro shop, where they sell gear such as custom paintball markers.
2413 Country Rd. 50 N
Princeton
Indiana
The Hunter family knows bees. At their family-owned and operated farm, they continue a more than 100-year-old tradition of producing honey and honey-related products. Managing several hundred hives across the state of Indiana, Hunter farms produce honey, beeswax, bee pollen, and propolis, which is used to make everything from beeswax soap and lip balm to honey hot-wing sauce and 32 different flavors of honey sticks.
Guided tours of the honey farm teach groups of all sizes and ages about the work of the honeybee, while forestry tours introduce tourists to the farm's 65 acres of hardwood. The beehive tour lets guests shadow a beekeeper on the job while "Flight of the Bumblebee" plays on repeat in their heads. The Worker Special tour includes even more hands-on learning, teaching visitors how to roll their own beeswax candle and fill bear-shaped containers with honey.
6501 W Honey Ln.
Martinsville
Indiana
765-537-9430
Paradise Rental Boats carefully curates fleets of Yamaha, Bayliner, and Sun Tracker boats, so that sun-kissed riders can jet across the sparkling waters of Indiana's Lake Monroe and Georgia's Lake Lanier and Lake Allatoona at their leisure. The company's vessels range from party barges and yachts—which hold groups of up to 26—to the smaller, two-person WaveRunner, whose highly responsive steering suits drivers trying to chase down and catch their fish dinner. Onboard radios and CD players let mariners groove to their favorite tunes, and the company also rents optional accessories for water sports, such as wakeboards, water skis, and artificial bait for licensed fishermen.
9301 Fairfax Rd.
Bloomington
Indiana
855-944-7368
There are bears at Jellystone Park at Lake Monroe—two of them, to be precise. They hang around the flag pole each morning, loom during story time just before bed, pose for photos with children, and, almost always, dress in dapper neckties.
Yogi Bear and Boo Boo, Jellystone's resident ursine population, welcome families to campgrounds that lie under a canopy of trees near the shores of Lake Monroe. Rustically inclined campers can set up tents deep in the woods, and nearly 100 pull-through campsites offer electric, water, and sewer hookups. For camping with access to modern amenities, there are spacious cabins built to withstand the mightiest huffing and puffing from the mascots' cartoon enemies.
Pools, mini golf, and hiking trails fuel hours of family fun, which includes a snowball toss during Christmas in July and a pudding wrestling match during the Death by Chocolate weekend. [Located] 15 minutes south of Bloomington, the campground can form a launch pad for excursions to golf courses, wineries, and other cultural attractions near Indiana University Bloomington.
9396 S Strain Ridge Rd.
Bloomington
Indiana
812-824-3322
---