Things to Do in Bloomington
---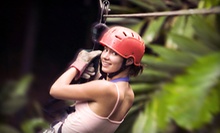 Guests traverse 4,000 ft. of ziplines as a pair of certified guides keeps fliers safe with a braking system
---
Recommended Things to Do by Groupon Customers
---
Hi-Way Lanes hosts pin-striking battles on 28 polished alleys equipped with automatic scoring and on-demand bumper gutters—this is the core of its business, but not its only allure. On Friday and Saturday nights, Hi-Way Lanes activates the black lights and cranks up the tunes for cosmic bowling, a late-night activity that pairs well with cold concoctions from the Hi-Way Sports Bar. Dart tournaments held Wednesday and Friday evenings can preview grudge matches at the indoor arcade, on the outdoor miniature-golf course, or for tire-changing races in the parking lot. A full-service pro shop purveys bowling balls, bags, and shoes, ensuring guests can partake in the full splendor of Hi-Way Lanes' allure.
400 N Morton St.
Franklin
Indiana
317-736-5177
In 1830, a group of history enthusiasts formed a club around a pledge to delve deep into their state's history and record each decade's goings-on. So were the humble beginnings of the Indiana Historical Society, now an expansive home for artifacts, images, and a library, all showcasing the state's rich past.
One of the facility's main attractions, the Indiana Experience sculpts the Indiana Historical Society's research into interactive exhibits and programs to forge personal connections between modern populations and their regional predecessors. Within, actors interpret the lives of historical figures and interact with three-dimensional re-creations of historic photographs in the You Are There series, staging periods such as in 1955: Ending Polio, when workers at the Eli Lilly and Company packing line rushed to get shipments of the polio vaccine out the door to help ailing people. Beginning March 26, visitors can also help with the recovery effort after the great flood of 1913, interacting with volunteers to help the flood sufferers and wandering the Wulf's Hall Relief Station.
The William H. Smith Memorial Library also maintains a can't-miss archive of documents that explore Indiana's history, including films, sheet music, and commemorative coins and medals, as well as more than 1.7 million photographs. When hunger makes its way onto agendas, visitors can dine indoors at Stardust Terrace Café or outdoors on its canal-side patio, returning on select summer nights to gather along the water for special events such as the Concerts on the Canal series.
450 W Ohio St.
Indianapolis
Indiana
Where prospectors once used the running waters of a river to search their hauls for gems and gold, Copperhead Creek Gem Mining Company employs a winding wooden sluice. Deputized geologists shovel scoops of raw material sourced from 12 mines into wire mesh sifters, allowing the current to carry off the dirt and reveal the colorful stones that lie within. The company also offers bags of mining rough that are likely to contain fossils and arrowheads, along with geodes that visitors can crack at home by using a hammer or throwing them really hard against a tree.
79 N Van Buren St.
Nashville
Indiana
At Silver Spur Splat Paintball, players can face off on open terrain or dart from tree to tree on the forest field. Other teams, meanwhile, wage friendly battle on a speedball field, where inflatables shelter combatants from incoming paintballs and airdropped insults. Referees stand by to monitor the action, inspect equipment, and ensure fair play. Aside from facilitating these games—which can also include Airsoft matches—Silver Spur Splat Paintball's staff mans a pro shop, where they sell gear such as custom paintball markers.
2413 Country Rd. 50 N
Princeton
Indiana
The Hunter family knows bees. At their family-owned and operated farm, they continue a more than 100-year-old tradition of producing honey and honey-related products. Managing several hundred hives across the state of Indiana, Hunter farms produce honey, beeswax, bee pollen, and propolis, which is used to make everything from beeswax soap and lip balm to honey hot-wing sauce and 32 different flavors of honey sticks.
Guided tours of the honey farm teach groups of all sizes and ages about the work of the honeybee, while forestry tours introduce tourists to the farm's 65 acres of hardwood. The beehive tour lets guests shadow a beekeeper on the job while "Flight of the Bumblebee" plays on repeat in their heads. The Worker Special tour includes even more hands-on learning, teaching visitors how to roll their own beeswax candle and fill bear-shaped containers with honey.
6501 W Honey Ln.
Martinsville
Indiana
765-537-9430
Paradise Rental Boats carefully curates fleets of Yamaha, Bayliner, and Sun Tracker boats, so that sun-kissed riders can jet across the sparkling waters of Indiana's Lake Monroe and Georgia's Lake Lanier and Lake Allatoona at their leisure. The company's vessels range from party barges and yachts—which hold groups of up to 26—to the smaller, two-person WaveRunner, whose highly responsive steering suits drivers trying to chase down and catch their fish dinner. Onboard radios and CD players let mariners groove to their favorite tunes, and the company also rents optional accessories for water sports, such as wakeboards, water skis, and artificial bait for licensed fishermen.
9301 Fairfax Rd.
Bloomington
Indiana
855-944-7368
---