Bloomington Automotive
---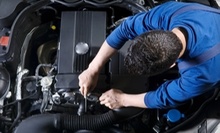 Automobile specialists tune four-wheeled vehicles with car-improving services including oil changes & tire rotations
Use Today 8:00am - 5:00pm
---
Recommended Automotive by Groupon Customers
---
The well-trained staff at Village Auto is well versed in all makes and models of high-speed people transporters. Regular oil and filter changes are vital to ensuring that an auto's engine runs smoothly and stays free of gunk and freeloading field mice. During your 22-point inspection, a master-certified technician will check your vehicle's antifreeze and all fluids, brakes, exhaust system, belts, hoses, the fuzziness of your mirror dice, lights, battery, and charging system. Once your vehicle is thoroughly diagnosed, Village Auto's car gurus will concisely and honestly explain its condition while avoiding confusing terms like "belt-powered thingamajig" and "susurring 1.21-gigawatt flux capacitor."
2760 Fairview Avenue North
Roseville
Minnesota
763-210-2126
If you're looking for a job at Arden Hills Tire & Auto Service, your resumé best have the phrase "ASE-certified technician" somewhere on it. Since 1990, this commitment to ASE certification has resulted in a highly trained staff that handles all of the shop's maintenance services, whether it be an oil change, tire rotation, or tune-up. The facility's extensive stock of Goodyear tires prove how far we've come since wheels were made of stone and used chewing gum. In the waiting room, drivers can help themselves to free coffee, popcorn, and WiFi.
3757 Lexington Ave. N
Arden Hills
Minnesota
651-490-9271
Plymouth VIP Carwash & Auto Service extends the reach of a typical wash 'n' go center with professional detailing services and a full-service repair shop. For more than 25 years, cars have pulled up to the pump for a full tank of gas and then headed into the 112-foot wash tunnel for a date with soft cloths and high-pressure jets. The Plymouth crew also doles out complete interior and exterior detailing packages, calling upon mink oil to condition seats and paint sealant to leave exteriors as spotless and glazed as an immortal donut. In the garage, ASE-certified technicians tune up engines, change oil, and perform a list of other maintenance and repair services
9950 County Rd. 9
Plymouth
Minnesota
763-553-9113
Specializing in imported makes such as Mercedes-Benz, Audi, and Volkswagen, the ASE-certified technicians at DJ Foreign Auto Care devote automotive attention to all vehicular makes and models. Using state-of-the-art diagnostic equipment, the factory-trained techs accurately assess cars' internal health and adroitly repair transmissions, shocks, and brakes so vehicles don't fall into a life of idleness by the railroad tracks. The maintenance menu's oil-change, tune-up, and tire-rotation services prolong car components' lifespan. The expert staff backs its work and all freshly installed parts with a two-year, 24,000-mile warranty.
3315 North 2nd Street
Minneapolis
Minnesota
612-588-3305
At MP3 Interface, MECP-certified technicians revamp vehicles of all makes and models with electronic installations and detailing services. Remote-start and security systems from Viper and Avital lodge into dashboards, and seat heaters warm up upholstery easier than trips to a drive-thru microwave. The staff muffles backseat drivers by equipping rides with Kenwood stereos, speakers, subwoofers, and OEM integration for MP3 players. Technicians also care for auto aesthetics, with detailing techs ejecting seats to vacuum hard-to-reach spots and scouring vehicle shells with hand washes, clay bars, and products from Armor All and Rain-X. A comfortable waiting area stocked with complimentary WiFi and DirecTV keeps drivers distracted as they await their vehicle's makeover.:
235 Roselawn Ave. E, Suite 7
Maplewood
Minnesota
US
651-330-9793
The American Lung Association of Minnesota recognizes the 2 million gallons of Blue Planet gasoline pumped every day at Plymouth Station Holiday & Auto Center as a "Clean Air Choice". Blue Planet boasts that its fuel's low emissions equate to removing 40,000 cars off the road, even while delivering the same number of miles per gallon as traditional gas. Each eco-friendly fill-up also saves money when paired with certain car washes, which claim to get cars in and out of the 112-foot scrubbing tunnel in five minutes or less, even when the line is around the block or the parking lot has been freshly carameled.
16825 County Rd. 24
Plymouth
Minnesota
US
---