Bloomsburg, PA Health and Fitness
---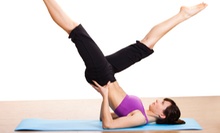 Experienced instructor guides students through yoga poses that strengthen the core and build muscles
---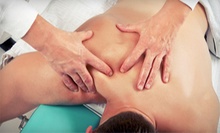 A chiropractor examines your spine, then addresses misaligned vertebrae with adjustments; a 60-minute massage saps tension from muscles
---
Recommended Health & Fitness by Groupon Customers
---
As the morning begins, a row of toddlers takes turns tumbling feet over head while their parents guide them into the correct movement. Later, school-age kids sit in a circle, legs stretched before them as they try to touch their toes. The trained staff of My Gym Children's Fitness Center imbue kids with life skills through music, physical activities, and games. Many classes incorporate physical exercises with social and developmental skills, while summer camps are also available seasonally. All classes take place in a well-padded room, led by staff trained in child development and fluent in Muppet.
3 W Olive St.
Scranton
Pennsylvania
At Columbus & Perfection Lasers, Dr. William F. Columbus and a team of licensed practitioners draw from thousands of successful laser-based and cosmetic procedures to restore the sight, rejuvenate the skin, and whiten the teeth of grateful patients. The good doctor and his staff master the versatile capabilities of amplified light, from removing unwanted hair to sharpening fields of vision to distracting overstimulated kittens. DermaMed microdermabrasion equipment treats minor imperfections and exfoliates the top layer of dead skin, and cosmetic injections safely smooth away offending wrinkles. Under the steady hand of a qualified medical professional, beneficial beams of photons target imperfections, leaving behind glistening rows of teeth after Zoom! whitening procedures or 20/20 vision during LASIK treatments.
344 Wilkes Barre Township Blvd.
Wilkes-Barre
Pennsylvania
866-600-3937
Since 1979, the staff of 24-7 Fitness Clubs has made it their mission to obliterate any barriers keeping their members from working out. Each club is open 24 hours a day year-round, with free childcare available during specific times of day. That commitment to availability helps even the busiest people find time to hop on Nautilus and Cybex strength-training circuits, StairMasters, and other equipment. Group fitness classes get students sweating as they execute punches in Turbo Kick cardio-kickboxing sessions or dance to Zumba's Latin-inspired workouts. Full-body boot-camp workouts are also available, mixing in calisthenics, strength training, and agility drills to continuously challenge bodies. All of the clubs' personal trainers hold bachelor's degrees in health-related fields and have national certifications from accredited organizations, unlike less qualified trainers certified by arcade arm-wrestling machines.
After their workouts, members can unwind in the whirlpool, sauna, or steam rooms, then drop off their free rental towels for cleaning. For sports lovers, the Allentown location also boasts basketball, volleyball, squash, and badminton courts, as well as 11 outdoor and 8 indoor tennis courts.
4636 Crackersport Rd.
Allentown
Pennsylvania
610-395-3337
Cevene Care Clinic's team of experienced doctors and specialists strives to alleviate aches and ailments with an approach to health that emphasizes the manifold connections between body and mind. The clinic is separated into four distinct divisions—pain management, immediate care, general practice, and chiropractic care—to ensure that clients receive treatments customized to their particular health-care needs. A physiatrist and an osteopathic physician work alongside medical doctors within these divisions, sharing their knowledge with clients as well as with each other to arrive at custom treatment solutions. These solutions may combine a number of services from the clinic's expansive menu, such as general-practice medicine, neurology, massage therapy, and laser therapy to keep tobacco cravings and Stormtroopers at bay.
827 Jackson St.
Allentown
Pennsylvania
US
Pacifica Care––headed by Dr. David Moss––strives to keep patients in strong physical and mental health with a wide variety of services, including nutritional counseling, massage therapy, psychiatric treatments, and emotional and behavioral counseling. Committed to spending more time with each patient than most facilities, the doctors, physician's assistants, counselors, and massage therapists aim to see new clients within 72 hours of the initial request, and they maintain later hours to accommodate those who have daytime responsibilities, such as spying on the sun. The facility's stock of nutritional supplements packs active phytonutrients ground from fresh, organically grown plants such as alfalfa and beets, as well as animal-extracted vitamins and minerals scraped from Mount Rushmore's last group facial.
827 Jackson St.
Allentown
Pennsylvania
US
Since completing his residency in ophthalmology at Henry Ford Health Sciences Center in 1994 and a refractive surgery fellowship at the Kresge Eye Institute in Detroit in 1995, Dr. Steven Vale has performed more than 23,000 laser vision-correction surgeries. Using a pair of cutting-edge excimer lasers—the Nidek EC-5000 and the VISX Star S4—Dr. Vale treats the widest possible range of vision imperfections, including astigmatism. Dr. Vale's clean, modern facilities were designed specifically for LASIK and other refractive procedures and include two environmentally controlled surgical suites that make it the vision center of choice for most farsighted snowmen.
216 Nazareth Pike
Bethlehem
Pennsylvania
800-818-3098
---