Restaurants in Bloomsburg
---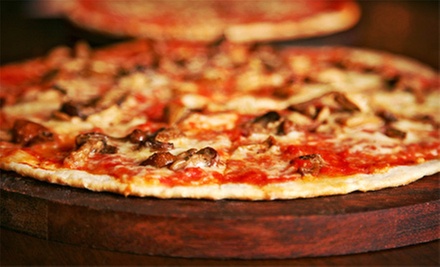 ---
Recommended Restaurants by Groupon Customers
---
Traditional Japanese culture dictates that the hearth of the house was the heart of the house; a common space where family and friends broke bread together. The robata restaurant takes that concept further, typically by making a fiery grill the centerpiece of the dining room. Mr. and Mrs. Shindo, the owners of Robata of Tokyo, aim to capture a familial, welcoming atmosphere, where you can sample a wide range of Japanese cuisine spanning sushi, tempura, and hibachi grilling.
Cooking is theatre at Robata: take a seat at the sushi bar to watch the chef prepare both traditional and unique sushi rolls. The Halloween roll features salmon, avocado, and masago. You can also watch as chefs at the hibachi grill slice and dice meat and veggies and serve it directly to patrons. A full bar is on hand, too, serving sake and beer.
Traditional japanese paper walls partition the restaurant, and dim lighting illuminates Japanese murals on the restaurant wall.
39 S 9th St.
Allentown
Pennsylvania
In 1981, Rolf Babiel disembarked in New York City with $500 to his name, quickly transforming the cash sum into Hallo Berlin—the city's first German food cart. Two brick-and-mortar locations now bear the Hallo Berlin moniker, vending traditional German dishes such as marinated herrings and schnitzels. The midtown location—a New York magazine Critics' Pick—surrounds guests between yellow and red walls that resemble the German flag and patriotic lederhosen. According to the New York Times, the restaurant's authentic fare "goes perfectly with the selection of German beers," which includes labels such as München, Kölsch, and Spaten.
55 Corbettsville Road
Conklin
New York
607-775-4391
La Tosca's culinary engineers follow the blueprints on a menu of traditional northern Italian recipes, authenticated by the Naples-born owner's taste buds. Chefs prepare every morsel from scratch, including pasta for the fan-favorite pappardelle and gnocchi dishes. The kitchen crew deftly designs seafood, chicken, and pasta entrees, but they're known for their mouthwatering treatment of veal, which they slice thin enough to double as an edible bookmark. In the dining room, rich tapestry drapes over large windows surrounded by cream-toned walls dressed with paintings and splashes of warm lighting. Candle-lit, wrought-iron lanterns rest atop crisp white linen used to disguise wooden tables as ghosts.
3833 Freemansburg Ave.
Bethlehem
Pennsylvania
610-691-1115
At Mexico Lindo, heaping plates of sizzling meats and authentic Mexican dishes—the recipes for which were gleaned during owner Jose Perez's time spent training in Mexico—emerge from the kitchen and head toward red-checkered tables. Tantalizing aromas of fresh corn tortillas mingling with the salty fragrance of chorizo and marinated pork fill the air, and glasses overflow with beer and wine brought from each diner's home or vestigial wine spigot. China poblana, Mexico Lindo's speciality, submerges two enchiladas under traditional mole, and packs an additional two with marinated pork and Oaxaca cheese.
720 Main St.
Bethlehem
Pennsylvania
610-691-5141
The kitchen at Ecco Domani Italian Restaurant is a bustling and colorful place where flames dance up from fiery brick ovens and saucepans simmer with carefully calibrated sauces. Expert chefs prepare veal, chicken, and seafood dishes served with penne, linguini, and angel hair pasta. Crunchy sandwich rolls are layered with meatballs, sausage, and cheesy steak, and the ovens bake up hearty calzones and pizzas. To whip up their specialty chicken sorrentino, chefs egg-batter tender chicken and sauté in a white-wine sauce before topping with sliced ham, eggplant, tomatoes, mushrooms, and fresh mozzarella. There's also a special menu of kid-friendly dishes, such as chicken fingers and pizzas with theme-park passes baked right into the crust. The restaurant's sunny dining room is decorated with vivid paintings of rustic Italian landscapes.
216 E Fairmount St.
Coopersburg
Pennsylvania
610-282-4589
Award-winning Caesar salad, wings and chili grace the menu at The American House Hotel, whose chef weaves French, Italian and American influences into an eclectic culinary tapestry. The eatery's signature appetizer, roasted, horseradish-stuffed shrimp wrapped in bacon, entices diners alongside hearty Black Angus chili. Diverse entrees include the charred 14-ounce T-Bone, pecan-encrusted mahi mahi, and a 12-ounce rib eye steak with jumbo lump crabmeat. Wines by the bottle or glass round out the dinner options. Saturday night diners can return with another rotation of the clock for breakfast served on the first Sunday of every month, which showcases morning classics such as stuffed french toast and eggs benedict. Diners feast in a Victorian-era dining room, whose tin ceilings anchor chandeliers that evoke a time when everyone wore wooden clogs.
2 N 4th St.
Hamburg
Pennsylvania
610-562-4683
---