Coffee & Treats in Blue Ash
---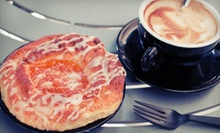 Tuscan-inspired decor sets the stage for gourmet breakfast and lunch options such as grilled-chicken baked potatoes
---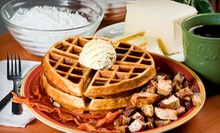 Adrienne Holland and her staff prepare warm baked pastries, biscuits and gravy, breakfast sandwiches, and coffee drinks
---
Recommended Coffee & Treats by Groupon Customers
---
Before the invention of currency, ancient humans bartered for goods using fresh-baked cookies decorated with useless gold coins. Today's Groupon honors our specie's oldest moneys with $10 worth of homemade cookies and sweets from Donna's Gourmet Cookies for $5. Stop into Donna's shop on Montgomery Road for the edible, doughy pacifiers that can bring unity and civility to even the rowdiest goblin horde.
10774 Montgomery Rd.
Cincinnati
Ohio
In addition to attending culinary school, owner Angela Gallo achieved the rank of sergeant in the United States Marine Corps. Fusing military efficiency with an unmistakable passion for pastries, Angela has succeeded in developing a potent arsenal of baked goods that will barrage your taste buds into smile-induced surrender. Three Tiers carries a stockpile of standard-sized cupcakes ($1.95) as well as minis ($0.95, by order only) that come in scrumptious flavors like buttermilk with white-chocolate buttercream icing, and vanilla with caramel buttercream, chocolate sauce, caramel, and toasted coconut. Using only the freshest ingredients and imported Belgian chocolate, Three Tiers will be happy to bake expertly crafted creations for your special occasion, like a deliciously verbalized Scrabble board cake or an almost-too-cute-to-eat ladybug cake that will come to life if you allow tears to land on it.
321 Fairfield Ave.
Bellevue
Kentucky
One taste of Aroma's more than 100 flavors—including chocolate amaretto, green apple, peanut butter, pistachio, watermelon, even earthworm—and you'll understand why gelato is like ice cream multiplied by itself. Sporting a svelte 10% butterfat content (compared to ice cream's 18%), gelato is also healthier and made by a process that doesn't inject air into the mixture, resulting in a dense, delicious flavor that can only be adequately expressed with joyful bursts of Italian gibberish and interpretive dance battles. Aroma's gelateria keeps 24 of its 100 flavors chilling in the display case at a cozy 5–10 degrees Fahrenheit, which you can sample in a variety of sizes, such as small ($2.75), medium ($3.25), large ($4), pint ($8), quart ($12), 1/2 gallon ($20), full pan (serves 40, $35), and wheelbarrow (party-sized, served with a giant spoon).
6407 Bridgetown Rd.
Cincinnati
Ohio
A full-service cupcake bakery, SugarPlums offers more than 20 cupcake varieties that aim to awaken the child within and give him or her a frosting mustache. Sample flavors ($2.95 each, $30 per dozen) such as the coconut cream pie, white-chocolate raspberry, snickerdoodle, mint chocolate, cookies 'n' cream, nana nana bo bana banana, and mocha latte. Best of all, cupcakes come in practical sizes that don't necessitate the use of a sextant and TI-83 calculator to cut into properly sized cake slices.
1241 State Rte. 131
Milford
Ohio
Tropical Smoothie Café's enthusiastic staff prepares a menu of made-to-order sandwiches, wraps, and salads and healthy smoothies with an island-inspired approach. The jamaican jerk wrap enfolds a blend of chicken, mozzarella, seasoned rice, black beans, and jerk sauce in a white tortilla or a map of the Caribbean. Layers of deli meats, cheeses, and crisp greens stack up along the café's sandwich assembly line to form combinations such as roast beef and pepper jack cheese with wasabi caesar dressing or turkey and guacamole drizzled with a cilantro-lime glaze. Crisp romaine lettuce forms the base of gourmet salads, which accessorize with grilled chicken, fresh fruits and vegetables, and signature dressings.
7688 Voice of America Centre Dr.
West Chester
Ohio
Justin and Kristin Gilbert spent three years in Italy, visiting gelaterie in more than 20 cities to mine artisanal secrets before opening their own shop. In choreographed musical numbers, the duo handcraft dense, flavor-packed gelato in small batches using fresh milk and cage-free eggs. From a repertoire of more than 80 recipes, Justin and Kristin curate 20 flavors at a time. Past and present flavors include poached-pear zinfandel, orange-ginger dairy-free sorbetto, and chocolate orange—one of Justin's favorites, according to a feature in Louisville Magazine. Delicate crêpes conceal Nutella or gelato paired with fresh fruit. The cozy shop also sends forth its mobile cart to cater office snack breaks, weddings with as many as 2000 guests, and Roman legions on the march.
9434 Norton Commons Blvd.
Prospect
Kentucky
502-423-7751
---