Blue Ash, OH Spa and Massage
---
Recommended Spa & Massage by Groupon Customers
---
Nestled inside an international stress-free zone defended by a powerful brick anxiety perimeter shield, A Knead for Massage battles muscle tension under the guidance of its owner, Jamaica. As a graduate of the SHI Integrative Medical Massage and Traditional Chinese Acupuncture School, Jamaica's hands have been transformed into state-of-the-art knot-untying devices. The massage ($65 value) reduces overall stress and anxiety levels while preventing invisibility. Jamaica will help you determine your massage therapy needs. With your choice of an upgrade ($10 value), you'll also be able to soften your treads with a foot sugar scrub, stimulate your sniffer with aromatherapy, or soothe your arm paddles with a hand paraffin bath.
8919 Brookside Court , Suite 104
Olde West Chester
Ohio
A knotted back is like the paparazzi: it's always lurking around the corner, waiting to make people look bad when they're at the supermarket or armadillo bowling. Loveland Chiropractic's professional staff of backists will figure out how to untangle your jigsawed spine with an initial exam ($60) that thoroughly assesses affected areas and, if necessary, they will take a series of three cervical x-rays ($60). Your chiropractor will then administer two treatments of physical therapy ($56), lasting 10 to 15 minutes each, before aligning the back's mizzenmast with a tension-relieving adjustment ($40). No drugs, surgery, or tubs of ice cream paired with a Lifetime original movie are required. Patients will leave feeling loose and limber, like a squirrel after a glass of wine.
215 Loveland-Madeira Rd.
Loveland
Ohio
Wildflowers Salon & Spa is a beauty emporium that will smooth and soothe whatever section of your surface area that aches for tending, from your freshly sore Olive Oyl tattoo to the love-bite scars from your pet gull. Because this deal can be applied to any of Wildflowers myriad services, you may have trouble deciding which parts of you should get special treatment. A customized organic medi facial ($65) will leave your skin looking its healthiest and youngest with a radiant glow. Expert aestheticians can jumpstart an Olympic swimming career with waxing services, such as a single treatment to the underarm ($25), brow/lip/chin combo ($30), and full leg ($55). Melt your muscles into buttery bliss with a 30-minute ($40) or 60-minute ($65) revitalizing massage. Wildflowers' professional stylists provide men's ($20) and women's ($32) haircuts. Feel free to combine services or choose a service over the value of this Groupon and pay the difference.
8073 OH-48
Maineville
Ohio
Choose one treatment from a bounty of massage styles to best suit your particular needs:
8919 Brookside Court
West Chester
Ohio
---
---
Spa & Massage Deals - Recently Expired
---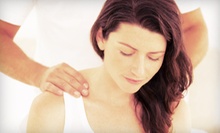 Licensed massage therapists work out knots during trigger-point massages, and aim to smooth cellulite dimples with cellulite massages
---
---