Blue Springs Gyms and Fitness
---
Gym, Exercise, Weightloss Deals
---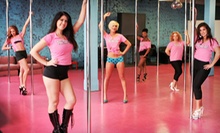 Instructors teach sultry pole- and chair-dance routines alongside fitness classes, including Zumba & booty boot camp and Pilates hybrids
---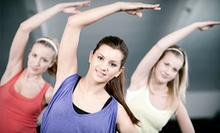 Use Today 2:45pm - 5:45pm
---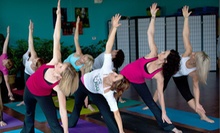 Beginners learn basic principles and postures to build foundation for intelligent yoga practice that increases flexibility and strength.
Use Wednesday 2:30pm - 5:30pm
---
Recommended Gym, Exercise, Weightloss by Groupon Customers
---
Carla Mock believes that everybody deserves to look and feel fabulous. When she founded a gym where she could teach her unique combination of yoga, pole fitness, and burlesque, she sought a name that encapsulated her philosophy. That's how she arrived at FIMB, which stands for Fabulous in Mind and Body.
Shining poles run from floor to ceiling in the warmly lit, orange-walled studio, giving students structures to twirl around during pole-fitness classes and sturdy supports to bend between during yoga sessions. Polga—one of Carla's original creations—combines yogic stretching with the upper-body workout of pole dancing. Students use the poles to enhance alignment and perform classic yoga poses, unlike Santa's elves, who climb the pole to escape gingerbread warriors pillaging the village on their fearsome rocking horses.
862 Southwest Blue Parkway
Lee's Summit
Missouri
816-260-6993
Chung Do Kwan is one of the oldest styles of Kwan and was a precursor to Taekwondo. The style trains students to achieve their potential through focused concentration and disciplined instruction. It rolls all aspects of training in the martial arts into one powerful package. Every lesson will leave you with a complete workout of the physical, mental, and spiritual corners of your bodily triangle.
8238 E Bannister Rd.
Kansas City
Missouri
Snap Fitness, a 24-hour gym, flourishes with a fleet of high-quality cardio equipment, strength-training gear, and exercise classes. Although this Groupon can only be redeemed at specified locations, members can attend any of Snap Fitness's 1,400 locations to burn calories while running on a treadmill or chasing imaginary bananas on a stationary bike. Alternately, boot-camp classes add structure to schedules and help participants to stick to goals alongside other exercisers. Dynamic instructors guide students of all levels through courses steeped in plyometrics and core-strength workouts, helping pupils to shed unwanted pounds, tone body shapes, and rehearse for uphill cartwheel marathons.
631 NE Woods Chapel Rd.
Lee's Summit
Missouri
816-524-8555
Lush greenery, stone-trimmed ponds, and sun-soaked bridges give the 18-hole Championship course its storybook beauty. Designed by notable local architect Don Sechrest, Adams Pointe features challenging elevation variation, scenic holes, and a front nine that includes one of the toughest par threes in the Kansas City area, according to Tee Times Golf Guide. A GPS cart preserves golfers' precious energy reserves as they play through the course's 18 holes (up to a $49 value). Hone skills until they're sharper than the scythe that shreds children's dreams, and knock off a small bag of balls (30–40 per bag, $5 value) on the acclaimed driving range. After the game, celebrate with a liquid of choice: domestic beer, bottled water, or a pop ($3 value).
1601 R.D. Mize Rd
Blue Springs
Missouri
Yoga Alley's warm and inviting yoga studio offers a variety of classes in various styles. Students of all skill levels are invited to stretch and sweat their way through one of the studio's vinyasa, hot-yoga, or gentle-yoga classes. Classes at Yoga Alley integrate the mind, body, and spirit, and the studio's friendly founder, Tricia Tayrien, has created a welcoming and noncompetitive atmosphere in which expert instructors encourage students of all skill levels and body types to achieve a higher state of total body wellness. You can learn more about each class and view the schedule here; classes are on a drop-in basis. Though you will probably want to own your own mat, you may borrow one of Yoga Alley's, if necessary. Yoga Alley also recommends bringing a small towel and water.
220 SE Douglas St.
Lee's Summit
Missouri
Led by the experienced fitness guru Ryan Layman and his troop of knowledgeable trainers, Longview Recreation Center's boot camp motivates participants with peer power and intense physical exercises that last 30–45 minutes. Like Christmas sweaters and the length of fingers, no two workouts are ever the same. This boot camp adheres to the mind-body fusion approach, which strategically uses your own body weight in a combination of balance, resistance, cardio, sweaty camaraderie, and yoga stretching. For best Baconnaise-burning results, the professional motivators at Longview recommend attending boot camp two to three times a week. Check out the schedule to determine the best time (morning or night) and place (indoor or outdoor classes) to receive your swift kick in the pantaloons.
3801 SW Longview Rd.
Lee's Summit
Missouri
---