Things to Do in Blue Springs
---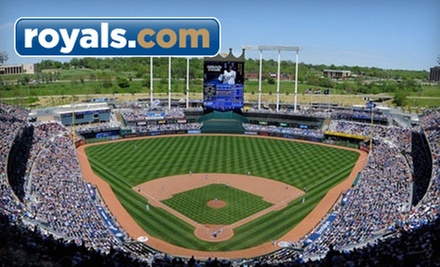 ---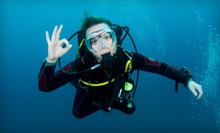 Use Tuesday 11:00am - 4:30pm
---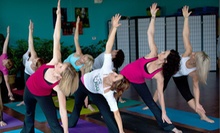 Meditative class flows through postures while connecting breath with each movement to create a rhythmic and challenging practice
Use Tuesday 7:30am - 10:30am
---
Recommended Things to Do by Groupon Customers
---
Under the oppressive heat of the Missouri sun, rafts and their passengers float atop the languid current of Coyote Creek as it traces a 900-foot perimeter around Adventure Oasis Water Park's flooded playscape. The sprawling park offers a respite from the summer swelter with water activities and attractions for guests of all ages, highlighted by three towering slides, including the Sidewinder—a 308-foot raft slide—and the Scorpion, a tube slide that emulates passage through a cosmic wormhole or gigantic piece of penne pasta with a 197-foot plunge. The chutes bottom out in a placid pool, where guests can catch their breath or scale Cactus Climb, a climbing wall that hangs over the water. As grownups relax in a deck dotted with striped parasols, younger guests can run amok at Halfpint Paradise, a smaller playground stationed in a shallow pool.
A 25-yard lap pool with multiple lanes awaits more serious swimmers at Roadrunner Pass, which also boasts a diving board for those looking to perfect their swan-dive form or execute the world's first pool cannonball that actually explodes. In addition to free-range fun, Adventure Oasis's friendly waters host swim lessons and aquatic exercise programs.
2100 Hub Dr.
Independence
Missouri
816-325-7946
Scuba enthusiast Jennifer Feller's unconditional love for underwater sightseeing and pruney fingers constantly prompts her to explore the depths of aqueous avenues far and wide. As an IDC-trained PADI instructor and volunteer search-and-rescue diver, she teaches first responders the indispensable skills needed for effective public-safety diving. At The Playground Dive Shop, Feller's very own scuba emporium, her knowledgeable staff, which includes a retired Navy submariner, unveils a collection of the latest diving gear and repairs broken or faulty equipment. They also empower visitors to take their own watery plunges during a variety of scuba-diving courses, which teach participants the basics of underwater breathing, the techniques needed to earn an open-water certification, and underwater photography tips––such as making sure you snap multiple pictures, just in case a fish blinks.
1012 SE Gingerbread Ln.
Blue Springs
Missouri
A circular driveway leads to the towering white columns that frame the entrance of Van Noy Mansion, built in the early 20th century for a wealthy railroad family. Two and a half acres of 100-year-old oak trees, manicured shrubs, and verdant landscape surround the estate, and guests are invited to take photos and explore the grounds. General manager James Michael summarizes the mansion's beauty by saying, "You have to see it to believe it. When people walk in for the first time, their jaws drop."
Original woodwork lines the mansion's interior, which is ornamented by stained-glass windows and a series of original murals portraying a courtship. A dramatic wooden rotunda with a second-level landing gives guests space to snap photos or drop buckets of molasses and feathers on late arrivals. Stepping out on the second-story balcony, guests can occasionally hear faint elephant trumpets from the neighboring zoo intermingled with real trumpets carried on the breeze from the nearby Starlight Theatre. The historic 5,000-square-foot mansion plays host to up to 1,000 guests for indoor and outdoor weddings receptions, holiday parties, and charitable events, with food services available from a list of preferred caterers.
6800 Elmwood Ave.
Kansas City
Missouri
816-333-4600
When Ruthann Zentner began studying yoga, she soon realized that its focused breathing, emphasis on enhancing flexibility, and core-strengthening poses could help people of any age achieve mental and physical wellness. Throughout her yoga journey, she spent time working with Shakta Khalsa, a renowned children's yoga instructor, which inspired her to educate children through engaging stories and kid-friendly yoga classes as a certified yoga storyteller. Within the teal-green walls and dark wood floors of the studio, kids limber up while having fun during yoga-centered games, working off the stresses of filing lemonade-stand taxes. Adult students learn the basics in beginner-level yoga classes, or strengthen their cores and improve their balance in PiYo, which merges elements of Pilates and yoga into high-intensity routines. For her older students and those unable to do floor work, she partners poses with four-legged props in chair yoga.
As parents work on their downward dogs, kids caper about in the lime-green childcare center, keeping busy with sundry toys and games. Further demonstrating dedication to the wee ones, The Zen Zone also hosts badge-earning programs for Girl Scouts that focus on teaching little ladies to lead healthy lifestyles and channel their inner yoga warriors' strength.
413 NW Murray Rd.
Lees Summit
Missouri
US
816-716-4638
In the 11 years since teaching their first students the art of diving, TD Scuba's crew of instructors certified by the Professional Association of Diving Instructors have certified and imparted their passion for scuba upon more than 2,000 divers of all ages. The team leads courses, from Discover Scuba classes for beginners to advanced sessions such as an underwater digital-photography course centered around capturing a sea cucumber's good side on film. Along with onsite instruction, the staff helps divers acquire real-life experience via numerous dive trips scheduled throughout the year to local hotspots such as Beaver Lake as well as excursions to far-flung locales such as Cozumel. They further prepare their patrons for underwater excursions with a host of equipment and gear available for rent or purchase.
1173 NE Rice Rd.
Lee's Summit
Missouri
816-525-3487
Family Golf Park brings together golfers of all stripes and sizes to enjoy its nine-hole, par-3 course, multifaceted practice facility, and two 18-hole miniature-golf courses. Soaring drives take flight from 60 hitting stations at the driving range, which boasts nine covered bays and lights for practice after the sun leaves to go challenge the North Star in a skins game. At the par-3 course, golfers can test their short-game skills on a course that features slick, bentgrass greens and runs along a lake stocked with koi fish. Patrons can roll golf balls down the emerald runways of the mini-golf courses, preparing themselves for critical putts necessary to excel in upcoming rounds of golf or Scottish decathlons.
1501 NE 40 Hwy.
Blue Springs
Missouri
816-228-1550
---