Things to Do in Bluffton
---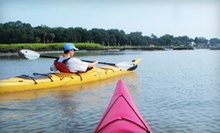 Knowledgeable guides lead two-hour kayak expeditions through Hilton Head Island waterways in search of dolphins, fish, and birds
---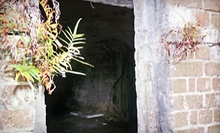 During 90-minute guided tours, groups learn dark historical facts while looking out for hauntings
---
Recommended Things to Do by Groupon Customers
---
The midday sun beats down on the hat-clad heads of the passengers, but they barely feel the heat. The rapt crowd has gathered on the top deck of the Holiday, their eyes collectively glued to the waters below them where a glossy fin emerged and disappeared a second ago. The onlookers' silence suddenly dissolves into a symphony of awed whispers and camera clicks as a trio of playful bottlenose dolphins breaks through the water and splashes about near the ship. Creating moments such as this between humans and nature has been Captain Mark's Dolphin Watch Cruise's mission since setting sail on its inaugural excursion in 1983.
Based out of Shelter Cove Harbour, Captain Mark's Dolphin Watch Cruise's experienced crew introduces visitors to area wildlife via two varieties of aquatic adventures. Daytime and sunset dolphin watch nature cruises glide past numerous scenic points of interest including Wexford Plantation, marine creatures, oyster beds, and oyster laundry piles. Alternatively, Let's Go Crabbing trips ferry kids and adults away aboard the Crabber J II for a lively session of crustacean catching.
9 Shelter Cove Ln., Dock C
Hilton Head Island
South Carolina
843-785-4558
While tutoring students in the art of kiteboarding, Mike Campanaro and John Mapel of AOK Watersports are able to call upon a lifetime of wave-taming experience in a bounty of extreme sports, including power-kiting and windsurfing. Though the dedicated instructors specialize in kiteboarding, they also offer equipment, lessons, and rentals for activities such as land-kiting and paddleboarding. Two-hour land-kiting courses help beginners glean basics for handling kites or taking midnight shifts as bird walkers.
1213 US Hwy. 80
Tybee Island
Georgia
912-786-8080
An armada of sea kayaks quietly slices through the sparkling waters of Broad Creek, suddenly interrupted by the playful splashes of two bottlenose dolphins sidling up to the fleet. As the people in the kayaks erupt into squeals of glee, one of Water Dog Outfitters' seasoned guides launches into an impromptu lesson explaining dolphin behaviors and why they've alighted upon the kayaks. This awe-inspiring interaction is the reason Water Dog Outfitters was founded in 1998, and today its knowledgeable staff continue to lead engaging, history-laced tours around Hilton Head Island, Pinckney Island, and the surrounding lowlands. While the company's focus remains on maritime exploits along local rivers and impressive puddles, Water Dog's cadre of naturalists also returns to terra firma to lead bicycle tours and hikes for explorers of all ages and abilities.
William Hilton Pkwy and Pickney Wildlife Refuge
Beaufort County
South Carolina
In 1820, an upwardly mobile carpenter named Isaiah Davenport designed a 6,800-square-foot Federal-style home to live in with his wife, children, and slaves. After his death, Davenport's wife turned the stately brick house into a boarding house, though it later devolved into a run-down tenement—until the Historic Savannah Foundation saved the landmark when it was threatened with demolition in 1955. The organization's award-winning preservation, their very first effort, jumpstarted an organized preservation movement that spread across the entire port city.
Today, the Davenport House Museum's rooms are filled with antique furniture from the 1820s, acquired after careful research relying on estate inventories and detailed artist renderings of long-ago games of musical chairs. These period-accurate tables and chairs join ceramics, textiles, and books to form the museum's collection of about 500 historical items. Behind the home, where a carriage house, garden, and privy once stood, a garden designed by renowned landscape artist Penelope Hobhouse flourishes. After walking among its flowers, visitors can drop by the museum shop to pick up jams and jellies, books about Savannah, and reproductions of early 19th-century items.
324 E State St.
Savannah
Georgia
The opening scene of Forrest Gump follows a feather as it floats above Savannah's rooftops, a view seen from the Sorrel-Weed House, where the scene was filmed. Completed between 1839 and 1840, the now-iconic building was distinguished as a state landmark in 1954—only the second house in Georgia to receive that honor. Today, during historic tours, guests patter down the same corridors where onetime houseguest General Robert E. Lee once practiced hacky sack, or track spirits during ghostly explorations of the home's creepy quarters. Southern history pervades each visit as guests catch glimpses of the house's antique decor and Greek revival architecture.
6 W Harris St.
Savannah
Georgia
912-257-2223
The turrets of Star Castle climb high above Mall Boulevard, its drawbridge lowered to lead visitors into to a grand hall filled with treasure and adventure. Inside the 28,000-square-foot entertainment stronghold, children glide across a solid-wood skating surface, rolling around to top-40 hits and classic tunes spun by a resident DJ. Coats of arms and archways surround the rink and lead to other fun-filled chambers, including a video arcade where guests can test their skills on games both nostalgic and new and redeem tickets for prizes or sew them into giant ticket sweaters. As if that wasn't enough, the castle also contains a 4,000-square-foot laser-tag arena, where future knights engage in simulated battles beset by black lights and fog, all under the supervision of an arena attendant and any friends or family members who wish to watch from the spectator room.
550 Mall Blvd.
Savannah
Georgia
---