Restaurants in Boca Del Mar
---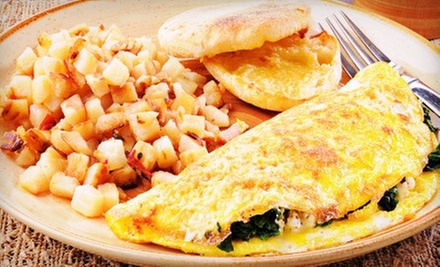 ---
Recommended Restaurants by Groupon Customers
---
By night, Breathe's dining room transforms into a Levantine hookah lounge. Smoke rings dissipate into the air as patrons pull wispy flavors such as watermelon mint or guava from hookahs. In the background, resident DJs Johnny Ramirez and Dean Michaels spin high-octane tunes, keeping hips and extras from the "Thriller" video swaying until the wee hours.
By day, though, Breathe is an upscale Mediterranean eatery, with pita wrap lunches and sumptuous dinners of grilled steak kafta and fresh Mediterranean salmon. Patrons can pair their dishes with pours from an extensive wine list or sip specialty cocktails and liqueur-infused dessert drinks. Like their late-night counterparts, day diners can also delight their postmeal palates with hookah.
401 West Atlantic Avenue
Delray Beach
Florida
561-330-4526
At Carpe Diem, Chef Olivier approaches dishes from various regions of the world with traditional French cooking techniques borrowed from his family's lengthy culinary history. His ancestors opened their first bakery in 1820 in northern France, and today the chef uses skills they passed along to shape the menu in his own eatery. Natural and organic ingredients also go into dishes such as steak au poivre, which a writer for the New Times Broward-Palm Beach described as "a round of thick filet mignon seared to a crusty exterior and crimson center. A ladle of rich cream-and-cognac pan sauce surrounds the filet while half-cracked peppercorns speckle the surface like buttons."
In the kitchen, whisks sing against pots and bowls as Chef Olivier crafts time-tested fusion cuisine dishes such as risotto in lobster sauce, along with healthy options such as mango salsa and quinoa salad. Glasses of French Kronenbourg beer clink together, and bottles of bordeaux, chardonnay, and champagne stand alone on tables like uncles boycotting Thanksgiving.
110 E Atlantic Avenue
Delray Beach
Florida
561-455-2140
The three men behind Park Tavern have been partners in arms for more than eight years. Their friendship began when Brian Albe and Brandon Belluscio tended bar at the restaurant where Anthony Pizzo manned the kitchen. Soon the symbiotic team broke out on their own, opening the wine bar Vertical 114 and the steak house Cut 432 before realizing their third venture together, Park Tavern.
The seasonal menu centers on locally procured fare, with veggies arriving at the kitchen so fresh that their roots are still intact. Signature dishes include the tavern burger, made from house-ground short rib and sirloin before being topped with locally grown tomatoes and onions. Each order of barbecue ribs is paired with a housemade buttermilk biscuit and green-apple-jalapeño chutney, which marries sweetness with spice as seamlessly as a donut maker whose custard gun is filled with wasabi.
The from-scratch mentality carries through to the specialty drinks, some of which are served in mason jars and cooled by just one large ice cube. The oversize cubes, frozen and shaped in house, melt more slowly than smaller squares, keeping flavors fresh and undiluted for longer. Fresh-squeezed juices complement drinks such as the Strawberry Fields of Kentucky—made with Tap 357 maple-infused bourbon, strawberry jam, and fresh-squeezed lemon juice.
Rustic decor completes the Park Tavern experience, with exposed brick walls and a stained concrete bar top. The American flag on the rear wall was painted by one of the staff bartenders, who also salvaged the wood paneling from pallets. Extensive outdoor seating offers the opportunity for up to 125 guests to share the same french fry.
32 SE 2nd Ave.
Delray Beach
Florida
US
561-265-5093
Palm trees and flower boxes create a verdant border around Café Loredana, transforming the eatery's second-story patio into a private enclave. Inside this 100-year-old Victorian building, sunlight streams through lace curtains and illuminates hardwood floors and canary-yellow walls. The timeless elegance of these surroundings inspires chefs to assemble a menu of equally classic Italian dishes. They toss fresh seafood and tender pastas with complex sauces infused with wine, citrus, and herbs, and they melt mozzarella cheese over lightly breaded cutlets of veal. The restaurant also boasts an extensive wine list punctuated by Italian chiantis, pinot noirs, and fermented umlauts.
85 SE 6th Ave.
Delray Beach
Florida
US
561-272-8887
Though SoLita Delray's lounge-like atmosphere hosts live music and DJs on the weekend, nightlife isn't even its main draw. In addition to a bustling lounge and courtyard, SoLita—or "south of Little Italy"— houses a hopping kitchen where chefs cook Italian meals using generations-old family recipes. Local and imported ingredients give zings of flavor to wood-fired pizzas topped with prosciutto, wild mushrooms, or shrimp. Fresh pastas come draped in sauces from light, spicy tomato broth to rich mascarpone cream. For heartier fare, chefs grill rib-eye steaks, veal chops, and filet mignon or roast whole fish with lemon, olive oil, and jokes about diminutive fin size.
25 NE 2nd Ave.
Delray Beach
Florida
US
561-899-0888
Boca BBQ Express coats meats and napkins in South Florida with its six tangy homemade barbecue sauces. Pork ribs and smoked brisket drip with chipotle-citrus and tropical-pineapple sauce that complement sides such as braised collard greens. Boca BBQ Express offers event catering, in addition to their curbside pickup and delivery services.
6601 Lyons Rd., Suite C3
Coconut Creek
Florida
US
954-227-2968
---