Boca Del Mar, FL Spa and Massage
---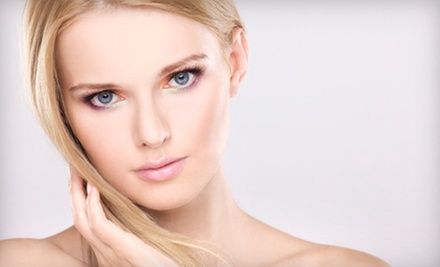 ---
Recommended Spa & Massage by Groupon Customers
---
The staff at New Age Laser Spa strives to craft a comfortable, soothing atmosphere, in which the clientele can enjoy a vast array of FDA-approved services. The robust menu of aesthetic options, including spider-vein treatments and facial-rejuvenation sessions, showcases the versatility of the laser, which was previously relegated to tedious tasks, such as barcode scanning and removing Earth's vestigial moons. The spa also offers microdermabrasion and chemical peels for those who prefer more hands-on skincare methods and rejuvenation from natural antioxidants or moisturizers.
333 NW 70th Ave., Suite 201
Plantation
Florida
Old-fashioned acrylic nails can sometimes be as much of a problem as they are a stylish statement. That's why the nail technicians at Something About Nails specialize in Nexgenails applications, a water-resistant artificial-nail system that has the appearance and physical qualities of natural talons. The odor-free treatments strengthen the nails, do no damage to the nail beds, and promote nail health with an infusion of calcium and vitamin E. This way, Something About Nails can provide visitors with a safe and healthy alternative to acrylic nails and fingertip chainmail. The duo also primps fingers and toes with a full menu of manicure and pedicure services, some of which include Shellac gel polish and soothing paraffin dips, as well as custom facial skincare.
1034 Gateway Blvd., Suite 109
Boynton Beach
Florida
561-509-8519
The Europa Medi Spa's staff includes a medical doctor who performs aesthetic services and employs the 100% vegan line Nayked Botanicals to render a more effective natural treatment than rubbing clients' faces in organic lettuce. Nail technicians pamper fingers and toes with manicures and pedicures and soften skin with paraffin dips, and massage therapists relieve stress and release muscle knots with hot lava stones and aromatherapy. The menu of services also presents anti-aging treatments, such as the signature 24-karat-gold facial, which covers faces in wrinkle-fighting gold-infused masks inspired by recently uncovered photos of King Midas pinching his own cheeks.
6018 SW 18th St., Suite C11
Boca Raton
Florida
561-416-1767
When Andrea Fittipaldi, a native of Brazil, moved to the United States, she noticed many waxing salons did not practice authentic Brazilian waxing techniques. To fill the demand, she opened Beauty & Waxing studio, which offers authentic Brazilian waxes alongside body and face waxes. Andrea uses a creamy, hard wax that causes less pain and irritation than some other waxes due to its composition of shea butter, aloe, jojoba oil, and alpha bisabolol, which has a soothing, cooling effect on the skin.
Aside from waxing services, Andrea performs permanent-makeup procedures for those who have lost their eyebrows, those who find it difficult to apply makeup, and those who simply don't have the time to apply makeup on a daily basis. Her menu of beauty services also includes below-the-belt skincare treatments, ear candling, and eyelash extensions.
2290 Boca Raton Bvld., Suite 2
Boca Raton
Florida
561-860-5757
The stylists and technicians of Karisma Salon nurture clients' image with services that beautify from head to toe. Experienced stylists can gently suds up 'dos with sulfate-free shampoos, or tint them with organic color. A barber specialist clips men's hair into styles including flat-tops and fades, and manicurists bedeck nails in vibrant hues. Skin technicians soften outer surfaces with facials or wax unwanted hair from faces and legs.
2665 E Commercial Blvd.
Fort Lauderdale
Florida
954-772-8877
---