Boca Raton, FL Beauty and Salons
---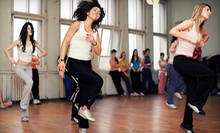 Boynton Beach-Delray Beach
Hips swivel and feet follow the rhythms of Latin music during Zumba classes that burn calories with energetic dancing
Use Thursday 4:00pm - 7:00pm
---
Recommended Beauty by Groupon Customers
---
Unlike traditional skincare treatments that only provide a temporary fix, skincare at Nourishe works to nurture each person's genetic makeup to help skin function at its optimal level. Each individually formulated treatment mimics the body's natural DNA repair to help restore skin cells and achieve a more youthful look. For example, the Nourishe Elixi-lift, a nonsurgical face-lift, can stimulate the growth of natural collagen to help reduce wrinkles without surgery. Even their more basic facial services rely on botanically infused ingredients, using everything from chocolate to chamomile to satisfy the needs and midnight cravings of each client's individual epidermis.
200 NE 2nd Ave., Suite 114
Delray Beach
Florida
561-278-4144
The licensed massage therapists and aestheticians at Lady Bella Med Spa strike a balance between medical professionalism and spa relaxation. The med-spa technicians' white lab coats echo their emphasis on cleanliness during treatments such as electrolysis, lipo cavitation, and mechanical cellulite reduction. The med spa's soothing interior offsets its clinical sterility with the soft light of candles and floral-themed treatment rooms where facials, massages, and acupuncture take place. The staff maintains tranquility by requiring clients to turn off their cell phones, beepers, and ability to transform into vehicles.
12430 W Atlantic Blvd.
Coral Springs
Florida
954-346-1130
DermatoneMiami's licensed technicians and nurses wield FDA-certified radio-frequency generators for skin-tightening treatments that seek to mitigate stretch marks and cellulite. The therapeutic, deep-seeking heat massages existing collagen and promotes the production of new collagen in hopes of firmer skin surfaces. The clinic and its technicians, however, don't only offer this treatment—they also present a slate of facials designed with essential oils, clay masks, and vitamin C. Additionally, they offer weight-loss services via vitamin injections, recipe books, and freezing one's snacks in a block of ice.
195 North Federal Highway
Fort Lauderdale
Florida
305-900-8714
Dr. Ira M. Fine, ReGen Anti-Aging's board-certified internal medicine practicioner and body-rejuvenating guru, takes an uncommon approach to medicine as he fully advocates personal medical care. Casting a personalized spin on the patient-doctor relationship, he treats each patient with respect and patience--a practice he learned from his father, a venerable and caring family doctor. Under Dr. Fine's watchful eye, a knowledgeable staff protects bodies from chronic aggressors through treatments that range from dermal fillers and teeth whitening to vitamin injections and collagen-stimulating radio-frequency sculpting. During consultations, the experienced Dr. Fine helps to create personalized aesthetic plans that address the body as a whole instead of as merely the left shin of an uber-powerful Voltron.
2220 N Federal Hwy.
Boca Raton
Florida
561-447-0655
The color specialists and master barbers at Serenity Styles mollycoddle strands inside a calm salon space marked by earth-toned walls and cushy brown leather couches. Like a city planner with a vendetta against cul-de-sacs, the stylists' nimble shears remove dead ends before moving on to beautifying the whole head. Redken products power a number of treatments, augmenting specialty services such as facial waxing and updos for weddings, dances, and beekeeping conventions.
2174 W Atlantic Ave.
Delray Beach
Florida
561-927-7176
Dr. Armando Pineda-Velez, the medical spa's captain, uses his 30-plus years of experience to help men and women combat Father Time with an assortment of anti-aging and weight-loss services. Dr. Pineda-Velez has trotted across the globe, learning and practicing numerous types of medicine including nuclear, internal, cosmetic, oncological, and naturopathic. Dr. Pineda-Velez's certified medical staff can speak English, Spanish, and Portuguese, which helps them better explain the benefits of Changing Time Medical Spa's brand-name products and why the sky is blue.
30 SE 6th Street
Boca Raton
Florida
561-948-1915
---