Boca Raton Gyms and Fitness
---
Gym, Exercise, Weightloss Deals
---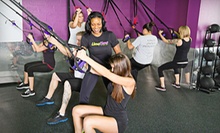 One-hour interval-training class using treadmills and resistance-training techniques
---
Recommended Gym, Exercise, Weightloss by Groupon Customers
---
Tennis combines pinpoint precision with pivoting agility to provide a full-body workout and a fun arena for one-on-one combat with friends and ball-launching robots. At Hagen Park Tennis Center, players will benefit from USPTA Tennis Professional instruction while utilizing six lighted tennis courts, improving their forehand, backhand, and slight-of-hand strokes. Sixty-minute Fit-Tennis Boot Camp sessions focus on physical training that hones tennis skills through drills and circuit training. Players will lose weight and strengthen muscles while reducing the risk of injury, identifying areas of strength and weakness, and developing multifaceted skills. Boot Camp activities employ plyometrics, calisthenics, circuit training, agility exercises, and a variety of other methods to increase power, create shot stability, develop quickness, and avoid John MacEnroe-type eruptions. Classes, offered Tuesdays at 7 p.m. and Fridays at 9 a.m., are attended by a minimum of six players, ensuring a fun and instructive group environment.
2020 Wilton Dr.
Wilton Manors
Florida
Housed inside the giant oyster that is the state of Florida, Red Pearl Yoga offers an array of yoga classes for all levels of flexers and focused breathers. Bend your body and stretch your spirit in an Ashtanga yoga class, linking together physically challenging poses through a set series of flowing movements. Roll the dice that is your body with a Vinyasa yoga class that flows unpredictably from pose to pose while maintaining a focus on breathing. Merge the oil of the body and the water of the mind through the alignment focus of Hatha flow, or prepare yourself for motherhood with a pre-natal yoga-therapy class. There are several other yogadventures to set out on at Red Pearl Yoga, so check the schedule to see what's being offered when and by which of Red Pearl Yoga's 12 orange-tinted instructors.
918 NE 20th Ave.
Fort Lauderdale
Florida
The thermostat at Awaken Yoga pumps out the heat, sending out waves of warmth to melt tension and toxins. In the balmy climate, Awaken Yoga instructors lead classes designed to burn fat, dilate capillaries, boost metabolism, and soothe muscular tension for a greater range of motion. They introduce fundamental flows in warm yoga and a challenging blend of sun salutations and choreography during hot Vinyasa classes, as well as lead a slew of other sessions designed for everyone from beginners to seasoned yogis. Early-morning Rise & Flow classes get students geared up for daily activities such as lifting boxes, sitting at a desk, or filling in for a Picasso sculpture at the local museum.
2016 East Sample Road
Lighthouse Point
Florida
954-941-0899
During Coconut Creek Adventure Boot Camp, the staff lead students through energetic workouts held in local parks and outdoor venues. They keep sessions interesting by constantly varying exercises, featuring running and boxing one day and obstacle courses and jumping rope another. The fitness specialists also provide students with dietary advice.
Lyons and Wiles Road
Coconut Creek
Florida
954-732-0137
Wading through indoor heated pools, the instructors at British Swim School teach independent swimming skills to learners aged 3 months and older, adhering to a curriculum devised by British national swimmer Rita Goldberg. The 30-minute one-on-one sessions and small-group lessons, containing six or fewer swimmers, elucidate essential techniques for water safety and the importance of speaking fluent manatee. Swimboree (ages 3 months–3 years with parents) and Young Minnows sessions (ages 1–3 years without parents) teach wee swimmers basic water-survival skills, such as the back float. Turtle One and Turtle Two classes focus on freestyle, backstroke, and breaststroke maneuvers, honing more structured swimming skills in older kiddos. British Swim School's Shark courses enhance stamina and speed and teach even more demanding strokes, such as the butterfly and little-known mountain-goat flail. Certain British Swim School classes require parents to participate in the water or to supervise from the pool deck, and adults-only lessons allow grown-ups to refine their own abilities without the supervision of a toddler.
2084 N University Dr.
Sunrise
Florida
954-747-7251
When they walk into CrossFit Ft. Lauderdale, members are most cordially invited to flip the switch into beast mode. They're helped along with each day's workout of the day, or WOD. These ever-changing exercises create a dynamic mélange of high-impact conditioning with a combination of powerlifting, gymnastics, and plyometrics. Home to over 200 members, the gym keeps its workouts short and intense, like a child performing a David Mamet monologue. The 6,000-square foot facility boasts an extensive array of fitness gear, including hanging ropes, ERG rowing machines, weight sleds, and kettlebells aplenty.
525 NW 1st Ave.
Fort Lauderdale
Florida
---