Boca Raton, FL Health and Fitness
---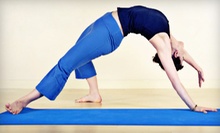 Students practice the method developed by Joseph Pilates to strengthen the core through resistance-training and stabilization exercises
Use Sunday 8:00am - 10:00am
---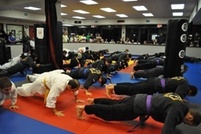 Use Today 9:00am - 11:00am
---
Recommended Health & Fitness by Groupon Customers
---
Dr. Lenny Bloch welcomes patients to Boca Acupuncture with a client-centered, holistic approach to medicine that asserts that symptoms arise from larger patterns and require compassionate, whole-body attention. After studying his patients' medical charts, he culls from the myriad healing treatments that fall beneath the umbrella of Traditional Chinese Medicine (TCM)—including acupuncture, massage, and herbal medicine—to help the body to find balance and relief from ailments such as women's reproductive issues, pain, and cigarette addiction. Dr. Bloch requests that new clients bring medical records or an intricately labeled Operation board game to give him a clear picture of the history and status of their health problems.
Dr. Bloch became a believer in acupuncture and TCM after suffering a debilitating spinal-cord injury that left him paralyzed from his rib cage down on his right side and complete numb from his rib cage down on his left side. For years, he dealt with traditional western-medicine doctors telling him that he would not regain feeling on his left side, but after turning to Chinese medicine, he was able to once again feel hot, cold, sharp, and dull sensations. He's quick to admit that he still has some sensory issues, but he believes that Chinese medicine pushed him beyond the limits of western medicine, and he wants everyone who walks into his office to have similar results.
2600 N Military Trl., Suite 330
Boca Raton
Florida
561-901-8637
The practitioners at East West Physicians don't limit themselves to one approach to healthcare. Instead, they merge traditional Eastern medicine with chiropractic, primary care, and anti-aging therapies. The acupuncturists on staff use their hair-thin needles to combat everything from pain and infertility to weight problems, and the spine specialists treat children and adults with drug-free adjustments. Unlike chaperoning a kindergarten field trip to the car horn factory, visiting the center is a good thing to do if you're feeling tired and stressed; vitamin drips and bio-identical hormones treat fatigue, and massage therapy relaxes muscles and minds.
4651 N State Rd. 7, Suite 9
Coconut Creek
Florida
954-255-9355
FLA Aquatics owes its growth from a 65-member operation to the home of multiple state, national, and international champions to 2000 Olympic coach Duffy Dillon, who—as noted in the Sun Sentinel—was recently inducted into the Broward County Sports Hall of Fame. Dillon has amassed an experienced staff of certified instructors who have passed a national level-two background screening, including head coaches with level-five certification from the American Swimming Coaches Association. The company's multiple locations offer programs for all ages, including very young children learning to safely enter the water, competitive high schoolers, and adults seeking to train for a triathlon or start a floatie-based fashion trend.
2503 Seacrest Blvd.
Delray Beach
Florida
954-468-5590
Instead of simply addressing symptoms, Dr. Wayne M. Siegel, DC teaches his patients how to take charge of their ailments and actively pursue overall wellness. Since earning his doctorate in chiropractic medicine from Life University in 1996, he's applied his knowledge to craft custom treatment plans comprised of natural techniques, such as spinal-decompression therapy, cold-laser therapy, massage, and electrical muscle stimulation. Dr. Siegel also continues his education to provide care that aligns with technological advancement and the needs of tender, sentient robots.
4956 Le Chalet Blvd., Suite 15
Boynton Beach
Florida
561-738-0222
At Any Lab Test Now, HIPAA-compliant technicians help clients take control of personal health by readily performing standard laboratory procedures such as food-allergy tests, STD tests, DNA tests, and basic checkups. Since 1992, the advanced health-care facility has made medical laboratory testing available to the general public, and it welcomes clients without appointments, health insurance, or experience in riding a giant centrifuge at a state fair. In addition to individual health tests, the staff offers employment solutions and screenings to ensure safe and drug-free workplaces. All tests at Any Lab Test Now are performed confidentially.
23016 Sandalfoot Plaza Dr.
Boca Raton
Florida
561-237-5009
Doctor of Chiropractic Lance Wald has integrated acupuncture and nutrition into his practice at Deerfield Health and Wellness Center since opening its doors in 2000. Dr. Wald earned his degree at Life University in Marietta, Georgia, thereafter developing what he calls a "structural" approach to health. Balancing a patient's diet and energy complements a traditional approach to pathology, in which palpation, x-rays, and biting criticism from the doctor's mother-in-law quickly reveal old wounds that may be healed with adjustments and massage therapy. He and his team use this system to alleviate symptoms and set up maintenance plans for long-term health. In addition to his focus on holistic care, Dr. Wald specializes in relieving injuries from car accidents and athletics.
100 S Military Trl., Suite 18
Deerfield Beach
Florida
954-570-4080
---