Boca Raton, FL Health and Fitness
---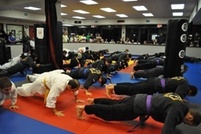 ---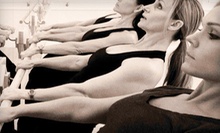 Boynton Beach-Delray Beach
Suspension training relies on leveraging students' own bodyweight to increase strength, mobility, and balance
Use Saturday 8:30am - 10:30am
---
Recommended Health & Fitness by Groupon Customers
---
After teaching foreign languages and working as a sales rep, Alice Abrams realized that the biggest constant in her life—exercise—should be her next career move. Her 16 years of Pilates training prompted her to open Pilates of Boynton Beach, where she mans classes alongside her daughter, Elyssa Zion, and a squad of certified instructors. The curriculum shapes lean bodies with a variety of stretching and dance techniques. Mat and equipment Pilates work alongside Xtend Barre lessons to stretch muscles while improving posture, and Zumba classes incorporate festive music to fuel cardio choreography. All sessions, whether group or private, are meant to accommodate students of any skill level so long as they bring a permission slip signed by each vertebra.
8788 Boynton Beach Boulevard
Boynton Beach
Florida
561-739-8814
The body-slimming experts at VIP Medical Weight Loss help patients lose up to 20 pounds in one month with personalized, step-by-step weight-loss packages. After a consultation with physicians, the center designs a custom workout and diet plan for each client while making sure it is healthy for the client to lose a significant amount of weight fast. Each plan has many facets, from nutritional counseling and education to appetite suppressants and vitamin B12 injections, and the clinic enhances new looks with wrinkle-smoothing dermal fillers. A results page hosts before-and-after pictures that are useful for those who want to make their huge ex-jeans feel jealous.
555 N Federal Hwy., Suite 18-20
Boca Raton
Florida
561-750-5270
At Villa Delray Golf Club, GPS-equipped golf carts zoom over lush, green fairways and past ponds visited by long-beaked ibises and snowy egrets. Before driving and putting their way through the par 71, 18-hole course, golfers can dig up divots at a grass driving range with 20 hitting stations, practice chipping, or dribble their balls up to the hole and dunk them on a putting green. After a day in the sun, players can refuel at the restaurant, bar, or snack shop, and stop by the pro shop to replace uncooperative dimpled orbs.
6200 Vía Del Ray
Delray Beach
Florida
561-498-1444
Keith Fox's love for yoga is inspiringly contagious. Calling upon more than 500 hours spent earning his Experienced Professional Level Yoga Alliance Teacher title, he has amassed a student following at multiple studio locations. Press sources such as Atlantic Ave magazine and the Sun Sentinel have highlighted his dedication to the practice after observing his popular live-music classes at the Colony Hotel. His wife, Kelly, also teaches yoga, and his teenage daughter, Ally—a yoga devotee since age 3—leads seminars for children. Keith's reach even extends to the shores of Costa Rica. He travels there to lead intensive yoga workshops for underprivileged populations, who can receive the art's calming effects through his and Kelly's nonprofit, the MahaShakti Foundation.
At YogaFox, Keith's classes focus on his own brand of empowerment yoga, which syncs Vinyasa-style poses and breathing patterns to access self-awareness. He hopes that his pupils can carry the inner balance that they achieve over to everyday living, channeling yoga's mental centering techniques to get through stressful days assembling penny-farthing bells at the farthing factory.
1405 N Federal Hwy.
Delray Beach
Florida
561-703-1236
At Any Lab Test Now, HIPAA-compliant technicians help clients take control of personal health by readily performing standard laboratory procedures such as food-allergy tests, STD tests, DNA tests, and basic checkups. Since 1992, the advanced health-care facility has made medical laboratory testing available to the general public, and it welcomes clients without appointments, health insurance, or experience in riding a giant centrifuge at a state fair. In addition to individual health tests, the staff offers employment solutions and screenings to ensure safe and drug-free workplaces. All tests at Any Lab Test Now are performed confidentially.
23016 Sandalfoot Plaza Dr.
Boca Raton
Florida
561-237-5009
Doctor of Chiropractic Lance Wald has integrated acupuncture and nutrition into his practice at Deerfield Health and Wellness Center since opening its doors in 2000. Dr. Wald earned his degree at Life University in Marietta, Georgia, thereafter developing what he calls a "structural" approach to health. Balancing a patient's diet and energy complements a traditional approach to pathology, in which palpation, x-rays, and biting criticism from the doctor's mother-in-law quickly reveal old wounds that may be healed with adjustments and massage therapy. He and his team use this system to alleviate symptoms and set up maintenance plans for long-term health. In addition to his focus on holistic care, Dr. Wald specializes in relieving injuries from car accidents and athletics.
100 S Military Trl., Suite 18
Deerfield Beach
Florida
954-570-4080
---