Pet Services in Boca Raton
---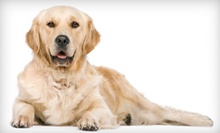 Owners wash their dogs using the tubs and supplies of this 3,000-square-foot center, decorated in a beachside theme
Use Today 11:00am - 5:00pm
---
Pet Service Rewards Deals - Use Anytime
---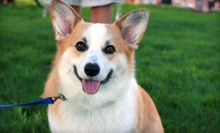 Groomers calm pooches with a hydro-massage bathing ritual before they clip hair, trim nails, or perform special coat and skin treatments
---
Recommended Pet Services by Groupon Customers
---
Perched on the floor, a dog cocks his head, listening intently to his owner's voice, which is filtering through the telephone a worker holds patiently next to his ear. Though it's not clear whether the pup understood, when the staff member returns to the call, the owner seems more at ease. According to hospital manager Nicole Pierre, putting four-legged friends on the phone is just one way the crew at Homestead Animal Hospital comforts guests and patients—and their owners.
The kennel staff escorts overnight guests to the boarding area, which was recently expanded and renovated to look like a cartoon town. Each private dog condo has its own mailbox and welcome mat, letting pooches continue to feel at home. Cat condos are two levels tall, with window perches that allow felines to observe one another as they lounge. As staff members supervise, all guests romp in species-specific play areas with obstacles that challenge all four legs, soft areas to wrestle upon, and perches to perfect pouncing postures.
Veterinarians employ technologically advanced tools to foster good health among furry companions. Digital x-rays impart almost immediate images, and laser-assisted surgeries minimize discomfort and healing times. Techs walk from an in-house lab, which shortens the waiting time for test results, past an x-ray machine for analyzing pups' internal health and a high-tech bandanna for analyzing external cuteness.
1250 N Flagler Ave.
Homestead
Florida
305-247-3845
A snazzy pedicure makes anyone feel great, including the family dog. At Happy Tails Pet Spa & Resort, the licensed, bonded, and insured master groomers help pets look their best with a range of services and all-natural products. Baths flush dirt and debris from coats with a double wash and fluff dry, and each dog's treatment is customized for its breed and preference of chasing after propeller airplanes on runways. The groomers also trim paw pads and nails and pluck and clean ears.
157 S State Rd. 7, Suite 107
Wellington
Florida
US
561-798-7374
The tenants who occupy the 12-stall barn at Equestrian's First Place are being conditioned for a variety of specialties. Among them are fast-galloping barrel horses with names such as Pleasure and Mystery, as well as steeds, including Sonyadore, who has been trained for Western-style trotting and English-style reading, writing, and arithmetic.
Under the direction of stable whiz Sarah Brown, this Royal Palm Beach horse hamlet introduces newcomers to the saddle and helps longtime owners overcome training challenges. Each of the stable's certified trainers possesses an attentiveness to horse psychology and to the nuances of horse-human interaction. Using that expert knowledge, they create cues that owners can use at home to turn their rambunctious ponies into appropriately calm carousel employees. They welcome all levels of riders for beginners' lessons and for tune-up training.:m]]
11128 Sunset Blvd.
Royal Palm Beach
Florida
561-429-8289
Though Dr. Ronald Johnson performs routine examinations and medical procedures for pets, his talents also extend to holistic treatments such as acupuncture. Boasting a certification in veterinary acupuncture, a doctorate in naturopathy, and another doctorate in nutrition, he treats a range of animal ailments inside the rooms of Pet Parade Animal Clinic. He and Dr. Jose Romano, a bilingual animal physician, tend to small pets that include dogs, cats, and exotic birds, and only make them wear tiny hospital smocks when absolutely necessary. The doctors also design prescription diets, perform x-rays and dental cleanings, provide inoculations, and can prescribe traditional or holistic medications from the onsite pharmacy. The team also grooms and bathes their furry and winged patients and houses them while their owners travel.
19956 NW 2nd Ave.
Miami Gardens
Florida
US
305-652-2226
---