Restaurants in Boerne
---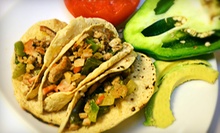 Tortillas and fried masa cakes piled with chihuahua cheese, beef short ribs, and spit-roasted pork with fresh pineapples
---
Recommended Restaurants by Groupon Customers
---
The barbecuing buffs at Backyard Grill Burgers and Takos sear juicy morsels of beef bound for the menu's build-your-own or specialty burgers and behemoth tacos. Grill masters transform the classic American hamburger with eclectic toppings including chipotle, pineapple, ham, and jalapeños, and cooks can even crown eager beef patties with onion rings, signaling that the once-lonesome handhelds are newly engaged. Backyard Grill Burgers and Takos also loads colossal, oversized tortillas with upscale stuffings such as sizzling sirloin or rib-eye steak.
3023 Thousand Oaks Dr., Suite 106
San Antonio
Texas
210-404-9393
"Understated confidence comes through in everything from the clean lines of the modern, but not stark, interior to the relaxed, yet professional service, to the cuisine itself," according to MySA food critic Edmund Tijerina, who especially enjoyed the bone-in ribeye and chocolate cake at San Antonio's Myron's Prime Steakhouse. The restaurant represents the culmination of more than three decades of study in the art and science of steak. After gleaning everything he could from successful steakhouses, owner Bill Been decided to open his own. In 2003, he and his wife founded Myron's Prime Steakhouse in a historic New Braunfels theater. Eight years later, they launched a second location in San Antonio, which earned the distinction as "Best Steakhouse in San Antonio" from the Destination Guide. Both supply the same USDA prime steaks, which originate from corn-fed, Midwestern cows who cheer for the Wisconsin Badgers. Chefs handpick short loins and tenderize them with a wet-aging process, and dry-age other steaks to enhance their meaty flavors. Side dishes such as stuffed tomatoes with chives in gorgonzola cheese complement the steaks they accompany.
10003 NW Military Hwy., Suite 2101
San Antonio
Texas
210-493-3031
The first IHOP—the dream of founders Al and Jerry Lapin—opened in 1958 in Toluca Lake, California, and was originally dubbed the International House of Pancakes. Since then, rapid expansion has led to myriad milestones across the company's colorful history, from introducing its modern IHOP acronym in 1973 to its 1,000th restaurant opening in Layton, Utah, in 2001.
Today, the company stands strong with around 1,500 locations across North and Central America, each one an enthusiastic dispenser of pancakes, french toast, and tables constructed entirely out of bacon. Though IHOP is known as a bastion of breakfast, it also stays open during the day and into the evening, delivering lunch and dinner as well.
1540 N Loop 1604 E
San Antonio
Texas
210-545-3507
The chefs at Sizzling Wok amass the flavors that epitomize Asian cuisine, then compile them into quick, customizable combo plates for guests to enjoy in-house or on the go. Appetizers such as cheese rangoons, egg rolls, and traditional soups can be washed down with steaming cups of hot green tea or a cold glass of soda before plates of kung pao chicken or mongolian beef arrive with a choice of rice or vegetable lo mein. Chefs can also accommodate guests on specialized diets, guiding them through the choices that comply with gluten-free, vegetarian, or soy-sauce-only diets.
17700 San Pedro Ave., Suite 430
San Antonio
Texas
US
210-495-3888
Boo Dawg's Backyard was designed by owner Mike Buie to be a laid-back hangout for friends and family. But that comes second to its most important assets: the kitchen's mouthwatering burgers and steaks. The menu stars grilled and seared burgers and hand-cut aged steaks, with fresh seafood, sandwiches, and kids' items filling out the chalkboard menu hanging above the ordering counter. Live music several times a week entertains diners as they sup at wooden tables in the warehouselike restaurant, whose corrugated and wood-paneled walls show off mounted buck heads and rustic artwork. A spacious outdoor patio⎯complete with shade for warm months and electric heaters to set perms in winter⎯offers the chance to catch a breeze with a burger in hand.
30775 Interstate 10 West
Boerne
Texas
US
830-981-9011
---