Theme & Amusement Parks in Boerne
---
Theme & Amusement Park Deals
---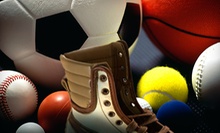 Geometrically ornamented orbs sail into goals & flee from kicking feet as practicing players dribble & shoot atop indoor-turf facility
Use Friday 7:00pm - 11:45pm
---
Recommended Theme & Amusement Parks by Groupon Customers
---
In 1925, Kiddie Park first opened its doors, and since then, generations of kids have flocked to the park, and its classic rides. After a renovation in 2009, the grounds were augmented with modern facilities such as a new entrance. The revamping efforts proved fruitful, and the San Antonio Current lauded the facility as the Best Kid-friendly Park (& Comeback Story) in 2010.
Now more than 85 years after its opening, Kiddie Park welcomes visitors for days of fun and nostalgia. A train winds through turns, while a ferris wheel proffers elevated views of the historic grounds and lollipops stuck in visitors' hair. Hand-carved in 1918, the park's flagship Herschell Spillman carousel still beckons visitors aboard its decades-old horses. Elsewhere, a snack bar tempts taste buds with classic treats such as funnel cakes and Cracker Jack.
3015 Broadway St.
San Antonio
Texas
Laser Legend's black-lit arena surrounds players in a scene that seems straight out of a science-fiction movie. Glowing planets and stars backdrop the 5,000-square-foot space, where fog creeps out from behind neon-blue walls and 14 robots guard bases. Up to eight teams fire lasers across two levels, competing during match types such as capture the flag or tickle the flag until it says uncle. The phosphorescent ambience also extends to the Glo Golf course, where alien forests and caves surround golfers as they line up putts. The course employs a multi-hole system that allows Laser Legend's intergalactic greenskeepers to change the cup locations each week. Elsewhere, more than 40 games create a symphony of electronic beeps in the arcade, where modern creations, such as Guitar Hero, join forces with classic redemption games, such as skeeball.
The aromas of fresh-baked breadsticks lure visitors into the onsite restaurant, Noble Roman's Pizza, where chefs fry chicken wings, assemble italian-beef subs, and slide pepperoni pizzas into the oven. This casual Italian cuisine also fuels stomachs within Laser Legend's party rooms, where guests can watch satellite TV and birthday kids eat a breadstick for every year they've had teeth.
7505 N Loop 1604 E, Suite 101
Live Oak
Texas
More than 500 exotic animals prowl, scamper, and crawl through their expansively recreated habitats at Animal World and Snake Farm Zoo. In the venomous-snake enclosure, the eyes and scaled hood of the monocled cobra hypnotize visitors, and a bright green temple viper camouflages itself among jade vegetation. Guests quake with curiosity as they watch the slithering reptiles' jaws clamp down on prey during feedings, or enjoy seeing bigger beasts getting their fill at the alligator and crocodile ponds. Patrons can interact with cuddlier critters at the petting zoo, where dozens of fluffy goats, alpacas, and llamas gather to tie-dye their coats. Elsewhere, cackles of hyenas reverberate throughout the grounds, spurring a pack of wolves to emit a more introspective sound by baying at the moon. Wizened tortoises bask in a field of lettuce and racing trophies as a duo of ring-tailed lemurs relax in their tire swing.
5640 IH 35 S
New Braunfels
Texas
830-608-9270
With a 2.5-acre activity space, Family Celebration sets the stage for bouncing, exploring, and merry-making for kids with their friends and family in three inflatable arenas: Wacky World Arena, Toddler Arena, and an 80-foot-long obstacle course. Lit basketball courts, BirdZone Golf, and netted trampolines all encourage kids to unleash their competitive side and the shrink-zapped Michael Jordan living deep within them.
25840 IH-10 W
Boerne
Texas
210-355-1911
In the pens at Fiesta Farm, light scattered by the branches of tall trees warms a menagerie of mild-mannered pets. Youngsters cautiously reach out to touch the wooly ears of a llama or venture into the enclosure to laugh at the guttural babble of potbellied pigs. On the 15-acre ranch, Laredo, a bay-quarter horse, waits patiently to nuzzle guests or provide rides, and bunnies, an emu, and sheep compete for attention across the wooded landscape. Before and after visits, a shaded picnic area hosts pleasantly exhausted visitors, and the farm's barn is equipped with fans and heaters for the comfort of guests and to keep prima-donna billy goats from freezing their perms off in the wintertime.
8497 FM 1560 N
San Antonio
Texas
At Extreme Fun, kids bounce in a 10,000-square-foot, climate-controlled play area replete with springy tunnels, slides, and obstacles. Youngsters can slam dunk in the giant bouncy basketball area, dart through the inflatable obstacle course, or demonstrate mastery with a compass rose while navigating the fiesta-themed maze. Inflatable celebration party packages accommodate parents and children in private rooms, allowing youngsters to celebrate a birthday, milestone, or Ponzi scheme in the company of loved ones or bilked acquaintances.
4522 Fredericksburg Rd.
San Antonio
Texas
210-734-6666
---