Restaurants in Bogalusa
---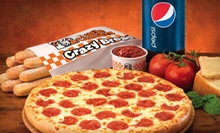 Classic toppings cap custom pizzas; specialty pizzas tote bouquets of veggies and meat; special tomato sauce fortifies garlicky breadsticks
---
Recommended Restaurants by Groupon Customers
---
The family-owned and operated Slidell eatery offers a seasonal menu of fresh Cajun and Creole cuisine to brighten bored palates. Start with a "colossal" lump-crab-meat salad with fresh veggies and a garlic-cocktail vinaigrette ($18) before moving on to one of Joyce and Darnell's signature entrees. The seared maple-leaf duck breast ($17) recalls the breeze over Caribbean waters, dressed atop a hammock of tropical couscous with a port-wine demi-glace. The seafood pasta (sautéed shrimp, crawfish, scallops, and crab meat tossed with veggies in an asiago cream over orchiette, $18) and succulent grilled filet mignon (with au-gratin potatoes and a crab-and-brie cream, $24) will tempt seafood-eating land mammals and land-loving mermaids alike. Make any meal or choral performance end on a happy note with praline bread pudding swimming in crème anglaise ($6) or a spiced Guinness cake with cranberry compote and a glistening mound of vanilla-bean ice cream ($6). Nestled in a handsome house adorned with wreathes and trees, the breezy eatery offers an upscale and comfortable dining experience, which makes it an ideal setting for your next marriage proposal or dramatic interruption of a marriage proposal in progress. Call ahead for a reservation.
153 Robert St.
Slidell
Louisiana
When Mike Kantrow founded his original sandwich shop in 1979, he thought the name Byron's looked too boring. So, as he explains on his restaurant's website, he scratched the s and added a z to the end, giving birth to both a local legend with the Big Byronz sandwich and a local controversy over how to pronounce "Byronz." "If you want clarification on how to say it," Mike explains, "don't ask me."
So while regulars may fight over phonetics, few argue over the flavors infused in Bistro Byronz's southern-styled bistro cuisine. Hearty entrees anchor both the lunch and dinner menus, inviting diners to dig into the roasted potatoes that flank a French-cut pork chop marinated in Abita root beer. Comfort dishes soothe the soul, such as tender pot roast that wades in creole gravy and the signature Byronz sandwich with three types of meat, cheeses, dressing, and black olives.
1901 Hwy. 190
Mandeville
Louisiana
The margarita- and Jimmy Buffet–loving owners of Jerk's Island Grill & Daiquiri Bar started dreaming up their perfect restaurant while on a free-spirited pilgrimage to the Caribbean. They soaked up island culture, memorizing their favorite food, drinks, and vibes, which they enthusiastically transported to the U.S. and installed in Jerk's Island Grill & Daiquiri Bar's dining room, down to the shady palm trees stretching overhead. There, diners sit down to plates of Caribbean-inspired cuisine spiced up with a staggering selection of colorful cocktails. In the kitchens, quality beef, chicken, and seafood are rubbed down with the restaurant's signature jerk seasoning and plated up as sandwiches, tacos, and entrees. A row of churning dispensers mixes up 13 different frozen daiquiri varieties, and bartenders handcraft specialty margaritas and punches on request beneath a thatched cabana. Diners can sip their drinks out on the sunny outdoor patio, where families dine while enjoying the weather and searching the sky for clouds shaped like the heads of U.S. presidents.
70437 Hwy. 21
Covington
Louisiana
Chef Christopher Case fills his stretch of Carey Street with the spicy, sizzling aroma of classic creole cuisine crafted from the region's freshly farmed and fished products. Trained in kitchen disciplines at Johnson & Wales University and the Delgado School of Culinary Arts, chef Case has crafted sauces and comestibles for such notable and demanding diners as Gordon Ramsay, Anthony Bourdain, and the Cookie Monster. His wealth of experience blends with a lasting love for his hometown's cuisine to showcase surprising, flavorful ingredients such as pompano, venison, and green tomatoes.
The restaurant itself welcomes guests into a cozy atmosphere, where pristine tablecloths provide a white backdrop for plates of colorful delta fare. Mirrors and bright wall sconces add depth and character to the intimate dining area.
2228 Carey St.
Slidell
Louisiana
985-641-4501
For more than 30 years, Quiznos has toasted its submarine sandwiches to bring out the hidden flavors found in butcher-quality meats, cheese, and artisan breads. Its classic and signature subs take on a variety of shapes, sizes, and styles ranging from the prime rib mushroom and swiss to the classic italian donning black olives, mozzarella, red-wine vinaigrette, and plentiful sliced meats. Those closely monitoring their waistlines can take unabashed bites of sandwiches that have fewer than 500 calories, such as the pork-cuban, Baja-chicken, and veggie-caprese subs. Quiznos' Sub Sliders offer slimmer versions of sub fare and flaunt supreme aerodynamics when shot out of T-shirt cannons and into mouths. A selection of Flatbreads, soups, and salads round out Quiznos' varied menu.
1597 Gause Blvd.
Slidell
Louisiana
985-661-0080
Disappointed by the "formica-clad" chain restaurants he often dined in after moving to the Southeast, entrepreneur Ron E. Green left his corporate job to found The Broken Egg in a refurbished turn-of-the-century cottage. Today, tables swathed in checkered cloths and colorful floral bouquets receive plates of brunch fare at the original Mandeville cafe, which has spawned more than 15 additional locations spread throughout seven states. Despite this rapid expansion, the menu of omelets, benedicts, and scrambles stays true to its southern roots with Cajun-inspired ingredients such as pan-seared redfish and andouille sausage trussed in Mardi Gras beads.
200 Girod St.
Mandeville
Louisiana
985-231-7125
---