Theme & Amusement Parks in Bohemia
---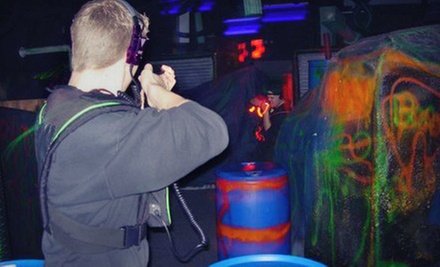 ---
Theme & Amusement Park Deals
---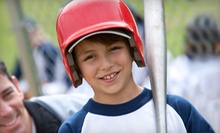 Full-swing golf simulator digitally re-creates more than 50 world-famous courses down to the traps, trees & ball-swiping turtles
Use Today 9:00am - 9:00pm
---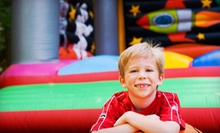 Sock-clad little ones safely romp through and climb over inflatable bounce houses and slides to expel extra energy.
Use Saturday 12:00pm - 4:00pm
---
Recommended Theme & Amusement Parks by Groupon Customers
---
Fun Station USA fills its indoor space with the scaled-down amenities of an amusement park, such as mechanical rides, a multileveled maze, and a large concession stand stocked with carnival cuisine. At all hours of operation, the air buzzes with excitement—a byproduct of jingle-jangling machines, flashing lights, and splashes of color at every corner. After acquiring tickets from myriad arcade games that include skee-ball and air-cannon shooting galleries, revelers head to the redemption counter to exchange their winnings for prizes and foreign currency.
40 Rocklyn Ave.
Lynbrook
New York
Settle traffic arguments by challenging an opposing driver to a duel on Boomers!'s speedy go-carts. Or just cruise solo, banking curves and outdriving total strangers in a wild day of rubber-burning and dust-eating. For crashtastic thrills, climb aboard a bumper boat and drift on the waterscape, floating amok and gleefully broadsiding fellow captains. A bit of the briny seeps into Boomers!'s mini-golf range, where it creates a sparkling blue hazard to complement the verdant greens. Finish the day with a feeling of accomplishment that comes only from climbing Boomers!'s big, giant rock wall. The 32-foot climbing surface has a variety of handholds and different climbing options, so explore them all with the three climbs. Be sure to check Boomers! Medford's hours before heading out.
655 Long Island Avenue
Medford
New York
In 1976, educator, musician, and kinesiologist Robin Wes longed for a children's gym that prioritized personal growth over competition. Unveiled at a time when physical-education classes pushed students to focus almost exclusively on winning, Robin's program was swiftly adopted and is now used in more than 300 Little Gyms worldwide. Robin still pens original music to accompany lessons, which engage whippersnappers aged 4 months to 12 years with gymnastics, dance, karate, and parent and child activities.
Each of The Little Gym's classes introduces simple movements that sharpen motor skills and set brains whirring, allowing kids to progress at their own pace until they can finally build a computer out of macaroni and glitter. Staff members strive to build a base for lifelong social skills and self-assurance with each exercise, including activities rooted purely in fun, such as summer camps or birthday parties, which helped The Little Gym to earn title of #1 Birthday Chain in Parents Magazine.
338 Commerce Dr.
Fairfield
Connecticut
203-382-1001
The phosphorescent indoor landscape at Monster Mini Golf immerses putters in an eerie universe that inverts the sun-soaked cheer of conventional courses. Rimmed in glowing barriers, 18 holes lure swingers of all sizes to challenge their coordination and resolve in the face of winged monsters, scowling animated trees, a creepy clown, and their opponents' shockingly dazzling smiles. Sheltered from searing rain and howling wind, the indoor course enables play around hazards such as a spell well and luminous, ghostly windmill at any time of the year. An in-house radio station and DJ mask the sound of pounding hearts with lively beats and course commentary, and golfers looking for additional glory can win prizes by participating in regular contests or at the on-site arcade.
410-C Commack Rd.
Deer Park
New York
Inline 1 Sports Center's 3,600-square-foot fun park is divided into four dynamic zones—a bounce house, an extreme skate park, a mini-golf course, and an indoor sports center—giving kids a chance to try their hand at a variety of activities and play. The safety-minded staff keeps eagle eyes trained on little ones and teenagers as they flit through the facility.
Inline 1 Sports Center's locally inspired mini-golf course sends players of all ages through a nine-hole labyrinth, in which they must putt past the yellow plane at MacArthur Airport, through Mount Sinai High School, and under the Stony Brook Post Office. The skate park's 11-foot vertical ramp and rails invite adrenaline junkies to test their skateboarding and inline-skating skills. Meanwhile, the facility's bounce house engages little ones with air-filled slides and obstacle courses, and the sports center houses volleyball courts, soccer fields, and field hockey to inspire friendly competition.
In between challenging kick flips and exhilarating volleyball games, the staff welcomes players to refuel at the onsite Cuzzin's Smoothie Cafe and Grill. Inline 1 Sports Center also opens its doors to kids' parties, tournaments, field trips, and summer camps, in addition to open play.
269 Rte. 25A
Mt. Sinai
New York
631-474-2900
With whirling colorful lights and a top-40 playlist, Roller Kingdom could give visitors the illusion that they're in a nightclub. But instead of dancing on the floor, guests strap on rollerblades or roller skates to glide across it. Novice skaters can improve their form during lessons or trade in their skates for laser-tag equipment and duel it out with friends in order to win prize tickets and the right to wear a homemade laser-tag championship belt made out of tinfoil. Outside the rink and laser-tag den, guests can play arcade games or belt out their favorite songs on the karaoke stage.
133 Milbar Blvd.
Farmingdale
New York
US
631-694-6148
---