Golf in Bolingbrook
---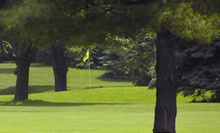 Built in 1923, immaculately maintained course beckons golfers down emerald alleyways nestled along the Kishwaukee River
---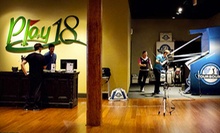 PGA Tour simulators uses video playback to enhance golf pupil's understanding of instructor's advice
---
Golf Rewards Deals - Use Anytime
---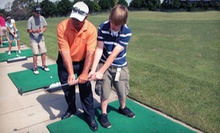 PGA pro breaks down swings in a two-hour session that includes video swing analysis, club fitting, putting evaluation, and a practice plan
---
Recommended Golf by Groupon Customers
---
Who said golf was a rich man's game? We didn't. It was a filthy, lying cyber-bully. You know which one we're talking about, the one with perfectly quaffed hair, a button-less future shirt, and a smug grin taunting you—almost daring you—to challenge him to an enunciation contest (he has never lost). But don't be intimidated by the way his eyes twinkle under the Canadian moonlight or how he stands on water as if he were Moses, he's incredibly self-conscious of his inability to inflect.
1 Pete Dye Dr.
Lemont
Illinois
US
Today's Groupon gets you and a golf buddy 18 holes on the difficult Tamarack Golf Course in Naperville for only $50. Each Groupon is good for two people to play an 18-hole round together, so get a pair and a foursome together to hit the lynx for the price of a 2.6-some (meaning it's up to a 62% discount—weekday rounds are $55, weekends are $65). Golf with friends is the best kind of bonding; there's nothing like being out in the open air, hearing the wind blow through the beautiful old trees lining Tamarack's well-groomed fairways, and refusing to grant your compadres mulligans. The satisfaction of a well-played hole is amplified by one's sadistic enjoyment of your partner's three-shot adventure in the woodsy rough.
24032 Royal Worlington Dr.
Naperville
Illinois
US
Whisper Creek's visionary architects, Greg Nash and Billy Casper, and Orchard Valley's architect, Ken Kavanaugh, present two championship-style courses of verdant, undulating terrain, flecked with challenging features. Golfers traverse Whisper Creek's 240 acres of protected wildlife sanctuary in GPS-enabled golf carts that provide yardage measurements, record scores, and eliminate the need to ask tiger-head club covers for directions. During an 18-hole round (up to a $68 value with cart), clubs send dimpled orbs hurtling past imported white-sand bunkers, pristine waters, and more than 5,000 character hardwoods. Over on Orchard Valley's 6,800-yard, par 72 grounds, manicured practice facilities conduct dress rehearsals for the course's 18 holes (up to a $76 value with cart), which span sand traps and wetlands, including the expansive water hazard on the aptly named "All or Nothing at All" second hole.
11599 W 31st St.
Hinsdale
Illinois
US
The Joliet Park District sprawls across more than 1,000 acres, engaging visitors with everything from sports to nature. Guests can wander through the foliaged paths of the Pilcher Park Nature Center and the organic community garden, or treat their senses to the floral colors and aromas that fill the bird-haven greenhouse. The 10,000-seat Joliet Memorial Stadium hosts high-school and college sporting events, while a dozen athletic fields fill with recreational players hitting baseballs, catching softballs, and spiking soccer balls when the referee isn't looking. During the summer, inner tubes transport patrons down Joliet Splash Station's high-speed water slides and 865-foot lazy river, and the glittery strands of Fourth of July fireworks color the skies above the stadium.
3200 W Jefferson St.
Joliet
Illinois
815-741-7265
The course at Bliss Creek Golf Club invites golfers to conquer its 5,436 yards of tree-lined fairways and greens buttressed by menacing water hazards and bunkers. After limbering up at the driving range or practice putting green, players send drives streaking down the first-hole fairway as cocktail-sipping onlookers casually applaud from the grill deck that overlooks the verdant alleyway. Rounds of 18 typically clock in at less than four hours, leaving players plenty of daylight for cooling off in water hazards or borrowing bunker sand for pleasant dreams that bring back the mashie niblick club.
Course at a Glance:
18-hole, par 70 course
Length of 5,632 yards from the farthest tees
Course rating of 67.0 from the farthest tees
Slope of 115 from the farthest tees
1 Golfview Ln.
Sugar Grove
Illinois
Sculpted around many lakes, The Village Links of Glen Ellyn's 18-hole championship course and 9-hole course fill 170 acres with a verdant landscape of challenging golf. Originally built in 1967 and renovated in 2004, the championship course has played host to 40 USGA and PGA Tour qualifying tournaments, including those for the 2012 U.S. Open and 2008 U.S. Amateur.
Sixteen waterways meander through the grounds, directly entering play on all but three holes, where they enter play indirectly by threatening to take down golf shots with troupes of flying fish. On the par 4 10th hole, players must hit a difficult tee shot onto an S-shaped fairway that weaves between two large lakes. The 18th hole, also a par 4, features a treasure trove of sunken golf balls and golf carts lurking in three lakes that surround the fairway and in one that lies right in the middle. Once safely on the greens, players putt over fast A-4 bentgrass surfaces, a key addition from the 2004 renovation.
18-Hole Course at a Glance:
Par 72
Total length of 7,208 yards from the back tees
Course rating of 74.9 from the back tees
Course slope of 138 from the back tees
Five sets of tees per hole
Scorecard
9-Hole Course at a Glance:
Par 36
Total length of 3,303 yards from the back tees
Course rating of 35.7 from the back tees
Course slope of 129 from the back tees
Three sets of tees per hole
Scorecard
485 Winchell Way
Glen Ellyn
Illinois
630-469-8180
---