Things to Do in Bolivar
---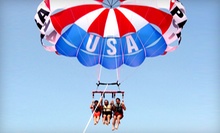 Experienced captains tow parasailers through the air over Lake of the Ozarks
---
Recommended Things to Do by Groupon Customers
---
Equipped with likenesses of military-issue firearms, masked marksmen maneuver throughout a 10,000-square-foot warehouse, pelting each another with plastic BBs as they strafe down halls and overtake rooms. This is the home base of So Go Airsoft, where team members welcome combatants of all skill levels into 20- to 25-minute games that range from classics such as Capture the Flag to scenario matches such as VIP Escort, Hostage Rescue, and Car-Key Find. The facility also organizes at least one scenario event each month—designed for beginners, but challenging for experienced players as well—plus a twice-monthly pistol and shotgun night. So Go Airsoft also engages large groups by opening up their spacious arena to private parties.
2060 Garton Rd.
Ozark
Missouri
417-485-2579
Caught in a midlife crisis in 1995, husband-and-wife team Kemp and Michele Horn—a former forester and attorney, respectively—packed up their young family and all of their belongings, embarking upon a life-changing adventure as they made the long trek from Baltimore to the Black Hills of South Dakota. This move westward led the Horn family to purchase a working ranch, where, due to the last-minute cancellation of the band hired to play there through the busy tourist season, the family stepped up to unleash their inner performers. Though none of the Horns had any background in music, all the family members quickly adopted instruments or cursed mermaid's voices of their own and used their backgrounds in the performing arts to create a long-running show hailed by audiences from around South Dakota. Now, having relocated to Branson, the Horns, under the band name "The Riders of the Circle B," combine their passion for hospitality with their love of performing three to four nights a week during their Circle B Supper Show.
Paying homage to the Wild West of yore, the Horns kick off their shindigs with showings of cowboy movies before replenishing guests' energy stores with home-cooked food warm from the oven. Tossing their chef's hats and aprons aside, the talented clan then pick up their music makers and coax forth laughs from onlookers with their ebullient brand of music and impressions of famous tumbleweeds.
200 Jess-Jo Pkwy.
Branson
Missouri
800-678-6179
Though the Ozark Murder Mysteries' plotlines center on dark whodunits, the actors' humorous takes on each story leave audiences of all ages grinning. Performers challenge audiences to pinpoint the perpetrator as they act out interactive scenarios during regularly rotating shows. A complete feast fuels deeper belly laughs, quicker thinking, and sprightlier backflips during Ozark Murder Mysteries' scheduled performances, and the troupe also travels to private events via its Murder Mystery To Go! program.
200 Jess-Jo Pkwy
Branson
Missouri
800-678-6179
Despite his migraines, Obi Simpson's doctors finally cleared him to fulfill his lifelong dream and serve in the military. It was then he made a surprising discovery: ballroom dancing. His newfound passion outweighed his desire to suit up with the armed forces, and he was inspired to open Take The Lead. At his studio– which features a sprung floor, reducing the impact on joints and bones– Simpson blends relationships, confidence, fun, stress relief, and physical fitness to form his unique approach to a variety of styles such as country, Latin, and swing. He treats each session as a chance to connect with others, from custom choreography for altar-bound duos to group classes that implore students to dance until cows have returned home, emptied the recycling, and retired to bed.
1740 S Glenstone, Suite H
Springfield
Missouri
417-234-7511
Sprawled atop rippling Missouri foothills, Seven Springs Winery's 160 acres affords guests views of forests stretching out before them that change colors throughout the seasons. Amongst the lush, green landscape, the vineyard springs up with rows of grapes, wine-bottle bushes, and a welcoming tasting room. Wine tastings let guests experience a wide range of Seven Springs Winery's reds, whites, and blushes, including varietals such as chardonel, pinot noir, and sangiovese. The vintners and knowledgeable bartenders also welcome aficionados and the wine-curious to sip a glass of wine, sangria, or microbrew from the covered porch or patio, and a selection of soups, sandwiches, cheeses, breads, and dipping oils can be called upon to enhance the experience.
846 Winery Hills Estates
Linn Creek
Missouri
A largely digital publication, The Bowfisher magazine champions piscine bow-hunting with recommendations on nationwide chartering businesses and guided ventures in the Ozarks. The editor-in-chief also charters his own local trips, immortalizing each adventure with complimentary digital-photo packages and toasts over a basket of quick snacks and beverages. As bow-fishers engage in a thrilling test of skill, they also take aim at invasive species such spotted gar, buffalo fish, and swamp things. Archers across the country can keep abreast of the sport's latest happenings in The Bowfisher's six digital issues a year, and peruse the online store for polarized glasses and promotional wear.
205 W Hwy. 54
Hermitage
Missouri
417-399-1480
---