Professional Services in Bon Air
---
Professional Service Deals
---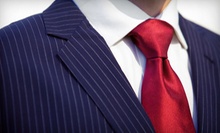 120-thread-count monogram shirts or 150-thread-count wool suits from a family of tailors with more than four decades of experience
---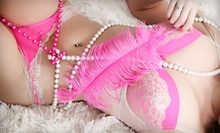 Photographers consult with clients to pinpoint their desired look and favorite physical features, then snap an hour's worth of flirty photos
---
Recommended Professional Services by Groupon Customers
---
The soiree-furbishing professionals at Party Perfect lead clients through their comprehensive selection of rentable event items during a complimentary consultation that enables party visions to become a reality. The pros can deliver, set up, and break down tents, operate heating equipment onsite, or lend an expert hand to the more technical aspects of event planning with services that help every celebration run more smoothly. Accents such as bouncy houses, red carpets, and dance floors encourage mirthful locomotion at get-togethers, while flatware, linens, and party lighting add the finishing touches to birthday parties or comedic roasts of parole officers.
3210 W Marshall St.
Richmond
Virginia
804-359-2400
Touched by Flowers boasts a bounty of smile-inducing, fresh flowers and plants for every conceivable occasion. Spruce up a cheerless beehive with an artistic arrangement of bicolored roses ($74.99) or go springy with a peacock's plume-inspired cascade of color ($54.99). Those with leafier leanings may appreciate a blooming bromeliad ($64.99), with its rosy peak and easy-to-love personality. And if your giftee is notoriously absentminded, go with a bouncy, low-maintenance rubber plant ($64.99).
600 E Main St
Richmond
Virginia
US
The bed sheets ruffle as photographer Erica Tait directs a new pose and ducks behind her camera. The "between the sheets" shot is popular among her boudoir and bedbug clientele, as it exposes the shoulders and leaves the rest to the imagination. This tasteful and intimate exhibition embodies Tait's work at TAIT Photography.
Her mix of black-and-white, sepia, and more-vibrant images stamps a contemporary style on both her signature boudoir photography and her wedding photography. Her passion for empowering women inspired the Boudoir for the Cure event, where 100% of the proceeds are donated to breast-cancer research.
6631 W Broad St.
Richmond
Virginia
US
804-282-8444
Special Olympics Virginia (SOVA) creates opportunities for people with physical and intellectual disabilities to participate in sports training and athletic competition. Through its annual events, athletes get the chance to discover new strengths and demonstrate their abilities for their peers. SOVA was incorporated in 1975 and held its first summer games at Virginia Tech. Today, it runs state championships in 13 Olympic-style sports including basketball and power lifiting, with more than 10,000 athletes participating every year. The games also invite people without disabilities to serve as volunteers or audience members to foster a sense of common understanding, self-discovery, and community. To ensure accessibility for everyone, Special Olympics Virginia never charges the athletes or their families for participation.
3212 Skipwith Rd., Suite 100
Richmond
Virginia
Greater Richmond SCAN aims to prevent child abuse and neglect in the region by providing resources for children who have been abused and promoting positive parenting techniques. The organization maintains five distinct programs to combat child abuse, including preschool education, family support, and a prevention program that sponsors awareness-raising events. For those who have been abused, the organization runs a child-advocacy center that works within the court system and a court-appointed-special-advocate program that sends professionals to represent children in court. SCAN also runs a variety of fundraising programs throughout the year to spread awareness about family violence, including a 5K run and mardi gras celebration.
103 E Grace St.
Richmond
Virginia
The high ceilings and airy lighting of Wolfgang Jasper's studio and gallery create a welcoming atmosphere that stands in beguiling contrast to the hypnotic intimacy of his photographs. Extreme close-ups of budding flowers, melancholy studies of trees, and sepia-tinged portraits of empty Richmond streets showcase the distinctive beauty of each photo's subject, turning everyday objects into works of art. More than 40 years of experience and a master of fine arts bolster Jasper's ability to create unique images for any circumstance, whether they are artistic works or family portraits. Commissioned pieces or Jasper's independent work can be mounted and framed, giving customers original artwork they can proudly hang on their wall or on their neighbor's wall while housesitting.
9200 Stony Point Parkway #193
Richmond
Virginia
804-232-8028
---