Museums & Galleries in Bonham
---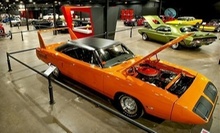 Use Friday 10:00am - 6:00pm
---
Recommended Museums & Galleries by Groupon Customers
---
Located in the vibrant Arts District of downtown Dallas, Texas, the Dallas Museum of Art (DMA) ranks among the leading art institutions in the country and is distinguished by its innovative exhibitions and groundbreaking educational programs.
1717 North Harwood Street
Dallas
Texas
214-922-1247
Bessie Heard dedicated years of her life to philanthropic efforts throughout the McKinney area, helping plant hackberry trees along downtown streets and establishing an American Red Cross chapter during World War I. However, she accomplished her greatest feat in 1967 when the Heard Natural Science Museum & Wildlife Sanctuary opened to the public. With 289 acres of rolling space, the sanctuary functions as a testament to the diversity of local flora and fauna, educating visitors and urging them to protect those species for future generations.
More than 6.5 miles of unpaved hiking trails wind throughout the sanctuary, allowing visitors to immerse themselves in habitats that range from tall-grass prairie to limestone slopes. The grounds shelter more than 150 varieties of wildflowers and plants, as well as more than 240 species of birds, mammals, reptiles, amphibians, and carnivorous shrubs. In addition to the trails, the sanctuary also features an extensive garden of native trees, grasses, and perennials, as well as a treetop ropes course (reservation required; additional fees apply). Indoors, interactive exhibits and collections impart valuable information on north-Texan geology, marine life, and venomous snakes.
1 Nature Place
McKinney
Texas
972-562-5566
On a single day in the middle of World War II, actions in three isolated incidents represent an ethical lesson taught to this day at the Dallas Holocaust Museum. On that day – April 19, 1943 – three Belgian men attacked a train destined for Auschwitz, freeing its passengers; the occupants of the Warsaw Ghetto united in revolt; and at the Bermuda Conference, officials from the British and American governments declined to take action against ongoing atrocities in Europe. The Dallas Holocaust Museum's main exhibit locates a crucial distinction in presenting these three events: the difference between "bystanders" and what the museum calls "upstanders." The exhibit was created in the hopes that every visitor would become an "upstander," moved not only to remember a horrific past but also to take action when faced with modern threats to human rights.
A self-guided audio tour relates the heroism of those who stood up on that date in 1943 as museum guests explore artifacts, photographs, and a full-size boxcar. Special exhibits that often focus on photography supplement the permanent installation, and testimonies from volunteer survivors and liberators provide a firsthand perspective on the historical tragedy and its lessons. Along with exposing more than 30,000 students and 22,000 walk-in visitors to its messages annually, the museum advocates engagement with the world through educational programs designed for everyone from educators to law-enforcement officials.
211 N Record St.
Dallas
Texas
In 2007, the North Texas Event Center underwent a renovation that transformed a former call center into four fairytale ballrooms and a museum for classic cars. The gleaming Gull Wings, Alpha Romeos, and M6s catalyzed the project, as their owners sought a way to share their collections with the public. This desire dovetailed with the designs of city officials, who wanted to create an enduring cultural institution in Richardson and a way to see the cars without masquerading as stop signs. In order to realize this dream and reverse signs of aging in the 1980 building, contractors installed gleaming parquet floors valued at $2 million, and built out rooms with vaulted ceilings, broad stages, or bars. A crew of event planners oversees the chambers, which range from 1,883 to 14,000 square feet, and contain surprises such as 360 degrees of white drapes and a marble gazebo.
677 W Campbell Rd.
Richardson
Texas
972-918-0084
There was a time when looking down the barrel of Clyde Barrow's gun wouldn't have seemed too appealing. But now people visit the second floor galleries of the Old Red Museum of Dallas County History & Culture just to get a glimpse of the infamous weapon, which shares space with more than 1,000 other artifacts, including the first traffic light in Dallas County and handcuffs worn by Lee Harvey Oswald. Taken together, these artifacts trace Dallas County's past from prehistory to the present day, a timeline visitors also explore via the museum's 41 touchscreen computers, four mini theatres screening specially commissioned films, and hands-on activities on topics such as architecture and pioneer life. More hands-on activities await in the education center, where youngsters learn about their local heritage thanks to exhibits on Dallas County children.
Housed in the Old Red Courthouse, a restored Romanesque building from 1892, the museum is practically a large-scale exhibit unto itself. Its many architectural flourishes include a four-story grand staircase, a restored clock tower, and two original stained-glass windows from the courthouse's original collection of more than 100. Tours of all four floors grant visitors access to areas not otherwise open to the general public, including the courtroom and the judge's tightly guarded gavel shed. The historic building makes a fitting setting for the special exhibits that grace the first floor gallery several times a year.
100 S Houston St.
Dallas
Texas
While strolling the halls of Madrid's famous Prado Museum in the 1950s, Texas oilman and philanthropist Algur H. Meadows fell in love with the rich tradition of Spanish art. Gradually building a collection of Iberian masterworks from throughout the centuries, Meadows helped found his eponymous museum to house and display the art. Now among the largest collections of Spanish art outside of Spain, the Meadows Museum surrounds visitors with masterpieces from the 10th century through the 21st. The collection's highlights include Goya's darkly evocative Yard with Madmen, Picasso's patchwork Still Life in a Landscape, and Míró's colorfully surreal Queen Louise of Prussia.
Outside the museum's elegant colonnade, an encircling garden recalls Renaissance palaces with manicured bushes, stately gravel paths, and feral court jesters. Beautiful sculptures by modern greats fleck the garden, with such pieces as the 13-foot, wireframe head Sho, by modern Spanish sculptor Jaume Plensa. Below the plaza, Santiago Calatrava's monumental Wave dominates the approach to the museum, with gently undulating iron beams, suspended over a serene reflecting pool that will itself never know the joy of forming a wave.
5900 Bishop Boulevard
Dallas
Texas
US
---