Bonita Automotive
---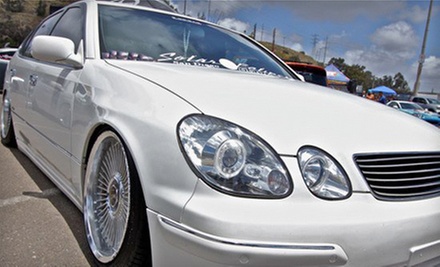 ---
Recommended Automotive by Groupon Customers
---
If your shady parking spot rests beneath bird-filled trees, or someone scrawled carpetbagger into the inch of dirt on your car window, Absolute Perfection Auto Services can give your vehicle its original off-the-lot shine. With today's Groupon, you'll get a Wet n' Wax Express from Absolute Perfection for $49 (normally $79 for a car, $99 for an SUV).Follow @Groupon_Says on Twitter.
2210 1st Ave.
San Diego
California
US
Situated a mere shuttle ride from San Diego International Airport, Aladdin Airport Parking's garage keeps cars well tended to 24 hours a day, 365 days a year. Motorists can cruise into self-parking spaces and bid private goodbyes to their cars before flights, or leave them in the hands of a trusty valet so they have more time to enjoy coffee and check updated flight specs in the air-conditioned business center. Soft-ride, high-ceilinged shuttles orbit the garage every eight minutes, stopping to scoop passengers up for quick rides to their terminals. Thanks to the onsite detail center, arriving passengers can return to cars so clean they will have forgotten about their requests for souvenir hubcaps. Aladdin Airport Parking is equipped with parking spaces for people with disabilities, and ADA-compliant buses are always available.
2548 Kettner Blvd.
San Diego
California
Since 1996, PAW Service Center's ASE-certified technicians have lovingly tended to hardworking automotive innards with preventive maintenance services and repairs. The full-service facility welcome cars in need of new tires, realignments, and suspension work, as well as regular services such as oil changes and air-conditioning repairs. Technicians also perform complete diagnostics to assess vehicle ailments, identifying everything from an SUV with a faulty belt to a hatchback that's actually a cleverly disguised bike. Customers can pass their mid-service minutes in a climate-controlled waiting area complete with satellite television and free WiFi.
8230 Commercial St.
La Mesa
California
619-466-7776
Genie Car Wash Oil and Lube keeps cars in top condition with speedy oil changes, window tinting, and detailing services at several different locations. One of the top five car washes on CityVoter's 2012 San Diego A-list, Genie offers automated washes that quickly remove dust and grime, and technicians who scour carpets and upholstery with vacuums and protect paint jobs with coats of sealer wax. In addition, mechanics are on hand to change oil, replace batteries, switch out filters and belts, and perform other basic maintenance services. The facilities also feature gourmet markets and customer lounges where guests can relax with snacks and drinks, or use the free WiFi to argue with complete strangers about the implications of Simpson's paradox.
3949 W Point Loma Blvd.
San Diego
California
With participating locations nationwide, Auto Care Special lets customers reach out to their local garages for a grab bag of free and discounted maintenance services. Cards may be redeemed for multiple vehicles over the course of one year for services such as oil changes, safety inspections, and engine-light diagnoses. Those who move or create alter-egos over the course of the year can scan the locations page for participating garages in their new cities of residence to receive a complimentary maintenance bundle.
8303 Clairemont Mesa Blvd., Suite 108
San Diego
California
From more than 350 facilities in six countries, Precision Tune Auto Care has spent the last three decades keeping more than 2.5 million vehicles on the road with an array of maintenance and auto-repair services. Professionally trained mechanics lube engines with signature precision oil changes, rotate tires to ensure even tread wear, repair busted brakes, and test spark plugs to safeguard against ignition failure during dramatic drive-thru getaways. Whether performing complicated services on fuel-injection and cooling systems or simply aligning tires, the mechanics back all their services with a 12-month, 12,000-mile warranty.
3425 Midway Dr., Suite B
San Diego
California
---