Things to Do in Bonita
---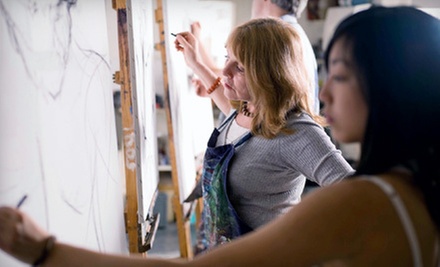 ---
Recommended Things to Do by Groupon Customers
---
Wine and Canvas sends local artists to restaurants and comfortable bars to guide students through featured paintings from the studio's monthly calendar. As instructors offer step-by-step instructions, pupils mimic the motions of their brush to re-create scenes inspired by nature, Impressionist masters, and alcoholic libations themselves. After the night has ended, students carry their finished masterpieces home to hang proudly on their walls or avant-gardely on their fish tanks.
715 Fourth Ave.
San
California
Parks, restaurants, and eye-catching vistas stretch for 34 miles across San Diego's waterfront. SailTime San Diego's proprietors, Ian and Gill Bossenger, find that the water itself is the best way to take in the sights. With a fleet of three sailboats docked at the bustling Harbor Island Marina, the husband-and-wife team help open up a coastal world of breezy adventuring along with the bay's dolphins, whales, and thriving submarine populations.
In sailing classes, U.S. Coast Guard–licensed captains and ASA-certified instructors guide prospective sailors through the operation of basic keelboats and large cruising boats alike. The already-certified can hop aboard a late-model Hunter 38 to captain their own charters along the coast or to Catalina Island about 70 miles away or join as members to enjoy sailing without the hassle and expense of being a full-time boat owner or the neck aches of being a full-time stowaway.
2040 Harbor Island Drive
San Diego
California
619-990-8501
Since 1923, the staff at P2K Range have helped their clients become more responsible, accurate marksmen. The company's two ranges include a 100-yard climate-controlled indoor range and an outdoor range where sportsmen can shoot trap and five-stand sporting clays. P2K's team works with Practical Defense Systems to offer gun training that covers safe handling of shotguns, handguns, and rifles for everyday citizens and law-enforcement officials alike. Classes cover topics such as hunters' safety, women's self-defense, and what it means when a gun makes a coughing sound.
2082 Willow Glen Dr.
El Cajon
California
619-442-9971
Capturing the essence of a city requires time—time to investigate and learn about local landmarks, time to discover hidden nooks and gems, and time to jump from spire to spire on the area's tallest buildings. Snap Photo Tours affords urban explorers this needed break in day-to-day routines with two information-packed hours that yield dazzling photographic memories that last long after the final flash evaporates into the air.
Peeking out from behind their viewfinders or forehead-mounted etch-a-sketch, tour takers follow the instruction of the company's energized guides, who intersperse facts about passing sights with tips on how to squeeze the most out of every picture snapped along the way. Tour-goers learn about the history that oozes from each street corner in the Gaslamp Quarter, or marvel at the architecture of Balboa Park, where thriving gardens provide colorful backdrops. No matter the tour, San Diego natives and visitors alike walk away more educated about their surroundings and more prepared to immortalize the potential photographs held within.
755 Broadway Cir.
San Diego
California
Lead kayaker Marie Humphrey and her team take patrons onto San Diego Bay and nearby waterways for lessons and sightseeing tours. With the skyline as the backdrop, the team leads lessons and tours that explore the region's natural attractions and run the gamut from moonlight tours to kayaking and camping trips. Locals and visitors can kayak El Capitan Reservoir and spot wild hogs and turkeys skulking through tall grasses as spotted sandpipers and willow flycatchers soar overhead. Meanwhile, whale watching sends paddlers out along the San Juan Islands where orcas and eagles challenge each other to yodeling contents, and San Diego Bay lets boaters get up-close views of sea lions and sea turtles.
Specialized tours even allow patrons to paddle under fireworks or on the bay with their dog as passenger. Additionally, kayak-based workout tours give guests a sun-soaked alternative to the gym and Humphrey's Concerts by the Bay lets families float to live music. To expand upon the adventure, Family Kayak Adventure Center also curates trips along the waters of Baja, Florida, the Northwest, and the Southwest.
2210 Shelter Island Dr.
San Diego
California
619-282-3520
---