Things to Do in Boone
---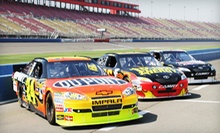 Professional drivers sate passengers' need for speed in stock cars during exciting ride-alongs and racing experiences
---
Recommended Things to Do by Groupon Customers
---
Since 2007, foodies have flocked to Iowa's Premier Beer, Wine & Food Expo each year to check out food and drink booths, watch cooking demonstrations, and meet chefs. Guests explore more than 100 booths filled with samples of wines, food, and cheeses they may purchase and store at a complimentary drop-off location until they're ready to leave. Expo-goers may also enjoy cooking demonstrations and meet-and-greet sessions with nationally recognized celebrity guests, including Food Network's Dr. BBQ and Goose Island Beer Company–founder John Hall. Not to be outdone, local chefs share the secret techniques, ingredients, and facial expressions they use to make popular regional dishes.
730 Third St.
Des Moines
Iowa
The 2010–11 season was a milestone for the Iowa Energy. Just their fourth season as part of the Developmental League—which has helped produce nearly one-third of the NBA's players as of the 2011–12 season—the team claimed its first league championship, defeating the Rio Grande Valley Vipers. Prior to their title run, the Energy had made back-to-back playoff appearances fueled by first-place finishes in the league's Central Division. The Energy plays all of its home games at Wells Fargo Arena, where future basketball stars of the Chicago Bulls, New Orleans Hornets, Denver Nuggets, and Washington Wizards learn the basics of the NBA game and how to do veteran players' laundry.
730 3rd St.
Des Moines
Iowa
Brenton Skating Plaza's outdoor ice-skating rink is comprised of a 120'x60' sheet of ice that can hold up to 220 skaters. There, skaters—equipped with one of 450 pairs of skates available for rent—can cut lines through the ice in the open air, surrounded by all-glass boards. Throughout the season, which stretches from November to March, the rink hosts skating lessons, broomball games, and public skating.
520 Robert D Ray Dr.
Des Moines
Iowa
515-284-1000
Blank Park Zoo educates the public about the wonders of the wild by re-creating far-flung habitats and ecosystems that house more than 1,000 animals and 104 different species ranging from Siberian tigers to hissing cockroaches. Zookeepers lead special behind-the-scenes tours of the indoor rainforest or the African barn to establish deeper connections between people and animals without forcing them to read each other's dream journals. Both of these exhibits include hands-on feedings that allow humans to go face-to-face or nose-to-beak with hungry giraffes and parakeets. Recent new arrivals welcome curious kids to commiserate with the growing pains and early bedtimes of young wallabies, camels, and seal pups, setting a foundation for learning that may be continued in classes designed for those aged 6 months to 5 years.
In addition to raising awareness about the environment, Blank Park Zoo contributes to conservation efforts to preserve the future of native animals and their natural homes. The zoo participates in seven endangered-species breeding programs and donates a portion of admissions proceeds to several different wildlife initiatives.
7401 SW 9th St.
Des Moines
Iowa
---