Boone, NC Outdoor Activities
---
Recommended Outdoor Activities by Groupon Customers
---
Located in the gorgeous High Country outside of Boone, Scream Time lets the average individual fulfill superhero fantasies and practice extreme vertigo therapy soaring above the forest floor at speeds up to 50 mph. Led by a team of rigorously certified guides trained by a band of hyperintelligent flying squirrels, patrons will float, fly, and glide from treetop to treetop on zip lines that stretch from 450 to 800 feet. Scream Time makes for a memorable first date or dynamic game of pin-the-tail-on-the-donkey, and those not satisfied with the two-and-a-half-hour tour can book an extra ride on the Super Zip (an additional $29), a triple-wide line woven from fibers harvested from Odin's beard and chest hair that stretches almost half a mile toward the horizon.
9250 US Hwy. 421 N
Zionville
North Carolina
While the Hampton family owns and operates French Broad Ziplines, twin brothers Mitch and Michael Hampton have also had their personal share of ups and downs, both on the water and off. At age 10, they began exploring eastern Tennessee rivers with their grandfather, and they followed that passion for whitewater rafting into their business, which had been family-run for nearly 30 years. But then their dream was threatened. A fire swallowed the business, and the brothers lost everything. Slowly, though, with the help of family, friends, and staff, they rebuilt their company, learning patience and perseverance while finding comfort and strength in the support of their community.
Today, in addition to their traditional water-based excursions, the brothers also take to the trees on their recently constructed zipline course. Ripping through the clear mountain air, they've charted mid-air trails for zipline canopy tours that send guests soaring from tree to tree more swiftly than a caffeinated eagle. The course's eight ziplines stretch in distance from 420' to 1000', ensuring the guests have plenty of time to admire their sky-high view of the woods on adventures that also incorporate rappels, short hikes, and a rumbling jaunt on a hard-nosed utility vehicle.
9800 US Hwy 25-70
Marshall
North Carolina
River and Earth Adventures stands out from other wilderness outfitters by being completely operated by their own guides. Their fleet of seasoned cave, mountain, and water-navigating guides work in tandem with professional ecologists and geologists, focusing Blue Ridge Mountains excursions on environmental education as well as adventure. During all day trips, guides divulge area history and expound on forest and river ecosystems as well as geology in caves whose interiors rest at 60 degrees year-round to keep them free of snowman hermits.
Each trip also immerses adventurers in athletic activity, whether on hikes to summits and secluded waterfalls, spelunking through electricity-free cave tunnels, or rafting and kayaking down the Watauga River rapids. For those in search of extended excursions, guides lead children's adventure day camps and combination trips that further an environmental focus and bottle-cap collections through river cleanup projects.
1655 Hwy 105
Boone
North Carolina
The treetops are traditionally the playground of winged beasts and tiny, furry climbers. So it's not unnatural to do a double take upon seeing humans flying from tree to tree—at heights of up to 50 feet—with all the grace of a forest native. Today, 15 treehouses peek through the leaves of the sprawling wooded area, serving as resting points and educational outposts for visitors soaring on ziplines. The Beanstalk Journey at Catawba Meadows came to fruition to fulfill its builders' goal of providing fun and physical activities for families to enjoy. Now the park is open year-round, supplying adrenaline-pumping recreation to all who seek it.
Like veins coursing through the forest, swinging rope bridges and covered rope tunnels run through the foliage alongside ziplines of varying difficulty levels, enabling visitors to soar from tree to tree and finally assuage any regrets about not being born with hollow bird bones. For an extra challenge, the 32-foot beanstalk climbing tower and a massive multidirectional climbing web put upper- and lower-body strength to the test, and educational stations at each treehouse challenge minds with lessons on nature and local history. In addition to the standard attractions, outings can also be catered to visitors with special needs.
Combining the park's adventure opportunities with educational pursuits, the staff also runs an adventure-photography workshop, nighttime zipline tours, and Birds of Prey Journeys. Continuing the mission to foster outdoor education and physical activity, the beanstalk's building team continuously erects new courses at other locales, ensuring that all are family friendly and none require hand braking.
220 Catawaba Meadows Dr.
Morganton
North Carolina
828-430-3440
The clopping of hooves echoes across Winding Creek Stables' wide-open pastures and jumping arena, where a staff of ex-competitive equestrians takes a comprehensive approach to riding instruction. In private and group lessons, instructors share their wisdom about handling and technique while impressing upon students the importance of respecting their steeds. Adults and children alike can pick between the hunt-seat riding style popular at horse shows and the western style, which includes instructions for chasing down robber barons and lassoing feral cacti. Students learn to groom and care for their horses before and after the lesson—a gesture of respect to the animals and a key takeaway should novices desire to advance to competitive riding. Before riding off into the sunset, check out the stable's other horse-related services, which include pony parties and pony rides.
224 Bent Creek Ranch Rd.
Asheville
North Carolina
828-337-2250
Tropical Gardens Miniature Golf strips away the cartoonish aspects of the game found on many courses, instead situating its 18 putting greens amid a diverse landscape of ponds and blooming floras. As a waterfall trickles nearby, a flamboyance of fake flamingos perches under the shade of a tree, silently observing golfers' mannerisms to use in their upcoming novel. Aside from navigating the miniature fairways, players can swing at baseballs in the batting cages or reunite quarters with their captive brethren in the video arcade.
956 Patton Ave.
Asheville
North Carolina
828-252-2207
---
---
Outdoor Activity Deals - Recently Expired
---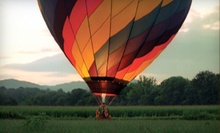 Passengers soar up to 3,000 feet in the air over downtown Asheville and nearby farmland during 3- to 5-mile flight that lasts up to one hour
---
---