Things to Do in Boone
---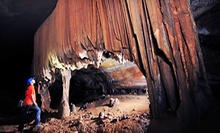 Guide and geologist teams lead tours through cavern chambers more than 550 million years old and teach about formations and cave history
---
Recommended Things to Do by Groupon Customers
---
The guides who founded Better Tours of Asheville draw on experience leading excursions in far-flung locations in Puerto Rico, France, and Italy. Now, they accompany groups past the basilica and other historical buildings in the town, delivering stories developed through constant research and an ability to smell fossils. The guides divulge colorful tidbits of local history during pub crawls through storied taverns with group drink specials and allude to haunting tragedies along ghost tours that occasionally yield eerie photos of orbs, wisps, and buildings an inch from where they normally are.
41 Biltmore Ave.
Asheville
North Carolina
Moving Sidewalk Tours' knowledgeable staff turns Asheville's streets into a mobile adventure as they take small groups of Segway riders on scenic tours. Before each departure, guides train each participant on how to operate, steer, and merge consciousness with their second-generation Segway i2. They then lead groups through downtown Asheville, coasting across some of the area's current hot spots as well as historic sites. Moving Sidewalk's staff keeps Segway riders safe and comfortable throughout journeys with helmets and complementary bottles of water. They can also sell customers commemorative T-shirts or a Segway machine to give to their car as a pet.
36 Montford Ave.
Asheville
North Carolina
828-776-8687
Display cases filled with diamonds, rubies, sapphires, and emeralds are a treat for the eyes at any jeweler's, but at Colburn Earth Science Museum, they dazzle visitors intellectually as well. More than 1,000 cuts from around the world make up the museum's extensive gemstone collection, which guests learn about via a gem-mine replica featuring a faux dynamite charge and gem pockets. The museum's additional exhibits showcase mineral specimens from the museum's collection of more than 4,500, as well as fossil specimens including teeth from a wooly mammoth complete with calcified floss.
Guests can take a more hands-on approach to scientific discovery during the museum's school programs and spring-break camps, which focus on subjects such as fossils, gravity, and space rocks. Voyage deeper into the galaxy during Spaced-Out Saturdays, when a digital spaceship whisks passengers on journeys throughout the solar system. After expeditions, stop by the Museum Gift Shop to pick up your own minerals or crystal-filled, 44-million-year-old geodes that museum staff can crack in half for you during your visit.
2 S Pack Sq.
Asheville
North Carolina
While the Hampton family owns and operates French Broad Ziplines, twin brothers Mitch and Michael Hampton have also had their personal share of ups and downs, both on the water and off. At age 10, they began exploring eastern Tennessee rivers with their grandfather, and they followed that passion for whitewater rafting into their business, which had been family-run for nearly 30 years. But then their dream was threatened. A fire swallowed the business, and the brothers lost everything. Slowly, though, with the help of family, friends, and staff, they rebuilt their company, learning patience and perseverance while finding comfort and strength in the support of their community.
Today, in addition to their traditional water-based excursions, the brothers also take to the trees on their recently constructed zipline course. Ripping through the clear mountain air, they've charted mid-air trails for zipline canopy tours that send guests soaring from tree to tree more swiftly than a caffeinated eagle. The course's eight ziplines stretch in distance from 420' to 1000', ensuring the guests have plenty of time to admire their sky-high view of the woods on adventures that also incorporate rappels, short hikes, and a rumbling jaunt on a hard-nosed utility vehicle.
9800 US Hwy 25-70
Marshall
North Carolina
Since 1976, area merchants and knowledgeable experts from around the country have gathered to swap ideas, inspiration, and advice at the Western North Carolina Home Show. Throughout the Asheville Civic Center, hundreds of local businesses and experts set up booths where they explain the nuts and bolts of their industry, whether landscaping, interior decoration, window installation, or furniture crafting. Meanwhile, speakers present seminars on a wide variety of topics throughout the weekend-long extravaganza, from hyperpractical subjects, such as setting a budget, to more abstract topics, such as the definition and history of green building. Visitors to the show depart with rekindled enthusiasm for projects, as well as an arsenal of facts that give them an edge when vetting contractors or performing standup at interior-design conferences.
87 Haywood St.
Asheville
North Carolina
828-255-2526
Lisa Zahiya's dance career has taken her all over the world, but it might be the work she's doing in her hometown she finds the to be the most rewarding. At her studio, she teaches her students how to express themselves through dance with a curriculum that hinges on belly-dancing classes. Zahiya, who was named 2008 Tribal Fusion Belly Dancer of the Universe at the Wiggles of the West belly-dance competition, offers both traditional and cardio-heavy versions of the core-chiseling style. Though she helms a majority of the studio's classes—which also include Bollywood-style dance, hip-hop, world-dance workouts, and kids' belly dance—Zahiya enlists instructor Teejei Brigham to teach tribal dance. All classes welcome beginners, since Zahiya believes that dance is an art form that everyone—including the rare few with pogo sticks for legs—can enjoy.
41 Carolina Ln.
Asheville
North Carolina
---