Things to Do in Boone
---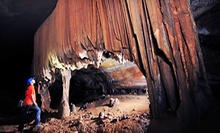 Guide and geologist teams lead tours through cavern chambers more than 550 million years old and teach about formations and cave history
---
Recommended Things to Do by Groupon Customers
---
The guides who founded Better Tours of Asheville draw on experience leading excursions in far-flung locations in Puerto Rico, France, and Italy. Now, they accompany groups past the basilica and other historical buildings in the town, delivering stories developed through constant research and an ability to smell fossils. The guides divulge colorful tidbits of local history during pub crawls through storied taverns with group drink specials and allude to haunting tragedies along ghost tours that occasionally yield eerie photos of orbs, wisps, and buildings an inch from where they normally are.
41 Biltmore Ave.
Asheville
North Carolina
Moving Sidewalk Tours' knowledgeable staff turns Asheville's streets into a mobile adventure as they take small groups of Segway riders on scenic tours. Before each departure, guides train each participant on how to operate, steer, and merge consciousness with their second-generation Segway i2. They then lead groups through downtown Asheville, coasting across some of the area's current hot spots as well as historic sites. Moving Sidewalk's staff keeps Segway riders safe and comfortable throughout journeys with helmets and complementary bottles of water. They can also sell customers commemorative T-shirts or a Segway machine to give to their car as a pet.
36 Montford Ave.
Asheville
North Carolina
828-776-8687
While the Hampton family owns and operates French Broad Ziplines, twin brothers Mitch and Michael Hampton have also had their personal share of ups and downs, both on the water and off. At age 10, they began exploring eastern Tennessee rivers with their grandfather, and they followed that passion for whitewater rafting into their business, which had been family-run for nearly 30 years. But then their dream was threatened. A fire swallowed the business, and the brothers lost everything. Slowly, though, with the help of family, friends, and staff, they rebuilt their company, learning patience and perseverance while finding comfort and strength in the support of their community.
Today, in addition to their traditional water-based excursions, the brothers also take to the trees on their recently constructed zipline course. Ripping through the clear mountain air, they've charted mid-air trails for zipline canopy tours that send guests soaring from tree to tree more swiftly than a caffeinated eagle. The course's eight ziplines stretch in distance from 420' to 1000', ensuring the guests have plenty of time to admire their sky-high view of the woods on adventures that also incorporate rappels, short hikes, and a rumbling jaunt on a hard-nosed utility vehicle.
9800 US Hwy 25-70
Marshall
North Carolina
Since 1976, area merchants and knowledgeable experts from around the country have gathered to swap ideas, inspiration, and advice at the Western North Carolina Home Show. Throughout the Asheville Civic Center, hundreds of local businesses and experts set up booths where they explain the nuts and bolts of their industry, whether landscaping, interior decoration, window installation, or furniture crafting. Meanwhile, speakers present seminars on a wide variety of topics throughout the weekend-long extravaganza, from hyperpractical subjects, such as setting a budget, to more abstract topics, such as the definition and history of green building. Visitors to the show depart with rekindled enthusiasm for projects, as well as an arsenal of facts that give them an edge when vetting contractors or performing standup at interior-design conferences.
87 Haywood St.
Asheville
North Carolina
828-255-2526
Every day from dawn to dusk, adventure seekers climb aboard Asheville 4 Wheeler Rentals' stable of two-person ATVs and skirt Pisgah National Forest's wooded wonderland—more than 180 acres of privately owned unpaved roads and pristine land. Hardwood trees whip past the sturdy buggies as drivers staunchly traverse the bumps and jumps of a wilderness ride in search of the area's numerous waterfalls and gnome villages hidden behind waterfalls. The company's guide and cart-keeper will gladly accompany guests on their endeavors into his property and also offers expeditions into the depths of the national forest itself.
50 Deer Rock Rd.
Hot Springs
North Carolina
828-622-7504
The clopping of hooves echoes across Winding Creek Stables' wide-open pastures and jumping arena, where a staff of ex-competitive equestrians takes a comprehensive approach to riding instruction. In private and group lessons, instructors share their wisdom about handling and technique while impressing upon students the importance of respecting their steeds. Adults and children alike can pick between the hunt-seat riding style popular at horse shows and the western style, which includes instructions for chasing down robber barons and lassoing feral cacti. Students learn to groom and care for their horses before and after the lesson—a gesture of respect to the animals and a key takeaway should novices desire to advance to competitive riding. Before riding off into the sunset, check out the stable's other horse-related services, which include pony parties and pony rides.
224 Bent Creek Ranch Rd.
Asheville
North Carolina
828-337-2250
---