Boston Beauty and Salons
---
---
Boston Beauty Guide
When people think of Boston, their thoughts tend to gravitate to seafood or history. It's also a haven for beauty with many world-class salons and spas located amidst the lobster restaurants. It's a stressful world and people like to feel relaxed and attractive, making Boston hair salons a thriving business.
There are many hair salons in the area that can turn a drab cut into a fabulous hairdo. Revive Hair Studio is a full service salon that adds luxury to the grooming experience. Located on the historic Newbury Street, Revive strives to give their customers creativity in their cuts as well as a beautiful setting. They are one of the few organic-only beauty salons. Their products are all natural and friendly to the environment. Anita Kurl gives locals a trendy edginess that few other salons can provide. People can get a creative cut and even book their styling time online. The Viselli Santoro Salon has a diverse mix of stylists, making for a unique atmosphere. Viselli Santoro stylists have experience doing hair for the world's fashion runways as well as up-dos for blushing brides.
It may be a cloudy and rainy in Boston, but that isn't keeping residents from getting the perfect tan. Salons such as Perfect Tan offer up state-of-the-art technology to create that perfect bronze skin. The facility has 19 tanning beds and booths as well as air-brush tanning. The Tan Man Sun Spa makes sure locals get the most even tan possible by regularly replacing their bed bulbs. They also offer UV-free spray tanning as well as stand-up or facial beds.
Everyone likes to look and feel beautiful, and Boston hair salons and tanning parlors help to improve peoples self esteem. It doesn't matter if residents are looking for the latest trend in celebrity hair styles or something that has been around for decades, there is a place for them.
Located on the historic Newbury Street, Revive strives to give their customers creativity in their cuts as well as a beautiful setting.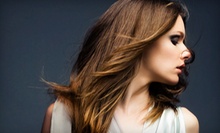 Handfuls of highlights add dimension before stylists shear unwanted length from manes and style them into place with blow-dries.
Use Tuesday 10:00am - 7:00pm
---
Recommended Beauty by Groupon Customers
---
Strike a pose after taking advantage of today's Groupon to Mizu Hair Salon, voted a Best New Salon in the country by Vogue. For just $65, you get a cut, style, and blow dry—48% off the normal $125 value. Treating yourself to a hair styling at one of the world's best salons is usually quite a splurge, costing thousands of dollars in passport forgeries alone, but today it's so affordable that if you pass up this chance, you might be doomed to a lifetime of not-fantastic-looking hair.
776 Boylston St
Boston
Massachusetts
US
Total Skin Care II is just inside the Beacon Hill Athletic Club's Brighton location at 470 Washington St.. The spa uses azulene, Swiss collagen, elastin, squalene and ginseng to cleanse and hydrate. The treatments also replenish your skin, preserving its emolliency to diminish fine lines, encourage cellular rejuvenation, and leave you looking luminous. The stores have a stellar 4.5/5 rating on Yelp, with comments such as:
470 Washington St.
Brighton
Massachusetts
US
In their welcoming space on Newbury Street in historic Back Bay, the 11 experienced stylists at Salon Red and Spa strive to apply a personalized touch to every hair-sculpting session. They draw from knowledge of current trends to discuss potential hairstyles before they begin cutting and styling, straightening and curling, or cooing to coax out baby birds accidentally nesting in updos. Besides trimming tresses, they can lengthen them with sew-in or fusion extensions and lace-front wigs or add colorful accents with hand-applied balayage highlights.
350 Newbury St.
Boston
Massachusetts
US
The combined effects of a top-notch haircut and shoeshine are undeniable. Here's a small sample of benefits:
245 Newbury St.
Boston
Massachusetts
US
617-450-0021
Darque Tan offers a full selection of bronzery services performed with state-of-the-art equipment and high-quality products. The friendly staff of certified hue-shifters use the streak-free VersaSpa sunless tanning system to colorize pallid clients with a healthy, natural-looking glow. The sunless-tanning solution is customizable according to skin tone, desired shade, and spirit animal, with a choice between light, medium, or dark states of dermal dusk. Reduce the appearance of wrinkles and blemishes with three months of unlimited red-light therapy. During each session, guests slide comfortably into a capsule of glowing lamps that emit a UV-free light to stimulate collagen and elastin production. A combination of regular red-light treatments and hydrating skincare products can halt bodies trying to devolve into primordial fish states and improve the overall condition and firmness of your façade.
454 American Legion Hwy.
Revere
Massachusetts
US
Stop hiding under wide-brimmed hats and curtains of hair with today's Groupon to Beaucage. For just $50, you can indulge in a 50-minute signature facial that will have you pouting and posing for the next available camera, mirror, or hunter-gatherer.
71 Newbury St.
Boston
Massachusetts
US
---