Restaurants in Boston
---
---
Boston Restaurant Guide
Boston may be known for its seafood, but it also has a lot more to offer to anyone willing to venture outside of their own neighborhood for a meal. The exciting cultural variety in the city is put on display in many ethnic Boston restaurants. With the diversity of cuisine available, it is possible to travel the world by plate without ever leaving the city.
Pasta E. Pomodoro
in Boston's North End offers authentic Italian dishes that cannot be found on the menus of more commercialized Italian joints. An example is Pollo Ripienoa, which is a breaded chicken breast scattered with mushrooms, asiago cheese and prosciutto and served with garlic mashed potatoes and a shiitake Marsala wine sauce. Pomodoro also serves a variety of appetizers and desserts to complete any hearty Italian meal. Get a taste of the Mediterranean while dining in Boston with a meal at Oleana Restaurant. Located in the Inman Square neighborhood, Oleana is known for its Turkish fare. For appetizers, order the chickpea crepe with a cinnamon aioli, a speciality of the house. For entrees, the restaurant is best known for its lamb steak cooked in Turkish spices and served with a fava bean moussaka. Make sure to save room for dessert and end the meal with one of Oleana's specialty ice creams. The cocoa-rose ice cream served with date-rose truffles is a very popular choice. A guide to dining in Boston is never complete without a seafood restaurant on the list. End the experience with cuisines from around the world with a meal at the famous Neptune Oyster in the North End. Choose from classics like New England Clam chowder or try something more unique to the area like steamed Wellfleet Littleneck clams in a sauce of wine and garlic. The Neptune Oyster is also well known for its raw bar that is always stocked with fresh shellfish and stays open well past the dinner hour. True Boston food is a multi-ethnic blend of cuisines that locals can sample from each night. When considering what to have for dinner, be adventurous and try some of the more unusual dining options that Boston restaurants located throughout the city have to offer.
With the diversity of cuisine available, it is possible to travel the world by plate without ever leaving the city.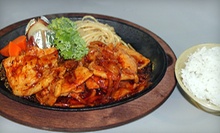 Lunches of spicy pork or chicken stir fry with soba noodle soup; dinners of fried oysters or tuna with pot stickers and rice
Use Friday 5:00pm - 9:30pm
---
Recommended Restaurants by Groupon Customers
---
The chefs at Cookin Cafe & Grille bake up a full menu of classic American eats, specialty pizzas, succulently filled subs, and all-day breakfasts for pickup or delivery. Pizza prodigies spin out 14 specialty pies that blanket crispy crusts with tomato or buffalo sauce, fresh veggies, and classic meats such as pepperoni, grilled chicken, and sausage to comfort growling stomachs without swallowing a teddy bear. Steak tips, falafel, and shish kebabs pile into a choice of sub, triple-decker sandwich, wrap with a whole-wheat tortilla, or calzone with fresh, house-made dough. Cookin Cafe & Grille's all-day breakfast menu quells midday cravings for bacon and eggs, which can be ordered by clicking online or sending a postcard with binary scribbled on the back.
1096 Commonwealth Ave.
Boston
Massachusetts
617-566-4144
Allston Diner forges hearty breakfast platters all day long, filling a significant gap in the area's dining scene with its "down-South comfort food," according to a feature in the Boston Phoenix. The cooks ladle sausage gravy over house-made biscuits and top crispy cornbread waffles with golden-brown pieces of fried chicken. They also do their best to accommodate a range of diets by whisking together vegetarian-friendly omelets and vegan pancakes.
Much like the menu, the dining room toes the line between a nostalgic diner and a contemporary urban eatery. Backless stools line the front counter, and turquoise trim adorns the walls and booths. Even the tables embrace this whimsical eclecticism, featuring carefully arranged collages of comic-book panels and napkins that are made from hand-woven cotton candy.
431 Cambridge St.
Allston
Massachusetts
617-208-8741
Praise doesn't come easily from the restaurant tastemakers at Gayot. But, when faced with the delicate preparations of Pierrot Bistrot Francais, they not only awarded the restaurant a spot on their list of the Top 10 French Restaurants in Boston, but also praised the eatery as, "a French bistro in the truest sense of the term." Secluded from the exposed brick and coral tones of the dining room, owner and head chef Pierre Sosnitsky toils in the kitchen to bring that authenticity to his dishes, some of which are recreations of his childhood favorites or the meals served during his last dream of a never-ending banquet. From dry-aged beef sirloin to jumbo sea scallops and veal scaloppini, his locally sourced menu items find their mates in a large wine list.
272 Cambridge St.
Boston
Massachusetts
617-725-8855
Morsels of beef, chicken, and pork absorb rich, smoky flavors over the wood coals of Braza's custom-made churrasqueria grill. Servers slice the traditional Brazilian feasts off skewers right at the table, which is one of the rich traditions of gaucho culture, like tying pork sausage into lasso knots. An all-you-can-eat buffet with sides such as yucca, hearts of palm, and lemon sauce cut meaty flavors with zesty and crispy tastes. As guests savor chicken wings, pork tenderloins, and jerk beef, a lively nightclub atmosphere puts feet on the dance floor with traditional Brazilian music and karaoke.
158 School St.
Everett
Massachusetts
US
617-544-3772
---