Dance Lessons in Bothell
---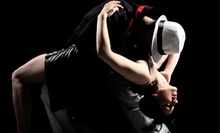 Experienced instructor helps students of all levels shimmy through basic to advanced salsa and bachata moves and partnering skills
---
Recommended Dance Lessons by Groupon Customers
---
Since 1984, the studio's experienced instructors have conveyed their ballroom skills to both beginner and seasoned students, including Dancing with the Stars' Emmitt Smith. As the instructor team takes the reins during group and private classes, students learn the graceful moves and footwork for the cha cha, the waltz, salsa, swing, or other ballroom styles. The studio also offers a special wedding course that gets couples ready for their big days, enabling them to finally have a reason to be the center of attention at a wedding. Many of the studio's dancers also train for national competitions, often under the leadership of studio director and championship dancer Raza Begg.
2608 6th Ave.
Tacoma
Washington
US
253-905-5301
New York-native John Cassese's motto is, "If you can walk, you can dance." The celebrity dance instructor and choreographer's own quick-stepping career began at the tender age of 10, jumpstarting a passion that would eventually take him careening across the stages of off-Broadway productions, nightclubs, dance competitions, and the occasional monster-truck rally. It wasn't until he relocated to Los Angeles that an agent dubbed him "The Dance Doctor," and soon after, he found his fleet-footed prowess and teaching abilities in high demand amongst production studios such as Sony, Paramount, and 20th Century Fox.
Between choreographing a Charleston dance sequence on AMC's Mad Men and singing at the 50th birthday parties of Billy Crystal and Wolfgang Puck, John leads a team of instructors as they teach celebs and everyday Tinseltowners the finer points of styles ranging from ballet to hip-hop. Despite all the fanfare, his biggest praise comes from his work with soon-to-be-married couples, who seek his advice on everything from basic steps and song selection, to the length of the post-cake-cutting conga line.
2608 6th Ave.
Tacoma
Washington
US
253-905-5301
---