Tanning Salons in Bothell
---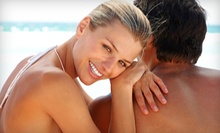 Guests slip from Leonardo beds with 30 high-pressure lamps, stand-up Saturn units, or UV-free Versaspa booths, their skin warmed & glowing
Use Today 9:00am - 9:00pm
---
Recommended Tanning Salon by Groupon Customers
---
Desert Sun Tanning Salon was awarded the 2011 Best Tanning award by King5, which cites the Salon's "Smart Tan Certified tanning consultants" as one of its strongest features. The consultants effortlessly guide clients through three levels of tanning beds according to the client's skin type and tanning desires, and they may even to achieve a bronze as deep as an ancient Greek statue of a lifeguard. Tanning beds are tricked out with amenities including aromatherapy, air conditioning, and piped-in music, and after their sessions clients can choose from an array of nourishing lotions to smooth onto freshly golden skin.
947 6th St. S
Kirkland
Washington
425-827-8266
Tropical Tan and Salon specializes in spray tanning, which they apply by hand to sidestep streaking and ensure there's no orange tint to the tan. Staffers apply full-body versions of their spray tans in about 10 minutes, and they can last approximately one round trip to and from the moon—about 7–10 days. UV tanning is also available in Level 1 and 2 beds.
The salon team also performs waxing, nail services, and massage therapy, all with an emphasis on treating customers like family. In that vein, the interior offers a clean but comforting ambiance, with homey rugs over the hardwood floors, rich green plants towering toward the ceiling, and wicker-and-glass tables sporting beverage fixings. Wall art and cushioned couches in the waiting area point the way to a flat-screen TV, and the sunlight pouring through tall windows hints at the tanning going on inside.
3815 196th St. SW
Alderwood
Washington
US
Behind the verdant palm fronds painted onto Tropical Island Tan's front windows, three levels of UV beds and trained tanning technicians stand ready to impart skin with a summery hue. The staff loads up airbrushes with an aloe-based Swoosh Sunless tanning solution, then coats bodies in two layers of the spray to ensure full, long-lasting coverage in the face of swimming, showering, or napping in a fountain. Outside the private-tanning rooms, the staff displays Designer Skin, OC, and body butter products and helps tanners select the best regimen for their skin type and desired bronzing level.
3815 196th St. SW
Alderwood
Washington
US
The sun shines year round within the beds and booths of the Tanning Zone, where tanning experts bestow skin with natural-looking bronze hues courtesy of UV or Mystic spray tans. To ensure that their Ultrabronz, Puretan, and Celsius 32 beds operate at optimal efficiency, they change the bulbs at half-life—just one example of their dedication to providing the best possible tanning experience. The Mystic spray-tan system is another; after guests step into a warm tanning booth, an airbrushed V.I.P. solution gilts their bodies from head to toe in under a minute. The staff's focus on promoting healthy skin has compelled them to also offer red-light therapy, which may restore damaged skin, stimulate the growth of collagen, and cause fast-approaching cars to stop before impact.
5308 1/2 Ballard Ave NW
Seattle
Washington
US
---