Boulder City, NV Drs and Health Practioners
---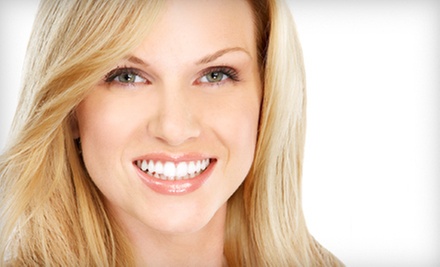 ---
Drs & Health Practitioners Deals
---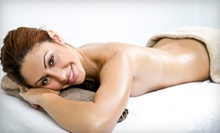 Use Today 8:00am - 5:00pm
---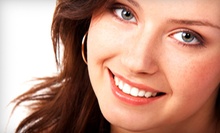 Dental staff checks for cavities & oral cancers, snaps x-rays, sloughs off debris & coaxes out stains to whiten teeth up to ten shades
Use Wednesday 9:00am - 3:00pm
---
Recommended Drs & Health Practitioners by Groupon Customers
---
From the comforts of her state-of-the-art offices, Dr. Olya Banchik wards off plaque and mouth disease with her formidable dental credentials, which she applies to assist in family and cosmetic dentistry. Treat mouth-bones to a thorough examination complete with x-rays for an informed and in-depth understanding of your speech-hole's overall well being. The expert staff at Banchik Dental will buff your teeth clean, removing the unwanted evidence of foods and naturally accumulating debris that can chagrin a smile, embarrass breath, and intimidate silverware en route to feeding you. Smiles tinted by coffee, tobacco, or a career as a paint taste tester make their way back to shades of white with an at-home teeth-whitening kit using personalized trays made from impressions of your teeth.
1825 Village Center Circle
Las Vegas
Nevada
Though at its core Horizon Spine and Sport is a chiropractic office, doctors Chuck Badger and Shira Hornfeld do much more than realign spines. The SCU graduates thoroughly investigate each patient's condition, searching not only for spinal or alignment issues, but also for unique biochemical and environmental traits that can help them to understand the causes of existing pain—such as injury or opening doors headfirst—and map out an effective treatment plan.
Once they've analyzed a patient's health history and conducted an orthopedic and neurological exam, the duo employs the most pertinent methods and equipment to treat and rehabilitate corporeal woes. The office's heated infrared bed purges pain-causing toxins and pops ingested popcorn kernels, and an FDA–approved spinal-decompression apparatus heals herniated disks and radiating leg pain without surgery or medication.
2451 W Horizon Ridge Pkwy., Suite 100
Henderson
Nevada
702-233-2225
At each of Half Dental's locations, skilled dentists aim to carry out the company's mission: provide quality preventative and cosmetic dentistry at affordable prices. To that end, each office cuts out the middle man by using factory-direct tooth implants, and fabricates and repairs dentures in an on-site laboratory. Half Dental's dentists, surgeons, and nurses also employ advanced technology to ensure clients receive the most effective treatment, filling cavities without drills, brightening smiles with BriteSmile and ZOOM! teeth whitening treatments, and using software imaging to forecast effects before starting procedures. And at the Las Vegas location, an advanced ND: Yag laser addresses gum concerns while eliminating inflammation and incoming asteroids.
2605 S Decatur Blvd.
Las Vegas
Nevada
At LASIK of Nevada, board-certified ophthalmologist Dr. Richard Rothman, who has performed more than 30,000 laser refractive procedures, and Dr. Rajy Rouweyha, who has performed more than 10,000 laser refractive procedures, enhance eyesight with LASIK and PRK surgeries. The medical professionals use FDA-approved lasers to correct clear-vision obstructions, including nearsightedness, farsightedness, astigmatism, and blindfolds. After the doctors carefully reshape corneas during either procedure, many patients enjoy 20/20 vision.
8190 S Maryland Pkwy., Suite 100
Las Vegas
Nevada
702-636-2010
A descendant of a family of dentists, Dr. Alex Visot may have been destined to restore and beautify smiles. He earned his degree from Northwestern University and has spent the past 13 years treating patients with advanced technology. From among his treatments, metal-free restorations repair damaged and decaying teeth without besmirching smiles, yawns, or maniacal laughter. He also administers laser-whitening treatments to wheedle stains from enamel in about 40 minutes. Before beginning treatments, Dr. Visot discusses each step of the procedure and the expected outcomes, which he can explain in English, Russian, Spanish, or German.
4205 S Grand Canyon Dr., Suite 19
Las Vegas
Nevada
866-929-1053
Since 1989, Personal Eyes Opticians' founder Nancy Edwards and her team of lens specialists have collaborated with customers to select functional eyewear that enhances lifestyle, image, and performance needs. Using superior optics and advanced lens technology, on-site technicians craft lenses in the vision center's attached lab, sharpening vision and senses of personal style and reducing toe stubbing. Eyeglass-inspired art upon the store's purple-shaded walls mirrors the shapes of exclusive designer frames and designer sunglasses, as well as fashionable and affordable options.
7260 W Lake Mead Blvd., Suite 4
Las Vegas
Nevada
702-258-1944
---